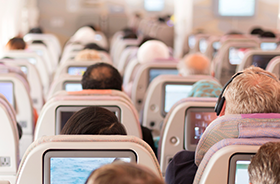 Translations

IATA insta a los gobiernos a potenciar la aviación para el desarrollo económico y social (pdf)
Governos instados a apoiar a capacidade da aviação de impulsionar o crescimento econômico (pdf)
"اياتا" تحث الحكومات على دعم قطاع الطيران لدفع عجلة النمو الاقتصادي(pdf)
Washington, DC - The International Air Transport Association (IATA) urged governments to support the vital role aviation plays in connecting people and commerce around the globe. "Our world has grown much wealthier through trade and travel. Air travel liberates people to live better lives and makes our world a better place," said Alexandre de Juniac, IATA's Director General and CEO. In the US, the aviation sector contributes $680.1 billion dollars to GDP and supports 6.2 million jobs. "Aviation is the business of freedom and we must continue to work together to make it so," said de Juniac.
Looking to the agenda for the Trump Administration, de Juniac called for a reduction in the tax burden on aviation and air travelers, and a new approach to the provision of air traffic services.
Taxes
"The tax burden needs to be reduced. Airlines for America estimates that taxes account for more than a fifth of the cost of the average domestic ticket. In a country as big, beautiful and full of opportunity as the US, why have a taxation policy that discourages travel? Travel stimulates the economy with tourism dollars and business development. We hope that the Trump Administration will create jobs by dramatically reducing the tax burden on travel."
Air Traffic Services
"Airlines and their passengers suffer the impact of the unpredictable federal budget process on the Federal Aviation Administration's (FAA) provision of air traffic services. The US is falling behind in the introduction of new and more efficient technology. Now is the time to move forward with innovation in the provision of air traffic services. IATA supports the creation of an independent, corporatized non-profit entity to manage US skies. IATA hopes that this will be one of the achievements of the Trump Administration and the 115th Congress."
De Juniac also urged the Trump Administration to return the country to the principles of airline deregulation.
"The Airline Deregulation Act of 1978 unleashed competition and spurred innovation by letting market forces drive commercial decisions. And today consumers benefit from more travel choices than ever. Deregulation has benefited travelers, the US economy and the competitiveness of its airlines. I hope that the Trump Administration will keep that in focus."
De Juniac made his remarks at the US Chamber of Commerce 2017 Aviation Summit on 2 March, where he also focused more broadly on the need for industry and government to align to support innovation. "Delivering the benefits of an ever safer, efficient and sustainable air transport system in the face of a doubling of demand by 2035 will require quick, constant innovation. At the industry level, governments play a particularly important role as partners and regulators." He highlighted three areas where airlines and governments need to innovate together:
Safety
"Safety is our top priority, which is why flying is the safest way to travel. Innovation plays a role in helping make it safe and it is most successful when industry and government work together. The IATA Operational Safety Audit (IOSA), which is a requirement for membership in IATA, is an example of such innovation. IATA worked with government safety regulators, including the FAA, to develop IOSA. And it is always evolving to make sure that the latest global best practices and technology advancements are incorporated into IOSA's 900+ standards," said de Juniac.
Security
"Security is the responsibility of states but the industry is playing a role. The threat is real and is constantly evolving. We must innovate to be more effective and more efficient," said de Juniac.
IATA has partnered with Airports Council International (ACI) to promote Smart Security, which aims to reduce the hassle factor while making security more efficient and effective. Last year, IATA and ACI signed a Memorandum of Understanding with Hartsfield-Jackson Atlanta International Airport to deploy Smart Security concepts.
"Partnership with governments is critical for the success of Smart Security. And collaborative innovation is the only way to stay a step ahead of those intent on doing aviation harm. It is the only way to secure our vulnerabilities—landside, overflying conflict zones, insider threats or our IT infrastructure," said de Juniac.
Distribution
The New Distribution Capability (NDC), launched by IATA and supported by industry—is an innovation that will bring greater transparency to the air travel shopping experience when using a travel agent or online site. Based on XML, rather than the pre-internet standard common today, NDC standards will enable airlines to deliver much more information about their products through the agency channel. But a regulation proposed in the last days of the Obama Administration to require airlines to display certain ancillary information through the travel agent channel could have the unintended consequence of locking consumers into the older, less flexible and less transparent distribution model.
"I hope Secretary of Transportation Elaine Chao will take a fresh look at whether the US government should be dictating to airlines how and where they must display their products," said de Juniac.
Read Alexander de Juniac's speech
For more information, please contact
Corporate Communications
Tel: +41 22 770 2967
Email: corpcomms@iata.org
Notes for Editors:
IATA (International Air Transport Association) represents some 265 airlines comprising 83% of global air traffic.
You can follow us at http://twitter.com/iata2press for news specially catered for the media.