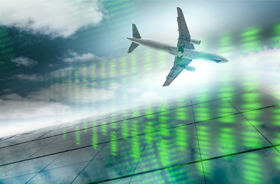 Translation: Estándares globales, cooperación y datos, claves en la seguridad aérea (pdf)
国际航协:确保航空安全的关键要素——全球标准、合作与数据 (pdf)
Seoul - The International Air Transport Association (IATA) urged aviation safety stakeholders to reinforce their commitment to a safety framework based on global standards, cooperation and dialogue, and effective use of data.
"Safety is the top priority for all involved in aviation—and aviation is the safest form of long-distance travel. Last year there were over 40 million safe flights. That's an achievement that we can all be proud of. And it was made possible by a framework that incorporates respect for global standards, cooperation and the value of data," said Alexandre de Juniac, IATA's Director General and CEO.
Speaking at the IATA Safety and Flight Operations Conference in Seoul, Republic of Korea, de Juniac identified air accident investigations as a key area where greater cooperation on global standards is needed:
"Global standards exist, but they are not being applied universally. The investigation process is one of our most important learning tools when building global standards. However, a recent study showed that of the approximately 1,000 accidents over the last decade, accident reports were available for only around 300 of them. And of those, many had room for improvement. To learn from an accident, we need reports that are complete, accessible and timely. We also need states to fully respect the standards and processes enshrined in global agreements for participation in the investigation by all specified parties," said de Juniac.
De Juniac also called for increased dialogue between regulators and industry to ensure that industry experience and know-how is incorporated into new regulations and standards.
"We have a common interest in safe and secure flights. Yet last month the US and the UK announced that large electronic devices would be banned from passenger cabins on some flights from the Middle East and North Africa. There was no consultation with airlines and the measure challenged public confidence with inconsistencies, while the safety concerns over concentrations of lithium batteries in the aircraft hold have not been adequately considered or addressed. The learnings from this are many—governments need to share information, they need to consult with industry, and they need to support the International Civil Aviation Organization (ICAO) as it develops a global aviation security plan."
Turning to the use of data to improve safety, de Juniac urged speed and innovation.
"The data generated from the 100,000 safe flights each day can help us understand where the next threat or challenge may arise. We need to move ahead in this area with speed. The IATA Global Aviation Data Management program (GADM) is vital to our future. It includes data from more than 470 organizations. Information provided through IATA's Flight Data eXchange program, a component of GADM, already is helping to identify potential hazards through the analysis of de-identified aircraft flight recorder data."
Another area where more data is needed involves the use of drones around airports and their potential hazard to aviation.
"The great majority of drone owners operate their devices responsibly, but it is also the case that the number of incidents is rising. There is significant work being developed at ICAO to produce standards for the larger drones that are equipped to share the airspace with manned aircraft. However, we need to ensure that the smaller drones, whether intended for recreational or commercial use, are kept out of airspace used for approach and landing operations of air transport.
"A framework of data, dialogue among all stakeholders and global standards will help to ensure that we are able to take advantage of the great opportunities presented by drones, with no degradation in system safety or efficiency," said de Juniac.
Read Alexandre de Juniac's speech
For more information, please contact:
Corporate Communications
Tel: +41 22 770 2967
Email: corpcomms@iata.org
Notes for Editors:
IATA (International Air Transport Association) represents nearly 265 airlines comprising 83% of global air traffic.
You can follow us at http://twitter.com/iata2press for news specially catered for the media.