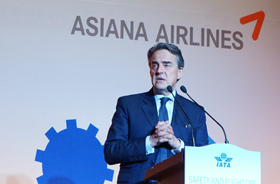 ​Good afternoon. It's a pleasure to participate in my first IATA Safety and Flight Operations Conference in the Republic of Korea—a great aviation nation. Thank you to Korean Air and Asiana Airlines for hosting us so well. And I would like to express appreciation to the sponsors who make this event possible.
This is a significant event. Safety is our top priority and this conference is an opportunity to make aviation even safer and more efficient. That goal is also at the heart of what IATA does. I'd like to begin my remarks with some thoughts on IATA's role in today's world.
First and foremost, IATA promotes safe, efficient, and sustainable global connectivity by air. We should not understate how important that is.
Aviation is the business of freedom. Our industry liberates people to live better lives. We do that by connecting people, goods, markets and ideas across great distances. But that can only happen with borders that are open to people and trade.
So we are deeply concerned with political developments pointing to a future of more restricted borders and protectionism. These deny the benefits of globalization, which aviation makes possible by safely transporting over 50 million tonnes of cargo and nearly four billion passengers annually.
Second, IATA has a unique global view. With our 265 members and other stakeholders, we set global industry standards and facilitate their implementation. Aviation could not function with different systems and standards for each airport or destination.
Third, IATA is involved in the global air transport business. Along with advocating for the industry's success, we provide critical services to support aviation's success. This includes our settlement systems, training, and consultancy.
We are gathered here to explore the theme of "Creating Safe and Sustainable Operations in an Interconnected World." Nobody can disagree with that aspiration. But the challenge is to find the most efficient ways of working together to achieve it. That's not easy for an industry with such a complex set of actors needed to get every flight off the ground safely—airlines, regulators, airports, air navigation service providers, manufacturers, systems providers, security agencies, ground handlers and many, many more.
What do we need to focus on? I'll suggest three areas:
Global Standards and Regulation
Emerging Safety Challenges
Infrastructure
Standards and Regulation
Let's begin with standards and regulation. Aviation is the safest form of long-distance travel. Last year there were over 40 million safe flights. That's an achievement that we can all be proud of. And it was made possible by the early realization that a global aviation industry needed global standards.
This is shown in the performance of airlines on the IATA Operational Safety Audit (IOSA) registry. Over the last five years the accident rate for IOSA members was three times better than non-IOSA airlines. And it is no coincidence that carriers in sub-Saharan Africa delivered their best safety performance in 2016—zero jet hull losses and no fatal accidents—after several years of focusing on IOSA standards.
Of course, IOSA cannot claim all of the credit; and it will take the continued cooperation of regulators, airlines and partners using global standards to make our safe industry ever safer.
Another example of successful cooperation involves aircraft tracking. Under the leadership of the International Civil Aviation Organization (ICAO), the Normal Aircraft Tracking Implementation Initiative (or NATII) agreed on a global tracking standard that will be applied from November 2018. Of course, many airlines already track their aircraft through a variety of methods.
While the circumstances that led to the disappearance of MH 370 are still unknown, the measures being put in place will reduce the likelihood of an aircraft not being tracked.
I think that we all are convinced of the important role of global standards, but I want to highlight some concerns.
The first is the need for consistent and robust consultation between the industry and its regulators. We have a common interest in safe and secure flights. Yet last month the US and the UK announced that large electronic devices would be banned from passenger cabins on some flights from the Middle East and North Africa. There was no consultation. The measure challenged public confidence with inconsistencies. And the safety concerns over concentrations of lithium batteries in the aircraft hold have not been adequately considered or addressed.
Airlines stepped up and implemented the measures. And then we asked governments to work with us on alternative measures to keep flying secure. The viability of alternative measures was demonstrated by the actions of security regulators in Australia and Canada, who are addressing the same threat information with extra checks at the gate.
The learnings from this are many: governments need to share information, they need to consult with industry, and they need to support ICAO's success in developing a global aviation security plan.
As an industry we must also raise our voice in defense of the accident investigation process enshrined in ICAO Annex 13. It is one of our most important learning tools when building global standards.
The good news is that as the number of accidents declines, the necessity for investigations is also falling. But the bad news is that accident investigations may be declining at a faster rate. I must recognize the IATA Accident Classification Task Force or ACTF for their efforts to elevate this concern.
An ACTF study revealed that of the approximately 1,000 accidents over the last decade, accident reports were available for only around 300 of them. And of those, many had room for improvement.
To learn from an accident, we need reports that are complete, accessible and timely. This is an opportunity for ICAO to encourage states to live up to their Annex 13 obligations, including full respect for the party process.
There may also be an opportunity for IATA to support better accident investigations. Accidents are so rare that many states are challenged to maintain the necessary expertise. For most airline people involved, it will likely be their first and last experience. This is an industry issue and one that deserves serious consideration. I certainly hope we are able to make a meaningful contribution to a solution that will strengthen the accident investigation process and the actions that arise from it.
Lastly, I believe that we need to find a way to address safety issues with greater speed. Safety is complex. Solutions to problems or changes to the way we do things need to be well thought out. But we cannot allow these factors to become a barrier to speed in a world in which the pace of everything is increasing.
Each accident, incident, or safety concern plays out instantly and globally across the media, and embeds itself in the minds of our customers, potential customers and regulators. It's imperative to find faster ways of coming to better decisions. Certainly dialogue and consultation among all involved is the starting point. And if governments necessarily take time to agree on global standards, then it's an opportunity for the industry to take an expanded leadership role of self-regulation that could lead to better results in shorter time-frames.
In case I paint too bleak a picture, I would highlight the industry's landmark success in achieving agreement among governments on the Carbon Offset and Reduction Scheme for International Aviation—or CORSIA. It was a decision of the 39th ICAO Assembly that positions the industry to achieve its carbon neutral growth target while avoiding the potential disaster of a patchwork of conflicting environmental measures, taxes and charges. The outcome reflects the dialogue, leadership and speed needed to get ahead on the imperative of sustainability and drive it to a successful conclusion. There are lessons that we can take from the experience.
Turning to Emerging Safety Challenges
An area that I would like to see the industry move ahead with speed is the use of data to improve safety. As important as it is to have effective accident investigations, we need to recognize that investigations are limited in terms of being able to provide the trend-data needed for a systemic risk-based approach to improving safety.
The data generated from the 100,000 safe flights each day can help us understand where the next threat or challenge may arise. The IATA Global Aviation Data Management program or GADM is critical to our future. It already includes data from more than 470 organizations. And over 90% of IATA member carriers are participating in at least one of the many databases that feed into it.
The value of GADM is not theoretical. Information provided through the Flight Data eXchange program—comprising de-identified flight recorder data--has revealed a rising number of "resolution advisories" in certain airspace. In other words, data has identified a problem. And analyzing it further will point us towards the solution.
Moving GADM forward is a top priority. And if you are not already participating in a GADM program, I strongly encourage you to join.
One area where we certainly need to gather more data is the use of drones around airports and their potential hazards to aviation. Of course, the great majority of drone owners operate these devices responsibly, but it is also the case that the number of incidents is rising. For example, in Canada, reported drone incidents more than tripled from 41 when data collection began in 2014, to 148 last year, according to Transport Canada.
For all their challenges, drones represent an enormous commercial opportunity for our industry that we cannot ignore—because others will not. There is significant work being developed at ICAO to produce standards for the larger drones that are equipped to share the airspace with manned aircraft. However, we need to ensure that the smaller drones, whether intended for recreational or commercial use, are kept out of airspace used for approach and landing operations of air transport.
At the 39th ICAO Assembly last fall, IATA and our industry partners called for the development of standards and definitions to ensure global harmonization of regulations for these small drones, and the protection required for their safe operation. Advances in drone technology will certainly aid in this endeavor. But we must also ensure that our skies are ready to accommodate this vast increase in demand.
Infrastructure
That brings me to the last important area on which we need to focus: infrastructure. I don't have to tell you that globally, a lack of sufficient and economical airspace and airport capacity are potential blockers of our ability to meet an expected doubling in passenger demand by 2035.
The Republic of Korea is a leader in understanding the value of strategic transport infrastructure to drive growth. Unfortunately, this is not the case everywhere.
Airline infrastructure needs are well known—sufficient capacity, quality service and affordable prices. Yet we see airport bottlenecks on every continent compromising air transport's ability to support economic growth. Areas with acute air traffic management deficiencies now include the US, Europe and China, with the Gulf at the top of the list. And where air traffic management investments do occur, too often they happen without consultation on airline needs—so the benefit of the investment does not weigh up to the costs.
There is no magic solution. But there are some things that we as an industry must insist upon with our government partners.
The first is consultation. The premise for that is the important role that air transport infrastructure plays in the economy. A recent IATA-commissioned study showed that the failure of the Single European Sky will result in an annual cost to the European economy of 245 billion euros by 2035. To avoid that, we are asking states to establish national airspace plans—so that we can unite Europe's sky with the understanding that every state stands to benefit.
The second is to think beyond borders. There are some positive examples from which to draw, including the Singapore-Hong Kong-Thailand multi-nodal air traffic flow management (ATFM) project and Northeast Asia Regional ATFM Harmonization Group. IATA is involved in both.
The third is careful consideration of ownership. In the United States we are advocating for corporatization of air traffic management through a non-profit structure, similar to what has been done in Canada. This will keep the service focused on the national interest, but free it from a politicized budgeting process and special interests.
This is also at the heart of our message to governments considering privatizing of airport infrastructure. Airports should focus on enabling economic vibrancy in the communities they serve by facilitating growth in connectivity. That won't be achieved by private owners focused on maximizing profits and shareholder value.
And a regulatory solution is not easily achieved. We have not seen a regulatory framework anywhere in the world that has been able to successfully balance profit and public interest over the long-term. But we have seen airport privatization dent a country's competitiveness by increasing the costs of mobility and compromising service levels.
The Business of Freedom
I will conclude my remarks by returning to a favorite theme of mine. Aviation is the business of freedom. Our success makes the world a better place by connecting people and businesses, growing economies and enabling journeys of exploration. In totality the world has grown much wealthier through trade and travel. That has helped to raise over a billion people from poverty. All of us in this room should feel honored to bear the responsibility for ensuring that aviation remains safe, efficient and sustainable, so that it can continue to be the business of freedom for decades to come. I wish you a successful conference.
Thank you