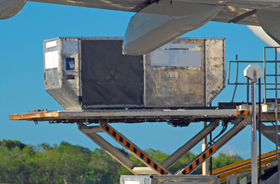 Translations:

Geneva – The International Air Transport Association (IATA) released data for global air freight markets showing that demand, measured in freight tonne kilometers (FTKs), increased by 12.1% in August 2017, compared to the same period a year ago. This was the fifth time in six months of double-digit gains on the previous year's performance. Demand is growing at exceptional speed when compared to the five-year average growth rate of 4.4%.
Freight capacity, measured in available freight tonne kilometers (AFTKs), grew by 4.7% year-on-year in August 2017. Demand growth continues to significantly outstrip capacity growth, which is positive for industry load factors, yields, and financial performance.
The strong performance of air freight demand corresponds with the pick-up in global trade. World trade volumes grew 4.2% in the first seven months of 2017 compared to 2016, their strongest performance since 2011. This is consistent with rising export orders, which are currently around their highest levels since March 2011, and upbeat business confidence indicators.
Signs that the peak of the cyclical growth period may be near also continue. The global inventory-to-sales ratio in the US, for example, has stopped falling. This usually means that re-stocking to meet demand (which gives air freight a boost), is ending.
The outlook for air freight remains strong. With several months of double-digit growth in 2017, the current IATA forecast of 7.5% growth in air freight demand for 2017 appears to have significant upside potential even if we are approaching a cyclical peak.
"Air cargo had another stellar performance in August. Demand for air cargo grew at a double-digit rate for the fourth month in a row - outperforming demand for passenger travel for the fourth consecutive month. Rapid growth in cargo demand means that cargo capacity is now growing in response to real cargo demand rather than automatically as carriers responded to passenger demand. The pace of capacity growth, however, has slowed even as freighter fleets are being utilized more intensely. Overall, that should be good news for much beleaguered cargo yields," said Alexandre de Juniac, IATA's Director General and CEO.
| August 2017 (% year-on-year) | World share1 | FTK | AFTK | FLF (%-pt)​2 | FLF (level)​3 |
| --- | --- | --- | --- | --- | --- |
| Total Market | 100.0% | 12.1% | 4.7% | 2.8​% | 43.3% |
| Africa | 1.6% | 29.4% | 5.9% | ​4.1% | 22.7% |
| Asia Pacific | 37.5% | 11.3% | 5.7% | ​2.7% | ​54.2% |
| Europe | 23.5​% | 11.8% | 5.1% | 2.6% | 43.5% |
| Latin America | 2.8% | ​8.5% | 9.3% | -0.2% | 32.5% |
| Middle East | ​​13.9% | 14.1% | 2.8% | 4.4% | 43.8% |
| North America | 20.7% | 11.7% | 3.7​% | ​2.5% | 34.8​% |
(1) % of industry FTKs in 2016 (2) Year-on-year change in load factor (3) Load factor level

Regional Performance
All regions with the exception of Latin America posted double digit freight growth in August 2017.
Asia-Pacific airlines' freight volumes grew 11.3% in August 2017 compared to the same period a year earlier, and capacity increased by 5.7%. Demand growth was strong on all the major routes to, from and within Asia-Pacific, consistent with strong export order books for the region's manufacturers. Seasonally-adjusted international freight volumes increased in August after a slight dip in July and are now almost 6% above the volumes reached following the 2010 post-global financial crisis bounce-back.
North American carriers posted an increase in freight volumes of 11.7% in August 2017, and a capacity increase of 3.7%. Seasonally-adjusted international freight volumes remain strong. The strength of the US dollar has boosted the inbound freight market over the past few years. Data from the US Census Bureau shows a 12.7% increase in air imports to the US in the first seven months of 2017, compared to a slower rise in export orders of 5.8%. Despite the US dollar remaining strong by historical standards, its slight decline since the start of the year is expected to start to help rebalance trade flows.
European airlines posted an 11.8% increase in freight demand in August 2017 and a capacity increase of 5.1%. Double-digit growth in international demand has now been recorded in 10 of the past 12 months. Concerns that the recent strengthening of the euro may have affected the regions' exporters have not materialized. In fact German manufacturers' export orders are growing at their fastest pace since early-2010.
Middle Eastern carriers' year-on-year freight volumes increased 14.1% in August 2017 and capacity increased 2.8%. The strong pick-up in demand largely reflects favorable comparisons to a short-lived weak patch in demand in 2016 rather than an acceleration in the current demand trend. Seasonally-adjusted international freight volumes have maintained their solid upward trend. However, amid strong competition from other region's carriers particularly on the Asia-Europe route, the Middle East carriers are not seeing as strong a pickup in the seasonally-adjusted traffic trend as other region's carriers.
Latin American airlines experienced a growth in demand of 8.5% in August 2017 and capacity increased by 9.3% compared to the same period in 2016. International freight volumes increased by 9.5% over the same period. This is close to a seven-year high and well above the five-year average rate of -0.1%. Seasonally-adjusted international freight volumes grew strongly for the sixth consecutive month in August, however they remained 4% lower than their peak in 2014. Despite this, seasonally-adjusted demand has been trending upwards at an annualized rate of about 20% over the past six months. The pick-up in demand reflects signs of economic recovery in the region's largest economy, Brazil.
African carriers posted the largest year-on-year increase in demand of all regions in August 2017 with freight volumes growing 29.4%. This is a slight slowdown from July but still more than three times the five-year average pace of growth of 8.8%. Capacity increased by 5.9% over the same period. Demand has been boosted by very strong growth on the trade lanes to and from Asia which increased by more than 67% in the first half of the year.
View the complete air freight market analysis (pdf)
For more information, please contact:
Corporate Communications
Tel: +41 22 770 2967
Email: corpcomms@iata.org
Notes for Editors:
IATA (International Air Transport Association) represents some 275 airlines comprising 83% of global air traffic.
You can follow us at http://twitter.com/iata2press for news specially catered for the media.

Explanation of measurement terms:
- FTK: freight tonne kilometers measures actual freight traffic
- AFTK: available freight tonne kilometers measures available total freight capacity
- FLF: freight load factor is % of AFTKs used

IATA statistics cover international and domestic scheduled air freight for IATA member and non-member airlines.
Total freight traffic market shares by region of carriers in terms of FTK are: Asia-Pacific 37.5%, Europe 23.5%, North America 20.7%, Middle East 13.9%, Latin America 2.8%, and Africa 1.6%.