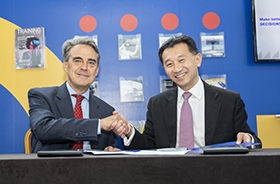 Translations:
IATA y Star Alliance renuevan su cooperación para mejorar la experiencia del pasajero (pdf)
IATA e Star Alliance renovam cooperação para melhorar a experiência do passageiro (pdf)
Seoul – The International Air Transport Association (IATA) and Star Alliance have renewed their collaboration on traveller document verification to improve the passenger experience. Star Alliance and IATA, in a signing ceremony at IATA's 75th Annual General Meeting in Seoul, agreed that IATA's Timatic AutoCheck solution will continue to power Automated Document Check (ADC) for Star Alliance member carriers.
IATA Timatic AutoCheck enables Star Alliance customers checking-in at the airport counter or online to verify that their travel documents are valid and complete for the whole journey, including any transit point before travel begins. This delivers several significant benefits;
Preventing the embarrassing and distressing situation for passengers of being denied entry to a country on arrival owing to missing or invalid documents, and
Enabling a seamless experience when travel encompasses multiple carriers. Passengers will no longer need to see an agent to have their travel documents checked and rechecked at transit points, and
Avoiding the passenger fine to airlines for transporting inadmissible passengers

Jeffrey Goh, CEO Star Alliance said: "This marks another milestone in our continuing strategy to improve the passenger travel experience, especially for those customers who fly on multi-carrier journeys. Our partnership with IATA to extend collaboration on passenger document verification through use of IATA's Timatic AutoCheck to support our proven solution of the ADC will help ensure a seamless travel experience for our members' 775 million passengers, a priority that lies at the heart of our strategic repositioning."
"Digital transformation is essential to meeting evolving passenger expectations today and into the future. Star's selection of Timatic will give its customers a better experience," said Alexandre de Juniac, IATA's Director General and CEO.

For more information, please contact:
IATA Corporate Communications
Tel: +41 22 770 2967
Email: corpcomms@iata.org

Star Alliance Corporate Communications
Tel: +49 69 96375 183
Email: mediarelations@staralliance.com

Notes for editors:


Photo: IATA Director General and CEO, Alexandre de Juniac and Star Alliance CEO Jeffrey Gohsign joint agreement on Timatic Automated Document Check
About Timatic: IATA Timatic solutions have been supporting the travel industry for over 60 years. Solutions include Timatic which is available in most airline and travel agent systems, Timatic AutoCheck, TimaticWeb2 and the TIM manual. In 2017 420 million passengers had their travel documents checked in Timatic.
About Star Alliance: The Star Alliance network was established in 1997 as the first truly global airline alliance to offer worldwide reach, recognition and seamless service to the international traveller. Its acceptance by the market has been recognized by numerous awards, including the Air Transport World Market Leadership Award and Best Airline Alliance by both Business Traveller Magazine and Skytrax. The member airlines are: Adria Airways, Aegean Airlines, Air Canada, Air China, Air India, Air New Zealand, ANA, Asiana Airlines, Austrian, Avianca, Avianca Brasil, Brussels Airlines, Copa Airlines, Croatia Airlines, EGYPTAIR, Ethiopian Airlines, EVA Air, LOT Polish Airlines, Lufthansa, Scandinavian Airlines, Shenzhen Airlines, Singapore Airlines, South African Airways, SWISS, TAP Air Portugal, THAI, Turkish Airlines and United. Overall, the Star Alliance network currently offers more than 19,000 daily flights to over 1,300 airports in 194 countries. Further connecting flights are offered by Star Alliance Connecting Partner, Juneyao Airlines.
IATA (International Air Transport Association) represents some 290 airlines comprising 82% of global air traffic.
You can follow us at https://twitter.com/iata for announcements, policy positions, and other useful industry information.