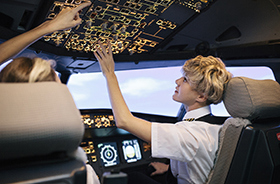 Translations:
Effort coordonné en vue de la remise en service sécuritaire du 737 MAX (pdf)
خلال القمة الثانية لـ"بوينج 737 ماكس" الذي نظمها الاتحاد الاتحاد الدولي للنقل الجوي يؤكد أهمية تضافر الجهود لضمان عودة طائرة بوينج 737 ماكس إلى الخدمة بأمان (pdf)
Esfuerzo coordinado para un regreso seguro del 737 MAX (pdf)
国际航协:协调努力 确保737 Max客机安全复飞 (pdf)
Montreal - The International Air Transport Association (IATA) urged state aviation safety regulators to continue to align on technical validation requirements and timelines for the safe re-entry into service of the Boeing 737 MAX aircraft. The announcement came at the conclusion of the second Boeing 737 MAX Summit organized by IATA.
"The Boeing 737 MAX tragedies weigh heavily on an industry that holds safety as its top priority. We trust the Federal Aviation Administration, in its role as the certifying regulator, to ensure the aircraft's safe return to service. And we respect the duty of regulators around the world to make independent decisions on FAA's recommendations," said Alexandre de Juniac, IATA's Director General and CEO.
"At the same time, aviation is a globally integrated system that relies on global standards, including mutual recognition, trust, and reciprocity among safety regulators. This harmonized structure has worked successfully for decades to help make air travel the safest form of long distance travel the world has known. Aviation cannot function efficiently without this coordinated effort, and restoring public confidence demands it," said de Juniac.
IATA reiterated the need for alignment on additional training requirements for Boeing 737 MAX flight crew.
Representatives from more than 40 airlines, safety regulatory authorities, original equipment manufacturers, training organizations, aviation-related associations and aircraft lessors attended the second Boeing 737 MAX Summit in Montreal, 26 June 2019.
For more information, please contact:
Corporate Communications
Tel: +41 22 770 2967
Email: corpcomms@iata.org
Notes for Editors:
IATA (International Air Transport Association) represents some 290 airlines comprising 82% of global air traffic.
You can follow us at twitter.com/iata for announcements, policy positions, and other useful industry information.