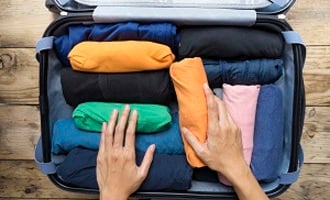 Airlines set the rules for how many bags you may check in and for possible related charges.

These rules can vary according to frequent flyer status, the product you have purchased and the route upon which you fly.
The following information will help you understand the rules regarding checked and carry-on baggage and the role IATA plays in this area.
Carry-on Baggage
Weight and Size
Carry-on baggage allowance can vary according to the airline, the cabin class you are traveling in and even the size of the aircraft. As a general guide, carry-on baggage should have maximum length of 22 in (56 cm), width of 18 in (45 cm) and depth of 10 in (25 cm). These dimensions include wheels, handles, side pockets, etc.
Some airlines also enforce weight limitations, typically starting at 5kg/11lbs.
To avoid additional charges, please check with your airline before you travel so that you are fully aware of the carry-on baggage allowance included with your airfare.
If you are using different airlines throughout your journey, you should check their individual websites for up to date information regarding carry-on baggage allowances.
Portable Electronic Devices & Lithium Batteries
Lithium batteries in portable devices can pose a fire risk if not safely handled and packed correctly. If you are traveling with spare batteries, electronic cigarettes/vapes or back-up power supply (power banks) and most other portable electronic devices, you must carry them in your carry-on baggage and not checked baggage. Any spare batteries must be individually wrapped to prevent short circuit.
> Read our detailed guidance for using electronic devices safely onboard (pdf).
Sharp Objects
All knives, sharp objects or cutting implements of any kind and of any length, whether of metal or other material, and some sporting goods must be packed in checked baggage. They cannot be carried in the cabin baggage nor on your person.
Liquids, Aerosols, Gels & Powders
Security regulations limit the amount of liquids aerosols and gels permitted in carry-on baggage.
The International Civil Aviation Organization, the UN's aviation standard-setting body, has defined guidelines that more and more governments are adopting. The current restrictions for liquids, aerosols and gels from ICAO and in effect in most countries are that they must be in containers 100ml or equivalent, placed in a transparent resealable plastic bag with max capacity 1-litre.
At screening, these plastic bags should be presented apart from other carry-on items. Medications, baby milk/foods, special dietary requirements are exempt.
Some airports also require additional screening of powders in quantities greater than 355ml/12 ounces.
Medical Supplies
If you require the use of medical syringes in flight, such as for insulin, you need documented proof of the medical need and ensure that the material is professionally packed and labeled. If it is not, the medication is likely to be removed at security screening.
Where to Put Your Carry-on Baggage
For safety reasons, all baggage in the cabin must be put away as soon as possible once you have boarded the aircraft.
Bags can be placed under the seat in front of you, or in the overhead compartments. If you are sitting by an emergency exit, or there is no seat in front of you, all of your belongings must be placed in the overhead compartments.
In order to use overhead compartment space more efficiently and to help prevent having to offload excess bags, please read our guidance for storing wheeled bags safety (pdf).
If there is no space to store your bag onboard, or the bag needs to be removed at the gate, the cabin crew or ground staff will place it in the cargo hold for you. Please make sure you remove any portable electronic devices, spare batteries and any medications you may need for the flight before they take the bag.
If an emergency situation arises, leave your carry-on items safely stowed and follow the instructions of the cabin crew.
Keeping Your Carry-on Baggage Secure
To prevent any security alerts, do not leave your baggage unattended while in or around the airport terminals. Using a padlock on carry-on baggage is a sensible deterrent against theft.
Checked Baggage
Weight, Size and Number
IATA has guidelines for baggage but the number and weight of baggage allowed free of charge can vary by airline, frequent flyer status, routing and fare. To avoid additional costs, please check with your airline before you travel so that you are fully aware of the checked baggage allowance included with your airfare.
Each bag should weigh less than 23KG/50LBS. This is an international regulation set for the health and safety of airport workers who have to lift hundreds of bags daily. If your bag weighs more than this, you may be asked to repack, or have it labeled as "heavy luggage".
The maximum weight for one bag is 32KG/70LBS in the EU and the US. Some airlines impose lower limits.
The "piece concept" is generally in use on flights within, to and from Canada and the United States. This concept defines the number of bags entitled by the passenger's ticket. Where the "piece concept" applies, generally, two pieces of checked baggage are allowed per passenger, each piece weighing a maximum of 32 kilos (70 lb) and measuring no more than 158 cm (62 in) when adding the dimensions: height + width + length.
Lost baggage is often the consequence of the baggage label having detached from the bag. To allow identification of your bag in all situations, make sure to have your name, telephone number and email address appear outside of your bag and a copy of your travel itinerary inside your bag. When there is no other way to identify your luggage, the airline will have to break it open and this identification piece will be crucial to returning your belongings.
We recommend that you do not pack valuable items in checked baggage.
We recommend that all portable electronic devices are placed in your carry-on baggage, but if you need to place them in your checked baggage, you must make sure that they are fully switched off and not in sleep or hibernate mode.
Electronic cigarettes/vapes, spare batteries and portable power supplies (power banks) must not be packed in your checked baggage.
Some items such as gas canisters, lighters, fireworks, bleaches etc. cannot be carried in checked baggage. If you are concerned that something that you wish to pack may not be allowed, check with your airline. Items that are considered to be too dangerous for checked baggage will be removed and probably not returned to you.
For additional information please see the Dangerous Goods page.
If Your Checked Bag Goes Missing
Globally 99.5% of all baggage travels with the passenger as planned and the vast majority of bags that are mishandled are returned to the passenger within 48 hours. This does not detract from the fact that arriving without your baggage is a significant inconvenience.
Many baggage mishandlings occur at the transfer point due to punctuality issues, and these are often caused by air traffic control congestion. Sometimes it is simply not possible to move the bags between flights in the time available. IATA and its members continue to work hard to improve baggage performance further.
If your bag is not delivered at the baggage reclaim, it is important that you file a missing bag report in the baggage reclaim area before you leave the airport.
What does IATA do?
Airlines set their own baggage rules and IATA plays no role in this activity. Instead, IATA is focused on developing standards and best practices for baggage operations including tracking and tracing mishandled bags. More about IATA activities related to bagagge
As a result of joint efforts in coordination with our member airlines, baggage mishandling was reduced from 18.88 bags mishandled per 1000 passengers in 2007 to 3.5 in 2020.