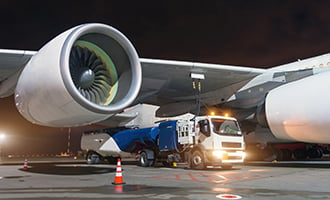 Fuel has a significant impact on the airline industry results. IATA supports the industry's safe and efficient fuel management through two main streams: fuel servicing, focused on the commercial and technical aspects of fuel and fuel efficiency, focused on operational best practices for fuel management. We also promote the interests of our members in all aspects of commercial and technical fuel, with a focus on ensuring the reliable supply of quality jet fuel at optimal price levels, available at airports worldwide. And we support airlines in aligning the fuel provision agreements with their operational needs while covering regulatory requirements.
With fuel cost typically being one of the largest if not the largest component of an airline's operating cost, there is interest to monitor how jet fuel prices are changing around the world and to understand some of the geopolitical and market dynamics behind these changes. A weekly update of jet fuel prices around the world is provided through the Jet Fuel Price Monitor.
To find out more about the impact of jet fuel prices on the airline industry's fuel bill in 2022 and 2023, please check out the Fuel fact sheet (pdf).
Fuel guidance materials and best practices
| | |
| --- | --- |
| Guidance Materials | Best Practices |
| | |
Aviation Fuel Supply Model Agreement
The Aviation Fuel Supply Model Agreement (AFSMA) was developed over two decades ago to serve as an optional starting point in contractual negotiations for supply of conventional jet fuel between an airline and its fuel supplier. The development of the AFSMA was coordinated by IATA with inputs from the airlines and the jet fuel supplier community. AFSMA for conventional jet fuel has gone through a number of iterations and the latest version is AFSMA edition 5, January 2017.
With the increasing usage of Sustainable Aviation Fuel, there has been a strong call by the industry to develop a similar model agreement for supply of SAF. Again with inputs from airlines and fuel suppliers, a model agreement has been developed to facilitate the supply of SAF Blend. This new model agreement builds on the existing supply model agreement for conventional jet fuel, taking advantage of the similar specifications of SAF Blend with conventional jet fuel. The additional considerations for the supply of SAF, in particular the rights to the environmental attributes and the documentation required for the environmental attributes to be claimed under various regulatory schemes such as CORSIA, are included in the articles of the model agreement. AFSMA edition 5.1, July 2023 which incorporates supply of SAF Blend is now available for use by the industry.
Sustainability
Jet fuel accounts for almost 30% of airlines' operating expenses. IATA's commercial fuel campaigns aim to ensure airlines have access to a reliable and efficient supply of jet fuel at transparent and competitive prices.
Driving down costs
In driving down the cost of the provision of jet fuel, IATA works to reduce unjustified duties, fees and taxes on jet fuel which often contravene ICAO policy and air services agreements concluded between states while supporting secure and transparent pricing practices. We also encourage competition at airports for fuel supply and into plane services, and where there is no competition, seek economic regulation
Supply reliability
Shortages in jet fuel supply at airports can become very expensive for airlines, causing delays and forcing them to tanker fuel from other destinations. We strive to ensure a reliable supply of jet fuel by:
Addressing fuel supply reliability issues at airports prone to stock-outs
Ensuring adequate jet fuel storage/tankage facilities are available
Assisting airlines, airports and fuel suppliers in better managing fuel shortfall incidents and crises
> More on Sustainable Aviation Fuels
Fuel data standards
The data standards for the entire fuelling cycle from tender/bid to invoicing were developed with airlines and industry partners through the Fuel Data Standards Group. These standards allow a paperless fuelling cycle to be conducted. The standards are available for free.
> More on Fuel Data Standards
Governance
The Commercial Fuel Working Group (CFG) acts as a sounding board for global positions on fuel and prioritization of fuel campaigns to secure a reliable supply of fuel at competitive and transparent prices and address the uptake of Sustainable Aviation Fuel. Reporting to the Sustainability and Environment Advisory Council, the CFG provides oversight and direction to further the interests of IATA member airlines in all commercial aspects of aviation fuel.
Objectives
Ensuring reliable fuel supply for both Conventional Aviation Fuel and Sustainable Aviation Fuel at international airports
Eliminating or moderating unacceptable duties, fees and taxes
Promoting open access to fuel infrastructure and competitive jet fuel markets at airports, as well as market-based pricing for fuel and related services
Promoting the use of Sustainable Aviation Fuel