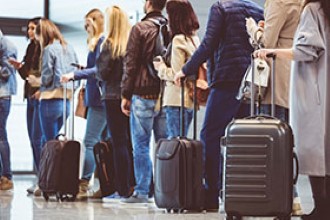 IATA engages with states, airports, organizations, industry associations and other stakeholders on behalf of its airline members to shape the global landscape for modernizing the travel journey, simplifying passenger processes and enhancing border security. Through collaboration, IATA seeks to reach mutually acceptable arrangements for control authorities and airlines to unlock the multiple benefits of aviation and remove the burdens on the aviation industry and passengers.
IATA develops information and advocacy material in areas such as entry requirements, passenger data exchange, travel documents, travel authorization, border control processes, advance passenger information (API) data quality, identity management, human trafficking, unruly passengers, passengers with disabilities. We as well promote adherence of States to the international passenger data standards. The IATA API-PNR Toolkit provides valuable guidance.
Engagement with ICAO
The International Civil Aviation Organization (ICAO) manages the administration and governance of the Convention on International Civil Aviation (Chicago Convention). IATA works with the ICAO Facilitation Panel to foster implementation of the Standards and Recommended Practices (SARPs) of Annex 9 — Facilitation, and to keep them current.
By contributing to the ICAO Traveller Identification Programme (TRIP), IATA brings operational considerations from the airline industry. We also help achieving a greater harmonization and digitalization of processes and credentials, notably by contributing to the technical specifications set forth in ICAO Doc 9303, Machine Readable Travel Documents (MRTDs).
Recent papers submitted to ICAO:
IATA Control Authorities Working Group (CAWG)
The IATA CAWG (pdf) provides strategic direction and leadership for integrated border management and aviation facilitation. The material developed by the group is the outcome of collaboration between governments and the airline industry, expressing a balanced perspective on the needs and limitations of both airlines and control authorities.
Available guidance and material
The IATA CAWG currently works on API data quality, travel documents, government digital health portals, multiple passport holders, travel authorizations, iAPI Best Practice, digital identities and legislative frameworks.
Access the IATA CAWG general presentation (pdf)