A leaner organization, continuously improving in the interest of customers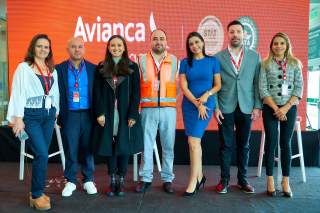 We have achieved our certification goals in every program, and in very short periods of time. We have proven that we are innovators by becoming the first airline in our region to be certified CEIV Fresh, and the first to be certified in three different CEIV categories. To date, we have ten stations certified for the three CEIV programs, including three for lithium batteries at major hubs in the Americas serving Asia, Europe and our region.
The certification process has allowed us to put in place processes and elevate our knowledge at every level of the organization, driving accountability and an enhanced culture of continuous improvement. Our teams, who played such a vital role in our success in each validation for the CEIV program, now build on this solid foundation every day. Not only are we aligned with industry standards regarding product, quality, and service, but we also take proactive steps, based on the assessments, to continuously reinforce our product quality system. This collective effort, aligned with our transformation objectives, has significantly improved our efficiency and consistency in how we work, across all our facilities, and has strengthened our value proposition to customers, including improving the customer experience.
Following the CEIV Pharma certification we obtained in 2022, we transported 38% more pharmaceutical products than the previous year. Additionally, we improved our product delivery service: the rate of complaints and overall corrective and preventive actions (CAPA) decreased by more than 30% each. Similarly, in the few months since we obtained the CEIV Fresh certification, we have transported 15% more perishables compared to the same period the previous year, with CAPAs dropping by 28% and claims decreasing by 17%. Finally, we have seen an improvement in CAPA response time of an average of 20% compared to the commitment established with our customers.
An advocate for innovation and improvement throughout the air cargo industry
Obtaining IATA certifications has 100% met our expectations, but we are now aiming at 200%. We strongly advocate for certification and want to help the industry improve overall, around the world. Obtaining CEIV certification is a statement of the individual company's commitment to consistent processes, safety, and compliance, however, the air cargo industry requires a joint commitment to the sustainability of the industry and to continuing to be innovative and agile. All airfreight stakeholders need to be involved in order to build trust and confidence with customers, and make airways the transport of choice. We are therefore actively helping other organizations, by sharing our experiences, and we have representatives involved in leadership groups, sharing our ideas to keep pushing it forward. We firmly believe that we owe it to our customers to keep pushing the envelope for their benefit, moving towards ever higher levels of service and safety, and that is what we intend to do.