Need Help?
Improve the handling and transport of perishable products along the supply chain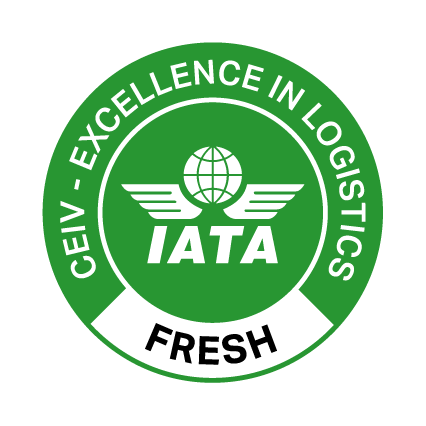 The transport of perishable goods by air increases constantly with growing consumer demand for healthy products all year round. The most important aspects of air transportation of perishables are time and temperature management to prevent food loss.
The aviation industry has voiced concerns over the lack of standardized procedures and best practices. This is the purpose of the CEIV Fresh program. It provides organizations with the opportunity to become a center of excellence for perishable logistics.
CEIV Whitepaper: Excellence Beyond Compliance
Learn how to embrace best practice in critical cargo shipments with the Center of Excellence for Independent Validators (CEIV).
Need Help?
Apply excellence in perishable logistics

By complying with the Perishable Cargo Regulations (PCR) you can ensure standardized and efficient processes and operations throughout your company. Become CEIV Fresh-certified:

Elevate staff competency through efficient and robust training programs
Ensure food safety and prevent food waste along the supply chain
Reduce food loss and waste through appropriate quality and risk management
Enable increased collaboration amongst stakeholders and certified trade lanes
Promote a uniform approach in a multimodal environment for the transportation of perishable products

Reinforce trust through transparency and communication

The key objectives that arise in perishable logistics throughout an organization are as follow:
Raise awareness on existing standards and develop new requirements;
Enhance professionalism in the industry as well as quality services
Consider the aspect of sustainability and getting the message across to consumers.
Ensure overall food safety and reductions of loss of products in the air industry
Streamline companies' own processes in the different special cargo area.


Process to achieve and maintain CEIV Fresh certification:
Training: follow the Perishable Cargo Logistics Management training for personnel engaged in defining quality and risk management systems around the transport, handling, and management of time and temperature sensitive perishable shipments.
Assessment: carry out an assessment of the handling and transport of perishable products against the CEIV Perishable Logistics Audit Checklist to ensure compliance with current standards and requirements
Validation: conduct a final validation to verify that the findings and gaps brought up during the assessment have been addressed to ensure that the organization meets the program's objectives.
Certification: being recognized and registered as a "Center of Excellence for Perishable Logistics" after completion of the training and validation parts. The certificate is valid for 36 months.
Re-certification: follow a refresher training and a re-validation to check and ensure continued compliance with the program's requirements.
> Download the CEIV Fresh Flyer for more information on certification.
​​​​​​​​​The CEIV Fresh program is based on list of requirements, standards, best practices, guidelines as well as food safety management with the Hazard Analysis Critical Control Point (HACCP) methodology which include:
EC's notice on the implementation of food safety management systems covering prerequisite programs (PRPs) and procedures based on the HACCP principles, including the facilitation/flexibility of the implementation in certain food businesses (2016/C 278/01)
National Food Safety Legislations, guidelines or standards
CEIV Trade Lane Certification
A CEIV trade lane is a general classification of any transport-related activities between two defined countries. A trade lane is CEIV Pharma/Live Animals/Fresh certified if the origin and destination is being linked by CEIV certified transport companies (such as an airline, ground handler, freight forwarder or a trucking company), throughout each stage of the journey from origin to destination (i.e. at no point is the shipment handled or transferred to a non-CEIV certified entity or a subcontracted entity not under the strict SLAs established under the CEIV certification process).
It is also important to note that a company, such as an airline, is not CEIV certified for its network (including all online stations) unless all their stations went through the certification and/or Ground Service Providers have obtained CEIV Certification.
YANIV SORANY

Senior Manager, Training & Validations Program

Experienced senior manager with 20 years of experience of working in the aviation business. Yaniv managed and planned a large number of consultancy projects more particularly in special cargo handling, operations and management.
Yaniv expertise over the last years has included worldwide responsibility and leadership as the product lead for the faculty of cargo and logistics studies at IATA Training. Throughout his career, Yaniv has demonstrated the skills and abilities to manage complex projects in difficult and challenging environments while displaying a high sensitivity for cultural differences and making client satisfaction the highest priority.
View Yaniv's LinkedIn profile.

Key achievements

Managed and planned over 50 consultancy projects of various scale around the world.

Managed the faculty of cargo and logistics studies at IATA Training.

Delivery of numerous commercial and partnership agreements with major organization.

Holds Bachelor's degree in Business Administration and Management.

Interested in becoming CEIV Fresh certified?