Prevent the damage and loss of perishable products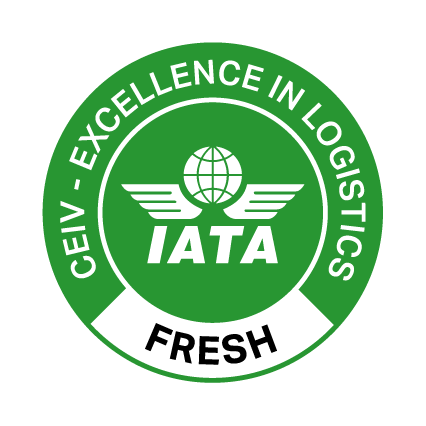 As consumer demand for healthy products all year round continues to grow, so does the transport of perishable goods by air, providing supply chain stakeholders with business opportunities. But, with some 12% of total food production being lost due to insufficient refrigeration, every stakeholder also has a responsibility to do their part to safeguard the world's food supply and make it sustainable.
The CEIV Fresh certification is based on the Perishable Cargo Regulations, establishing baseline standards and best practices with the aim of ensuring supply chain partners efficiently manage time and temperature to prevent food loss. It provides organizations with the opportunity to become a center of excellence for perishable logistics.
Ready to get started?
Apply excellence in perishables logistics with CEIV Fresh
Grow your perishables logistics business by mastering the cold chain - The CEIV Fresh certification ensures that facilities, equipment, operations and staff comply with food manufacturers' and distributors' needs and expectations.
Do your part to ensure food safety and prevent food waste along the supply chain - CEIV Fresh forces implementation of appropriate quality and risk management, as well as promoting a uniform approach in a multimodel environment for the transportation of perishable products, and increasing collaboration amongst stakeholders, ultimately leading to a reduction in food loss and waste.
Streamline your operations - By complying with the Perishable Cargo Regulations (PCR), you ensure standardized and efficient processes throughout your company, and elevate the competency of your staff through the associated efficient and robust training programs.
Etihad Cargo aimed to assure perishables shippers their goods were in safe hands.
Ensure food safety and compliance
The CEIV Fresh certification assesses your organization based on the checklist in Appendix F of the Guidelines for CEIV Perishable Cargo Logistics of the IATA Perishable Cargo Regulations (PCR), and on other standards, guidelines and best practices, including the FAO/WHO Codex Alimentarius Commission Standards, ISO 22000:2018, the European Commission's notice on the implementation of food safety management systems, and national food safety legislation. It covers:
Quality Management - Including organization and management, your Quality Management System, management reviews, key performance indicators, and risk management.
Personnel - Including who is responsible, and how staff are trained.
Documentation - And more specifically, documentation relating to infrastructure and equipment, and to processes.
Infrastructure and equipment - Including your premises, temperature mapping and monitoring, your IT system, and calibration and maintenance.
Quarantines and compliants - Including how you manage and track cases.
Supplier management - Including how you ensure your suppliers meet the same standards.
Self-inspections and internal audits - Including the references and tools you use.
Transportation - Including by road as well as by air.
Operations as a whole - Including general, ground transportation, acceptance of shipments, temporary storage, warehousing, tarmac transportation, aircraft loading and unloading, and perishables facilities.
Be supported every step of your CEIV Fresh journey
The IATA Certification process is designed to guide and support you to success. We give you the understanding, tools and expert advice you need to achieve your organization's certification. The process is as follows:
Training - At least two (2) staff must pass the Perishable Cargo Logistics Management course.
Assessment - During a period of three (3) to four (4) days, the assessor will visit the facilities to observe that the current operations, processes and procedures of the organization are conducted along the same lines as described in the various documents provided by the organization, and that they conform to the CEIV Fresh audit checklist requirements. The assessor uses a standardized assessment checklist and criteria to ensure uniformity and objectivity. The assessor will then provide comprehensive feedback, including a gap analysis report and a detailed list of the specific findings and areas of improvement, to enable your organization to make the necessary adjustments.
Validation - The assessor works in close cooperation with your organization to ensure that all feedback is actioned. Your organization will need to provide a corrective action plan (CAP) specifying the actions you have taken and that are planned, together with an implementation date. The CAP is validated by the assessor as meeting CEIV Fresh certification criteria. As your organization executes its plan, you must submit clear evidence of its full implementation to the IATA assessor for validation. Once the CAP has been satisfactorily implemented, the assessor will issue the IATA Assessment Report, and your organization will be granted the IATA Certification.
Re-certification - To maintain your CEIV Fresh certification, your key personnel will need to complete refresher training, and a new assessment will be carried out the check compliance with the certification requirements and continuous improvement.
---
Talk to a certification expert today to find out how we can help you ensure you're up to standard.