The global lithium batteries market is due to quadruple by 2030. With lithium batteries becoming a more popular power source, from small electronics to electric cars, how to ship lithium batteries safely is a growing concern.
Lithium batteries can often be incorrectly packaged or labeled, leading to fines and loss of business. Our latest white paper "Make Lithium Batteries Safe to Ship" tells you all of what you need to know about this critical area, from the different chemistries involved to the many solutions on offer across the value chain. Download the lithium battery whitepaper.
Why Does it Cost More to Ship Lithium Batteries by air?
Lithium batteries are able to possess a lot of stored energy, and they tend to have a chemical composition that can present a hazard when being charged, used, or are damaged. To keep the aviation industry safe, there are additional measures which are applied when transporting lithium batteries. The costs of ensuring compliance and the safe carriage of lithium batteries on aircraft are more than non-lithium batteries.
Can I Ship Lithium Batteries by Airmail?
No, you cannot send lithium batteries, by themselves, in the airmail. You will need to contact your local postal authority to see if you be able to ship them by surface methods i.e. sea, road and rail. If you have to send the lithium batteries by air, then you will need to send them with a freight company.
Can I Ship Lithium Batteries that are contained in equipment, such as a mobile phone, by Airmail?
Providing the postal authority has received approval from their Civil Aviation Authority, then you may be able to send items which contain lithium batteries. Power banks, which contain lithium batteries and which are used to recharge or power other devices, are categorised as lithium batteries and are not permitted under this provision.
How Do I Safely Package Lithium Batteries for Transport?
Selecting suitable packaging, and then packing the batteries safely, is a key component to safely transporting lithium batteries. For larger batteries, the packaging may need to UN specifications. What type packaging you need is not a "one size fits all" answer. The battery type, quantity of batteries, the quality of the packaging, and the ability of the package to withstand a drop test and a stacking test, all need to be addressed when sending lithium batteries as freight.
What Labelling and Marking is required to Send a Package of Lithium Batteries?
All lithium battery shipments must be clearly labeled and marked appropriately according to IATA regulations. No matter which marks or labels are required, lithium battery labeling and marks must be placed on the packages or overpacks so they are not obstructed. They must also be durable, legible, and easily identifiable. You can find the lithium battery marking and labeling guidelines inside Section 7 of the latest copy of the Dangerous Goods Regulations (DGR) or the Lithium Battery Shipping Regulations (LBSR).
What do the Lithium Battery Marks and Labels Look Like?
The lithium battery mark is required as specified in the DGR. The border of the mark must have red diagonal hatchings with a minimum width of 5mm. The symbol (group of batteries, one damaged and emitting flame, above the UN number for lithium ion or lithium metal batteries or cells) must be black on white or a suitable contrasting background. The lithium battery mark may be printed directly on the outer packaging provided that there is sufficient contrast between the elements of the lithium battery mark and the colour of the packaging material. The mark must be in the form of a rectangle or a square with minimum dimensions of 100 mm x 100 mm. If the size of the package so requires, the dimensions/line thickness may be reduced to not less than 100 mm wide × 70 mm high.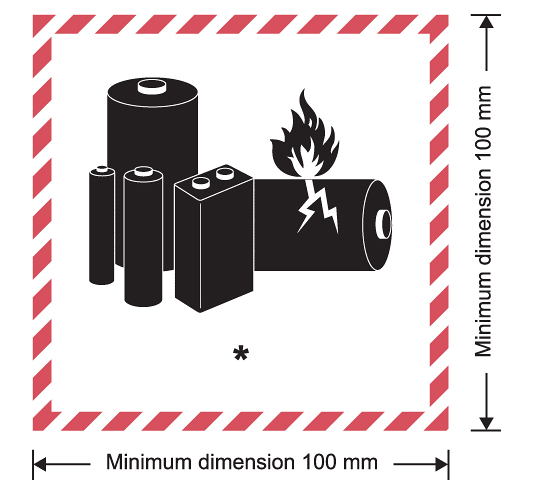 The Lithium Battery label is required for consignments which have a larger number, or more powerful, batteries. The Lithium Battery label is also specified in the IATA DGR. The label must be in the form of a square set at 45° (diamond shaped). The minimum dimensions must be 100x100 mm. There must be a line inside the edge forming the diamond, which must be parallel and approximately 5mm from the outside of that line to the edge of the label. The line inside the edge on the upper half of the label the line must be the same colour as the symbol and the line inside the edge on the lower half of the label must be the same colour as the class or division number in the bottom corner. The symbol on the upper half of the label will be seven vertical black stripes. The lower half is to include the symbol for the battery group, with one broken and emitting flame, and the class number.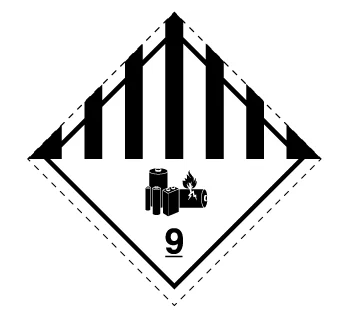 What Are the Various Types of Lithium Batteries?
Lithium batteries fall into two broad classifications; lithium metal batteries and lithium-ion batteries. Lithium metal batteries are generally non-rechargeable and contain metallic lithium. Lithium-ion batteries contain lithium which is only present in an ionic form in the electrolyte and are rechargeable. Within these two broad classifications, there are many different chemistries. For example, within lithium-ion batteries there are lithium polymer, lithium iron phosphate (LiFePO4), and lithium air to name a few.
What Is the Difference Between a Lithium Cell and a Lithium Battery?
A lithium cell is a single encased electrochemical unit consisting of one positive and one negative electrode that exhibits a voltage differential across the two terminals. A lithium battery is two or more cells electrically connected. A single cell battery is considered a cell and not a battery for the purposes of the limitations set out in the DGR.
What to Know About Shipping Lithium Batteries by Air
While classified as a dangerous good, lithium battery shipping takes very specific requirements. that you can find inside the Dangerous Goods Regulations. However, if you only ship lithium batteries you can purchase the Lithium Batteries Shipping Regulations as a standalone manual. Knowing the specific regulations is crucial in the shipping and handling of lithium batteries.
What is a Dangerous Good?
Dangerous goods are articles or substances that might pose a hazard to health, safety, property, or the environment. Extra care must be taken when shipping dangerous goods by air to avoid these possible hazards. You can find a list of 3,500+ dangerous goods in IATA's Dangerous Goods Regulations (DGR).
Are Lithium Batteries Hazardous to Ship?
While lithium batteries are commonly used today, they meet the classification criteria set out by the United Nations, and are classified as a dangerous good. Lithium batteries have the potential to be a source of heat, sparks, or even fire, so prescribed instructions for packing lithium batteries have been produced and implemented. Lithium battery shipments are subject to international packing and shipping safety regulations, and when not followed, fines and other penalties may be incurred.
Who Determines the Regulations?
IATA works diligently to create the IATA Dangerous Goods Regulations and IATA Lithium Battery Shipping Regulations, both easy-to-read references of current rules based on the International Civil Aviation Organization's (ICAO) Technical Instructions for the Safe Transportation of Dangerous Goods by Air and the United Nations (UN) Model Regulations on the Transport of Dangerous Goods and the UN Manual of Tests and Criteria.
Who Do the Regulations Affect?
Regulations for shipping lithium batteries by air are in place to protect everyone who would come in contact with a lithium battery shipment while it is being transported as air cargo; with training being required for everyone in this supply chain, to protect the aircraft, and the people in the aircraft, that is carrying the batteries. The shipper bears the responsibility to safely pack, label, mark the lithium battery shipment and declare as per the Regulations. Find more information about that in our article What to Know About How to Ship Lithium Batteries.
Do You Need a Certification to Ship Lithium Batteries?
Being appropriately trained in the aspects of dangerous goods, and assessed as being competent, are important key steps in aviation safety. If you are only involved in shipping lithium batteries, then there is no value in learning how to ship all classes of dangerous goods. Evidence of having completed the training and assessment for shipping lithium batteries is required by a number of freight organizations before they will accept your shipment. This lithium battery certification ensures that you have been provided with the correct information for safely preparing and shipping lithium batteries and that you are able to read, interpret and apply the regulations and to prepare a shipment that complies with the DGR.
Do You Need to Be Certified to Handle Lithium Batteries?
Shippers aren't the only ones who need lithium battery certification, however. When shipping lithium batteries by air, many people come in contact with them, and they must all be trained and certified in the safe handling of lithium batteries. This includes freight forwarders, cargo handling facilities, and airlines alike.
How Do You Get Dangerous Goods Certification?
For proper training on dangerous goods including the Shipping Lithium Batteries by Air course, IATA offers a wide variety of safety courses to ensure you are competent in dealing with dangerous goods. This is required for all who participate in the shipping and handling of dangerous goods.
If you are a business, you take the CEIV (Center of Excellence for Independent Validators) lithium battery certification to get lithium battery certification. This certification program is designed so that shippers, freight forwarders, cargo handling facilities, and airlines can meet their safety obligations while complying with the most current regulations. Re-certification happens every two years.
Why Are The Regulations Updated Every Year?
The aviation safety environment is being continuously monitored for emerging threats and risks as well as changes in recommendations and instructions from international bodies. For the safety of our aircraft and the people being carried in them, it is necessary to maintain a regular cycle to keep the DGR up to date. The cycle is based on the calendar year and includes some lead time for the aviation industry and cargo supply chain to prepare for upcoming changes that improve safety. There is provision for exceptional updates where an unacceptable risk to aviation has been identified.
What Else You Should Know About Shipping Lithium Batteries by Air
Due to the high energy density of lithium batteries, usage of lithium-ion batteries is expected to increase elevenfold between 2020 and 2030. With that being the case, it is imperative that shippers, transporters, and ground operation personnel all become well-trained in the regulations surrounding their safe transport.
Get your copy of IATA's latest edition of the IATA Dangerous Goods Regulations and IATA Lithium Battery Shipping Regulations today.