Shipping animals by air is a common means of transporting animals over great distances. Live animal cargo makes up a significant amount of air cargo each day. For example, more than 200 racehorses are shipped by air every single day. As air cargo numbers increase, live animal cargo shipments can be expected to rise as well.
IATA just released the 2023 Special Cargo Trend Report. This report features all of the latest trends affecting sustainability, digital transformation, perishable product waste and much more.
Download your copy of the 2023 Trends - Special Cargo Transported by Air
How Shipping Live Animals by Air is Different from Standard Cargo
Shipping animals by air differs significantly from standard cargo. Standards and regulations vary so widely that IATA has developed the Live Animals Regulations to help operators, shippers, freight forwarders, and ground operations fully understand and comply with the requirements.


With live animals, a great deal of care must be taken to ensure that the animals arrive at their destination safely and with as little disruption as possible. Their containers must be safe, secure, and well-ventilated, and other comfort and safety provisions must be met. Though standard cargo relies on safety protocols being adhered to, the lives of creatures big and small are not at risk.
What to Know Before You Ship


Whether you are interested in reptile shipping, transporting a lion from zoo to zoo, or international pet relocation services, there are very specific requirements you must meet before you ship live animals. Largely, these are the State and Operator regulations, as each can have its own rules you must follow when shipping animals by air. Reservations and advanced arrangements must also be made.


It is also essential for shippers to be aware of relevant container requirements which are of particular importance before attempting to fit live animal cargo within any container for transport by air.
How to Choose the Right Container for your Live Animal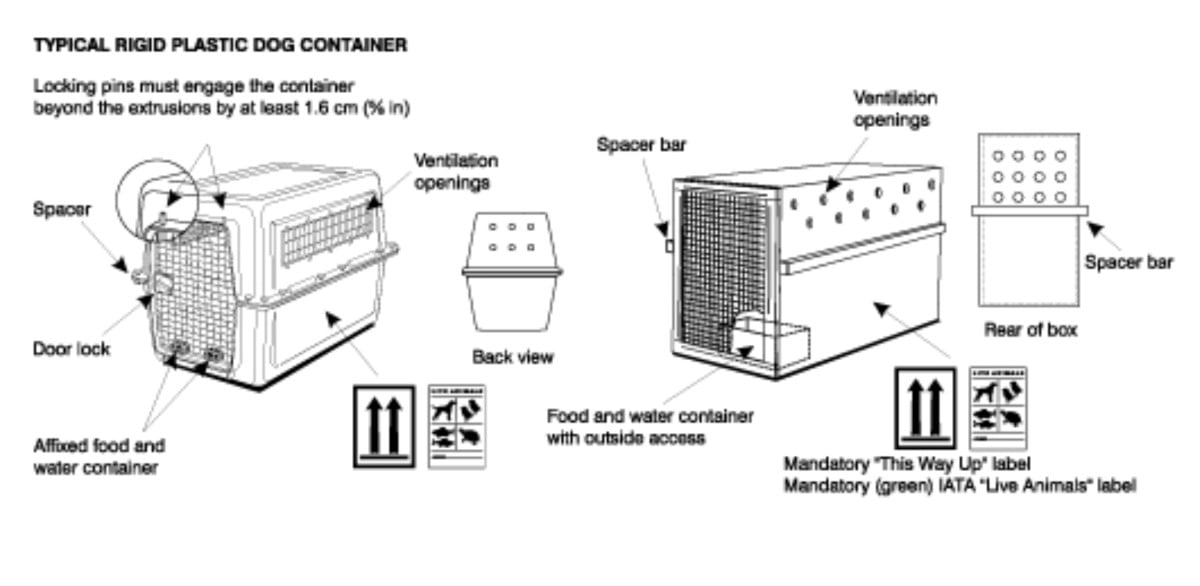 Choosing the correct container for live cargo shipping is imperative because it ensures your animal arrives safely at its final destination.
This is why the IATA Live Animals Regulations (LAR) has clearly defined the requirements for over 60 different types of containers for aquatics, small and large land mammals, crustaceans and shellfish, birds, bees, insects, spiders, amphibians, reptiles-every kind of animal you can think of and then some.
When picking the correct container, you must first go to Section 6. Using the animals' common or scientific name, the correct container requirement can be ascertained, following which Section 8 on customized Container Requirements provides an extensive list of every type of compliant shipping container you can use. You must check and meet the following requirements when shipping live cargo.
Construction Requirements
Ventilation Requirements
Safety Requirements
Animal Welfare and Health
Food and Water Requirements
Specific Pathogen-Free Requirements
Symbol for Rigid Plastic Pet Container
Pet Containers
Symbol for a Closed ULD

Each step is a requirement to meet shipping container regulations.


Construction Requirements
Construction requirements for your live animal container are essential in delivering animals safely to their final destination. They need to be sturdy and inescapable. Every container must be closed unless specially arranged with each carrier involved in the shipping process.

The dimensions must be adhered to according to the actual size of the animal, and the ventilation requirements must be properly represented. The container should be easy to handle, and any forklift spacer should meet the necessary requirements. Other specific needs for your live cargo shipping needs should be considered and can be found in the LAR.
Ventilation Requirements
Ventilation may be the most critical aspect to consider when shipping animals by air. The IATA Live Animals Regulations (LAR) outlines the specific requirements for each of the container requirements being recommended for the extensive list of animals included in the LAR. While each container has detailed instructions, the LAR states in Section 8.1.2 that, "The container must be adequately ventilated on three sides, with the majority of the ventilation being provided on the upper part of the container, but note must be taken that there are exceptions to these usual requirements and they are stated in the container requirement for particular species."


Safety Requirements
Safely shipping animals by air is crucial, not just when you think of reptile shipping and bad Hollywood movies. Keeping animals safe and secure during air transport means strictly adhering to the IATA Live Animals Regulations.
While some safety precautions may seem obvious such as the container must be secure enough to keep the animal inside at all times, others may take more thought, such as ensuring the interior edges are smooth and round. Other safety requirements must also be met as outlined in the LAR.
Food and Water Requirements
When shipping live animal cargo, it is required that food and water be provided either fixed inside the container or attached to it with a means to access it. There should be sufficient food and water in case of delays. Sometimes, when the container is sealed for safety reasons or when live animal cargo requires food containing meat, the shipper must know that feeding will not be possible.
Pet Containers
IATA does not certify, approve, endorse or sell any particular pet container or local or international pet relocation service. No matter which brand, make, or model of pet container might be chosen all other regulations must be followed.
Other Container Requirements

Here are summaries of the other live animal cargo container requirements. Shippers must still comply with all other specific container requirements when animals are carried in the SPF containers. When the symbol for a rigid plastic container is shown (it can be found in Chapter 8 of the LAR), such a container will require modifications to meet the specific container requirement. Such a container is permitted when a closed ULD symbol is shown as well.
General Considerations

Before shipping animals by air, the shipper should pay close attention to their responsibilities as laid out in the LAR. The shipper must always obtain export/import permits in advance, veterinary health certificates, CITES export permits, plan to quarantine if necessary, and other crucial steps as outlined in the IATA Live Animals Regulations (LAR). In addition, the shipper should follow all State and Operator regulations when preparing live animals for shipping.
How IATA Can Help


IATA has been a trusted resource for more than over 80 years. The organization works diligently alongside industry experts to provide the latest regulations found in the IATA Live Animals Regulations (LAR) and its other safety manuals.


Why Standards and Regulations are Necessary
While some states and operators have additional regulations that must be followed in addition to IATA's, standardized rules and regulations are necessary for the ease and safety of all, no matter where in the world an animal is being shipped from. Knowing exactly what to expect, whether you are a shipper, freight forwarder, or ground handler from carrier to carrier, airport to airport, means that you always meet the safest standards.