Before the COVID crisis, Oliver Wyman, a management consultancy, valued the global MRO market for 2020 at $91.2 billion. Projections at the time, which took into account fleet reductions, fleet retirement and significantly reduced aircraft use, estimated the 2020 market at $50.3 billion.
What is the Used Serviceable Materials (USM) market?
Used serviceable materials (USM) also known as Surplus Parts are aircraft/engine parts previously used by operators, MROs or OEMs. USM with high annual spend or a high price such as an engine or components such as avionics, APUs, electrical, wheels and brakes are in demand. USMs are important for operators as it can reduce material expenditure by up to 40% and can substitute the cost of repairs.
How has COVID-19 impacted the Used Serviceable Materials (USM) market?
The spare parts market felt the effects of COVID early. The number of spare parts transactions in January 2020 was already 24% below the level in January 2019. When lockdowns arrived in Europe and North America in March, clients scrambled to cancel any non-essential transactions as yet unprocessed in order to reduce costs. In April and May, there were 82% fewer transactions than in January 2019.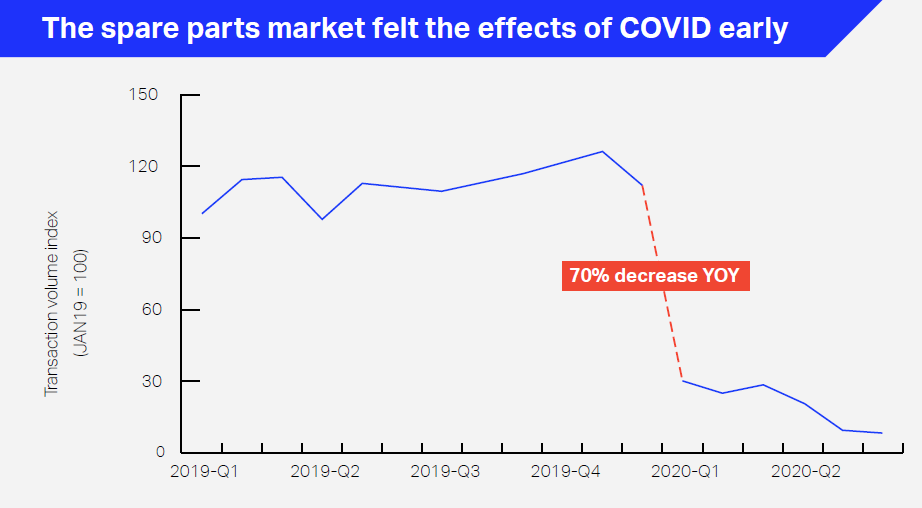 New parts sales fared better due to the long-term contracts most airlines have with OEMs, but still tumbled to 36% as compared to January 2019. By April, new parts sales were about 16% of their usual volume. The number of stored aircraft had increased so much that OEMs and airlines had to revise their contracts to reflect the reduced demand for maintenance and parts.
How will airlines tackle the Used Serviceable Materials (USM) as part of the industry restart?
As the industry starts up again and airlines look to aggressively control costs, the ease of acquiring and selling USM will become an important tool to control and optimize their inventories.
Knowing the current market price and how that price has been impacted by the COVID crisis and several other factors means airlines can benchmark market activities accurately, forecast with real market insight and find cost-optimal solutions to unexpected problems.
A tool such as MRO SmartHub provides instant access to current and historical asset valuations. The transactional data populating MRO SmartHub is contributed by its subscribers and is fully anonymized for use on the platform to generate analyses and inform strategy. Purchasing, sales and repair transactions are utilized and the resulting data points are presented in a manageable format in Evaluator, the business intelligence module. The same data is also used to calculate the Fair Market Value (FMV) for USM in all conditions.
As outlined in the whitepaper below, this opens up new possibilities to quantify the impacts and effects of the COVID crisis on the market for spare parts.
Download the full "Used Serviceable Materials (USM): Impact of the COVID crisis on market dynamics" whitepaper (pdf)