Making air travel accessible to older travelers and people with disabilities is ultimately about being inclusive. It is about enabling everyone to enjoy the freedom that air travel offers. Approximately one in five people in the United States, or 64 million, have a disability and more than 10% of the population in the EU suffer from reduced mobility – mainly the disabled and the elderly.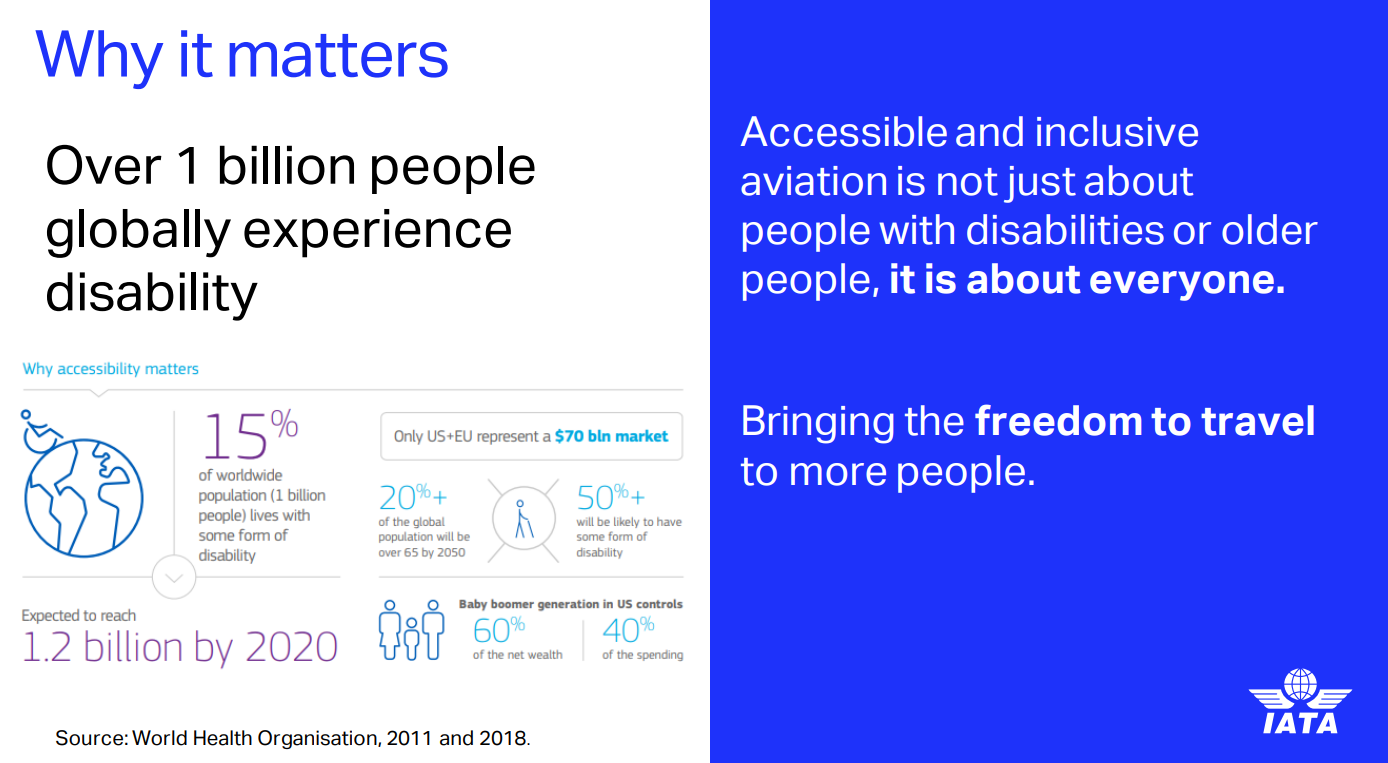 The world's population is aging as virtually every country in the world is experiencing growth in the number and proportion of older persons in their population. As a result, IATA and its member airlines are committed to ensuring that all passengers can enjoy the freedom offered by air travel, no matter their abilities or limitations. This is not only the right thing to do for our passengers, it is also good for business. Passengers with disabilities will represent a growing segment. For instance, the total number of wheelchair requests in 2017 was approximately 15 million, a 30% increase on 2016.
Why is providing better access to individuals with disabilities important for the air transport industry?
Safe and dignified travel for all passengers, including those with disabilities, is an airline commitment in addition, for the air transport industry it's not just because it is "the right thing to do" it also makes business sense.
IATA member airlines have an inherent motivation to ensure that all people with accessibility needs have a positive experience when traveling by air. These people are customers-and are a growing segment of the population. The World Health Organization (WHO) estimates that more than one billion people live with some form of disability, which constitutes approximately 15% of the world's population.
Airlines commit to improve travel for passengers with disabilities


Therefore in 2019, the IATA Annual General Meeting (AGM) unanimously adopted a landmark industry resolution which re-affirmed the commitment of IATA member airlines to provide safe, reliable and dignified travel for people with disabilities. At the center of IATA's developement of its guiding principles and all its work on accessibility since, is the disability community's own guiding principle of "Nothing For Us, Without Us." At every stage of the development of airline accessibility policy and operating standards, the disability community is involved and listened to. This is of course the only way to keep the focus on disability, accessibility and inclusion-particularly when facing a new reality and new measures due to a pandemic.
Changing the focus from disability to accessibility and inclusion is allowing the travel sector to bring together passengers with disabilities and governments. Harmonizing regulations and processes and providing the clarity and global consistency that passengers expect.

Interview with Linda Ristagno, IATA's AD External Affairs on Air Transport Accessibility
Airlines launch global action group to improve handling of disability mobility aids


In July 2021, IATA announced the launch of a global Mobility Aids Action Group to examine and improve the transport journey of mobility aids, including wheelchairs, with the objective of improving the handling of this vital equipment for travelers with disabilities.
The Action Group is the first of its kind aimed at tackling issues around the safe and secure transport of mobility aids—an issue of huge importance to a growing number of travelers. It also provides advice and recommendations to airlines and other stakeholders concerning the establishment of policy, process and standards related to the handling and transport of mobility aids.
Uniquely, the Mobility Aids Action Group involves the full range of stakeholders impacted by this issue, including accessibility organizations (representing travelers with disabilities), airlines, ground service providers, airports and mobility aids manufacturers. It is the first time a mobility aids manufacturer will be invited to participate in an IATA task force. "As airlines are just one link in the chain in the handling of mobility aids, it is essential we bring all players together to develop solutions. What's more, we are excited to invite a mobility aids manufacturer to the table. We think this is critical so all stakeholders can work together to take steps to improve the transport journey of mobility aids," said Willie Walsh, Director General of IATA.

Wheelchair damage or loss during air transportation


While the industry has had standards for persons traveling with disabilities for some time there are still gaps. Damage to mobility aids has been an area that has been identified as a key topic to address from the disability community.


Airlines have made efforts to improve, but damage or loss is still occurring. And when it does, it is highly distressing to the passenger as these devices are more than equipment—they are extensions of their body and essential to their independence.

Travelers with mobility aids face risks to their health and safety if their wheelchair or mobility equipment is lost, damaged or destroyed, as replacements are not always provided, and if provided, are not always suitable for the person's needs.

The loss or damage of wheelchairs or other mobility equipment takes away the independence of the traveler and affects every aspect of their daily lives until the matter is resolved appropriately.
A recent survey from Able Move identified that among those who actively continue to fly, 55% say the biggest single cause of concern when flying was the fear of their wheelchair being damaged or lost.

"Every year, thousands of wheelchairs are transported safely by air. However, damage or loss is still occurring. And when it does, it is devastating to the passenger as these devices are more than equipment—they are extensions of their body and essential to their independence. We acknowledge that we are not where we want to be on this as an industry. This is why we want to do something about it on a global level, not through setting up a talking shop, but by bringing the key groups together to take practical action," said Willie Walsh, Director General of IATA.
Improved access for passengers with disabilities in the industry restart
As airlines rebuild, the industry is eager to build a more inclusive restart. Despite the COVID-19 crisis, the IATA and its member airlines have worked with the accessibility community to move the priority of accessible air travel forward through a number of efforts. These are includeded in the latest Airport Handling Manual (AHM).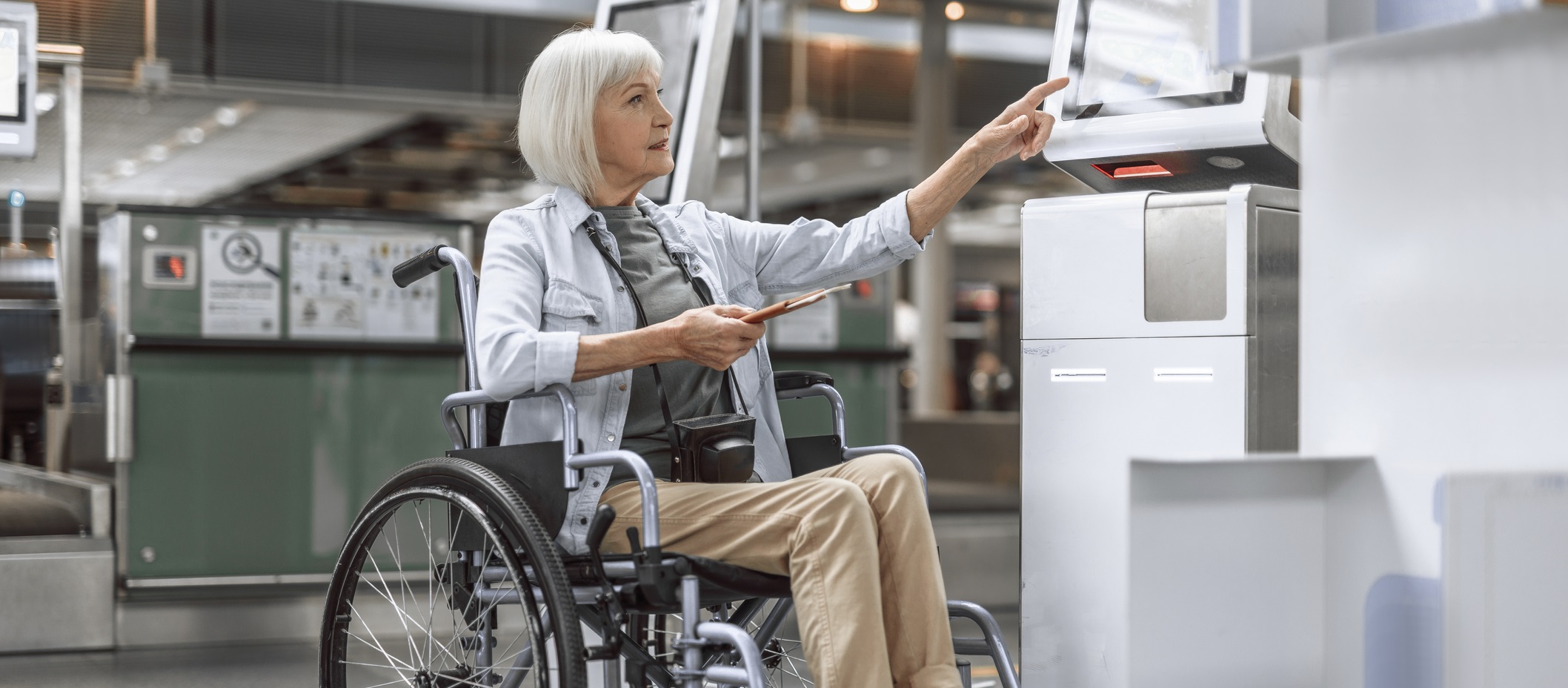 What to consider for passengers' with disabilities air travel journey


To the extent possible, airline and other stakeholders should strive to ensure that passengers with disabilities maintain their independence and dignity. This is accomplished through adequate airport infrastructure, appropriate training, timely and customer-oriented services, as well as making use of technological solutions that can be leveraged to provided passengers with disabilities with choice and freedom to travel on their own terms. You can find detailed guidelines which can help your operations in section 176 of the AHM.
Pre-Travel: Passenger information, booking and ticketing

Communicating assistance needs in advance of travel is recommended and, in some cases, required to fulfill specialized requests. This allows airlines, airports and third-party service providers to be better prepared to assist passengers with disabilities throughout their travel itinerary, making the journey easier and the travel experience more seamless and enjoyable.
At the airport

The sole responsibility to provide assistance to passengers with disabilities throughout the airport is not limited to the airlines; depending on national regulations, airports may be responsible for providing assistance to passengers with disabilities directly, or via third-party service providers.

As not all passenger processes at an airport fall under the airlines' responsibility (i.e. security screening, exit immigration, customs, etc.) airlines need to work collaboratively with airports, regulators and other stakeholders in order to provide a safe and satisfying travel experience to all passengers.


Check-in

All available check-in methods such as via airline websites, mobile apps, self-service kiosks should be accessible to passengers with disabilities. In addition, airline agents involved in the check-in process should be trained to ensure that adequate assistance is provided. Passengers with disabilities should also always be offered assistance with carry-on and checked baggage.
Mobility device handling


The safe transport of a passenger's with disability personal mobility device is a critical operation for any airline as the wheelchair or scooter is an extension of the passenger and should be treated as such. Other mobility aids such as walkers and canes provide passengers struggling with mobility much-needed stability and support to safely walk and should also be handled with great care. As general guidance, the transportation of passenger battery-powered devices must be compliant with DGR subsection 2.3.
Boarding and disembarking

Boarding the aircraft can be a stressful experience for passengers with disabilities. Airlines should ensure that any requests made in advance are properly noted and any last-minute requests are handled efficiently and with care. Assistance must be provided as necessary, in addition airlines and airports should coordinate to make available at all stations wheelchairs and other mobility devices for boarding/disembarking within airport facilities, before departure, during intermediate stops and on arrival. Upon arrival, airlines should make best efforts to accommodate the passengers with disabilities, procedures will vary by terminal and gate configuration in terms of boarding bridge, etc. Therefore, all staff should be properly trained to provide: adequate mobility transfer techniques and prompt delivery of mobility devices. More details can be found in the Airport Handling Manual (AHM).

What are the benefits of following the IATA guidance found in the AHM?

Putting into practice the IATA guidance, airlines, airports and other industry stakeholders will:
Efficiently serve passengers with disabilities by using IATA standards and best practices
Efficiently communicate with passengers with disabilities before and during their travel experience
Ensure available measures are applied consistently
Identify good practices in passenger assistance during disruptions and irregular operations

How can I get the Airport Handling Manual (AHM)?


You can order the latest edition of the AHM here.