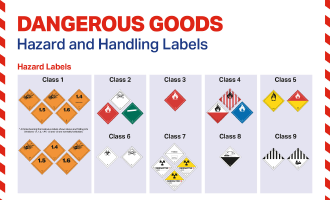 Posters and counter displays are great tools for promoting awareness of dangerous goods and the need for safety and compliance in cargo warehouses and passenger terminals.
IATA offers a wide range of signage in multiple languages to help promote safety and avoid accidents and costly delays of shipments.​
Dangerous Goods Hazards and Handling Labels
Lithium Battery Awareness Poster
¿Lo ha declarado? Afiche Internacional
Have You Declared It? Poster (International Version)
Affiche murale internationale: L'avez-vous déclaré?
Dangerous Goods Passenger Awareness Poster (International)
Have You Declared It? Poster (American Version)
Dangerous Goods Passenger Awareness Poster (United States version)
Haben Sie alles deklariert? Internationales
Dangerous Goods Passenger Awareness Counter Display (International)
Have you declared it? Counter Display (International)