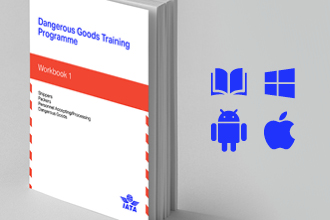 ​IATA's training programs are designed to be used in conjunction with the Dangerous Goods Regulations to familiarize students with its various sections as well as on how and when to apply them.
Our training workbooks will meet the essential training requirements of airlines, schools and other organisations within the industry. Each training book one is based on the practical application of the IATA Dangerous Goods Regulations, which includes all ICAO requirements and also includes:
Extracts from Regulations where necessary
Guidance notes to help interpret the Regulations
Examples in the application of the Regulations
Practical exercises to test students' understanding of the Regulations

Train employees who must, by law, be instructed on how to transport dangerous goods by air with the following informative series:
Training Book 1: Shippers, Packers, Cargo Agents and Operators
Training Book 2: Load Planners and Flight Crew
Training Book 3: Flight Attendants, Passenger Handling and Screening Staff,
Training Book 4: Loading and Warehouse Personnel
Training Book 5: General Acceptance Personnel Module
NEW - Dangerous Goods Training Books & Instructor Toolkit ***effective as of January 2020***
English Formats
Dangerous Goods Training Books & Instructor Toolkit ***effective until Dec. 31, 2019***
To view the options for the 8th edition, visit our online store.