Need Help?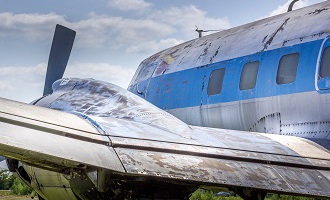 Aging aircraft may prove to be more valuable than one expects.
In some cases, aircraft owners and operators may benefit from reusing or recycling aircraft parts instead of disposing of the aircraft by parking it in a desert or a storage facility. IATA Consulting can assist airlines and aircraft owners in fully leveraging the residual value of retired aircraft while minimizing environmental and safety risks.
Need Help?
Why aircraft decommissioning?
The aircraft decommissioning process comprises the retirement of an aging aircraft from operational service, storage for potential aircraft re-use, disassembly and dismantling of the aircraft, and recycling of aircraft materials and parts in the secondary market. If undertaken in a timely and appropriate manner, decommissioning can allow recovery of a good residual value from re-used parts and recycled materials.

Today, more than 700 aircraft are retired each year. This number is expected to continue to grow in the coming years. While around 90% of aircraft parts can be re-used or recycled, most airlines and aircraft owners have limited experience in managing aircraft decommissioning as a controlled process.

Did you know?


15,000 commercial aircraft were retired from 1980 to 2015

Once an aircraft is stored, it remains in storage for an average of 3.5 years

The average retirement age of a freighter aircraft is 32.5 years and for a passenger aircraft 25.1 years

Why choose IATA Consulting?
IATA has been working with a multi-stakeholder group to evaluate and formulate best practices in the area of aircraft decommissioning. IATA Consulting will work with various stakeholder groups to transmit expert knowledge in operational, economic, regulatory, environmental and safety aspects as well as a "big picture" of the growing global market of aircraft decommissioning, dismantling and recycling.

How IATA Consulting can help

With the help of IATA experts, the timing and process of decommissioning aging aircraft can be optimized, avoiding or minimizing safety and environmental risks.
Optimize the timing of retirement o

f aging aircraft



Make a well-founded selection of storage or disassembly facilities and select the right contractual arrangements

Plan suitable quality, safety and environmental management of the aircraft decommissioning process

Optimize the realization of residual value from aircraft decommissioning

Who can benefit from this advisory service?

Airlines and other aircraft owners and operators planning to decommission aging aircraft

Aircraft maintenance companies, general recycling companies and eco-business developers wishing to expand into the aircraft dismantling

and recycling business



Any other relevant stakeholders, including authorities and governmental agencies, needing support for getting involved in the processes of aircraft retirement, disassembly, dismantling and recycling

More Information
Contact us for more information on this or any of our other Consulting services.
Opt in​ for more information on IATA services you're interested in.​​