Bringing the Ramp into the classroom
The principles of Competency-Based Training and Assessment (CBTA) in Aviation promote moving from theory to action. IATA's RampVR brings us one step closer to CBTA through learning by action, combined with confirmation of your skills and knowledge.
Typical ground ops training challenges avoided
Dangerous and noisy training airside environment
Difficult to train at night or during adverse weather conditions
No aircraft and GSE available
Airside access passes take time to be issued. Trainees cannot experience airside for several weeks after theoretical training.
Abnormal scenarios are difficult to replicate in live operations
RampVR combines high-spec virtual reality software with IATA Standards (AHM and IGOM) within training for ground operations. Complement theoretical knowledge with effective practical training in a very realistic environment, without disrupting active operations on the ramp.
RampVR modules offer easy-to-access, 20-30 minute modules to APPLY and EVALUATE ramp ops knowledge in Turnaround Safety Inspections, Marshalling, Passenger Boarding Bridge Ops, and Pushback Processes.
Access online through IATA's RampVR Portal, connect your HTC Vive or Oculus Quest VR set and you are ready to handle aircraft!
If you wish to test the modules for your training programs, please contact us. If you are a VR software developer, developing aviation-related modules and you wish to be evaluated by IATA for Standards Compliance and Learning Accuracy you can contact us and have your modules included in IATA RampVR Portal.
RAMPVR complies fully with the standards of the Airport Handling Manual​ and the IATA Ground Operations Manual. For more information on what RAMPVR can do for your ground ops training program, please contact us.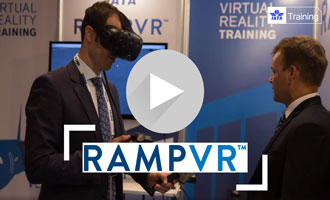 RampVR Plug-and-play virtual reality training solution.
The "flight simulator" for ground ops​
Modules available:
Aircraft Turnaround Inspection
Aircraft Marshalling
Passenger Boarding Bridge Operations
Aircraft Pushback Process and Operations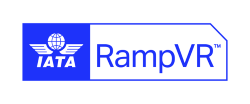 ​Distinctive features
Unlike "live" training, RAMPVR allows you to:
Generate a variety of scenarios, combining aircraft types and operational conditions
Simulate day and night operations as well as adverse weather conditions
Pause and review "operations" so details can be checked or explained
Record user performance for future reviews and progress checks
RAMPVR features:
A "plug-and-play" system with an intuitive user interface
No special infrastructure is required, indoor open space (ideally 3x3 meters)
Easy and quick change-over from one trainee to the next
​
RampVR modules are available in English, Chinese and German for the convenience of operational staff
Zur Erleichterung sind RampVR Module für operative Mitarbeiter in Englisch, Chinesisch, Deutsch
RampVR

模

块提供三种语言版本,方便操作人员接受培训:英文,中文,德文

.
To learn more about these training options, please contact us.
Whitepaper
We share the experience and results of the full implementation of the VR tool in ground operations. Fraport Ground Services integrated IATA's RampVR in training for new and existing ramp employees.
This whitepaper aims to:
Lay out the challenges to the adoption of VR in training;
Explain the benefits of VR training through a case study with tangible results;
Trigger interest and stimulate exchange on the topic within the air transport innovation community.