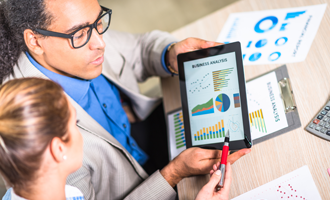 With over 3.7 billion passengers expected to fly this year, consumers need reliable travel services. Today's travelers have options. How does your agency stand out from the crowd?
IATA accreditation is a seal of approval recognized worldwide. It certifies a travel agency as a reliable provider.
Some 60,000 IATA travel agents worldwide currently benefit from IATA accreditation, selling US$220 billion worth of airline tickets on behalf of some 265 IATA airline members. Many more apply for accreditation but fail to pass the criteria because their financial accounts measure poorly against IATA requirements or are dubious because they do not follow accepted accounting practices.
Drive your agency's profitability
If you open and operate a travel agency, keeping accurate accounting records is essential. These records track your agency's performance and help you make just-in-time business decisions. They help prepare your tax returns, remit accurate funds to suppliers, secure investment to develop new business and prevent costly errors, delays and other losses.
Good travel agencies with good sales volumes can fail when there is a lack of financial awareness and planning. If you only measure sales, you may never learn to become profitable, to understand accounting terms, to follow accounting procedures mandated by regulators, to simplify and standardize back office processes and to leverage existing or new tools.
3 key courses for Travel Agents
Managing the agency business in an environment where your suppliers are eliminating commissions, your competitors are evolving into new agency models and your customers are increasingly shopping online, you must differentiate your services and charge fees for delivering added-value.
​Designed so that learning does not interfere with your busy work life and engaging so that learning does not feel like extra work, these IATA online courses complement each other. They improve your financial control on business to better manage cash flow, back-office reconciliations, data management, reporting and remittances, while securing profit through fees collected from customers for the added-value you bring to them.