Need Help?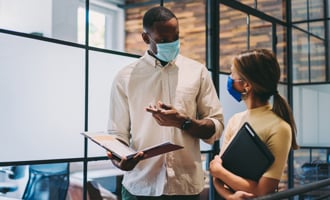 Is your strategy on target?
The Covid-19 pandemic has resulted in severe budget cuts for training across almost every business in the aviation sector. As the industry restarts, organizations are looking to ensure that employees are trained on the fundamental technical and operational skills, but also the soft skills needed to adapt to new situations and deliver a winning customer experience.
Assessing training needs, prioritizing initiatives and optimizing budgets are even more crucially important in the face of much remaining uncertainty. Taking inspiration from industry best practices is a sure-fire way to build your own strategy.
Need Help?
Some key findings the report brings to light:
50% of L&D decision-makers
consider an assessment of their organizations' skills and competence requirements as of high importance to business continuity.
60% of organizations
would value a training needs analysis from an external provider.
25% of HR decision-makers
believe focusing on safety is the best approach to enable their organization to cope with the impact of the pandemic.
85% of organizations
indicate that online learning, including virtual classrooms, will play an important role in recovery plans.
Discover the industry's priorities and strategies to ensure the skills for a successful recovery.
Download the free report "Workforce skills and training to fuel the revitalization of the aviation industry – the HR decision-makers view."