The International Air Transport Association (IATA) and the Civil Aviation Authority of Singapore (CAAS) have signed a Memorandum of Understanding (MoU) that will see the two organizations develop a framework for the use of the IATA Operational Safety Audit (IOSA) by CAAS to supplement its regulatory oversight of airlines operating in Singapore.
The MoU was signed by Kevin Shum, CAAS Director General, and Alexandre de Juniac, IATA's Director General and CEO, in Singapore on 9 April 2019.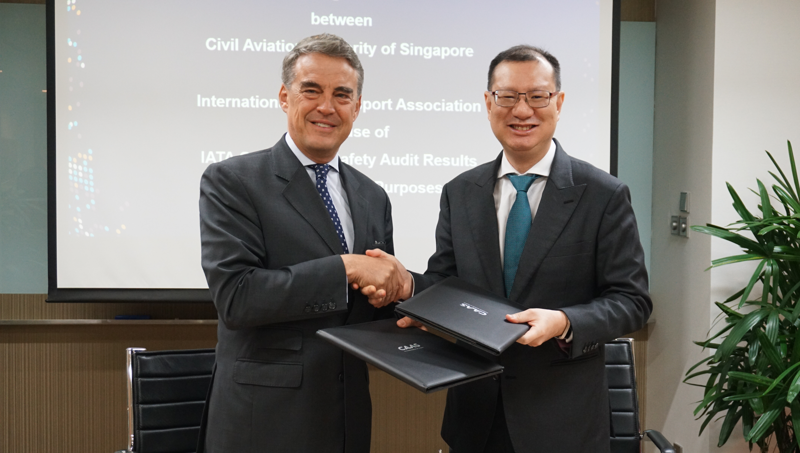 "We are delighted to formalize this arrangement with CAAS that will ultimately result in the sharing of relevant safety information on carriers operating to Singapore. A key objective is to reduce the number of duplicate audits foreign carriers need to undergo when they operate to or from Singapore, while still maintaining a high level of safety oversight through adherence to global standards and recommended practices," said Blair Cowles, IATA's Regional Director for Safety and Flight Operations, Asia-Pacific.
Singapore is the third country in Asia-Pacific to use IOSA as part of its safety oversight of carriers. In June 2018, Australia's Civil Aviation Safety Authority signed an MoU with IATA to expand the use of IOSA audit information for oversight of Australian registered airlines in addition to foreign carriers operating to, from and within Australia. While in December 2018, the Civil Aviation Authority of Thailand inked an agreement with IATA to incorporate IOSA in Thailand's safety oversight framework of foreign carriers.
IOSA is helping to improve the industry's safety performance. In 2018, the all accident rate for airlines on the IOSA registry was more than two times lower than that of non-IOSA airlines (0.98 vs. 2.16) and it was more than two-and-a-half times better over the 2014-18 period. All IATA member airlines are required to maintain their IOSA registration.
There are currently 433 airlines on the IOSA
Registry
, including over 140 which are non-IATA Members. The IOSA program is undergoing a digital transformation that will enable IOSA airlines to compare and benchmark their performance. In the long run, the digital transformation will help to focus auditing on areas with the highest level of safety risk.