The travel restrictions brought in to stem the spread of the Covid-19 virus have reduced European air traffic by 90%. This is an unprecedented collapse, far exceeding the fall in traffic from the global financial crisis. The only comparable situation in Europe was the volcanic ash cloud shutdown in 2010, but that only lasted a few days. The current shutdown already far exceeds that occasion and no one knows when air travel will fully recover.
Today, operations consist almost exclusively of air cargo and repatriation flights. New passenger bookings are virtually non-existent due to the lack of visibility on the restart and shape of air transport post-crisis. We estimate that revenue from passenger ticket sales will fall $314 billion, or 55%, this year compared to 2019. Carriers are expected to burn through $61 billion of their remaining cash in the 2nd quarter. On the other side of the scale, an extensive list of fixed and semi-fixed costs, accounting for 49% of the total, are making it harder to survive.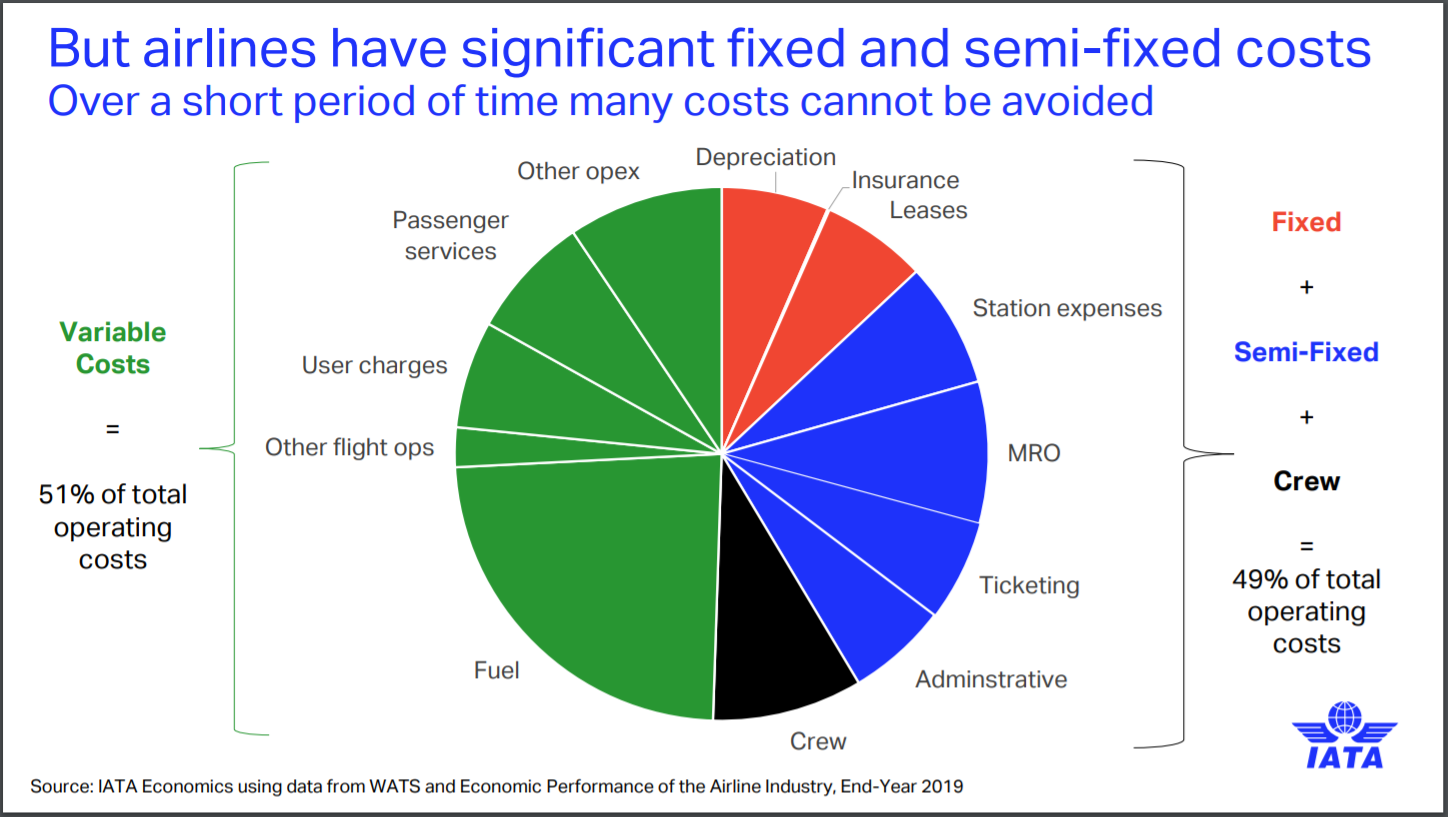 On average, at the start of the crisis airlines had two months of cash on hand. Not a solid figure when confronted with an extended grounding. Some airlines have secured loans or lines of credit from investors, banks, or their governments. But the situation is patchy.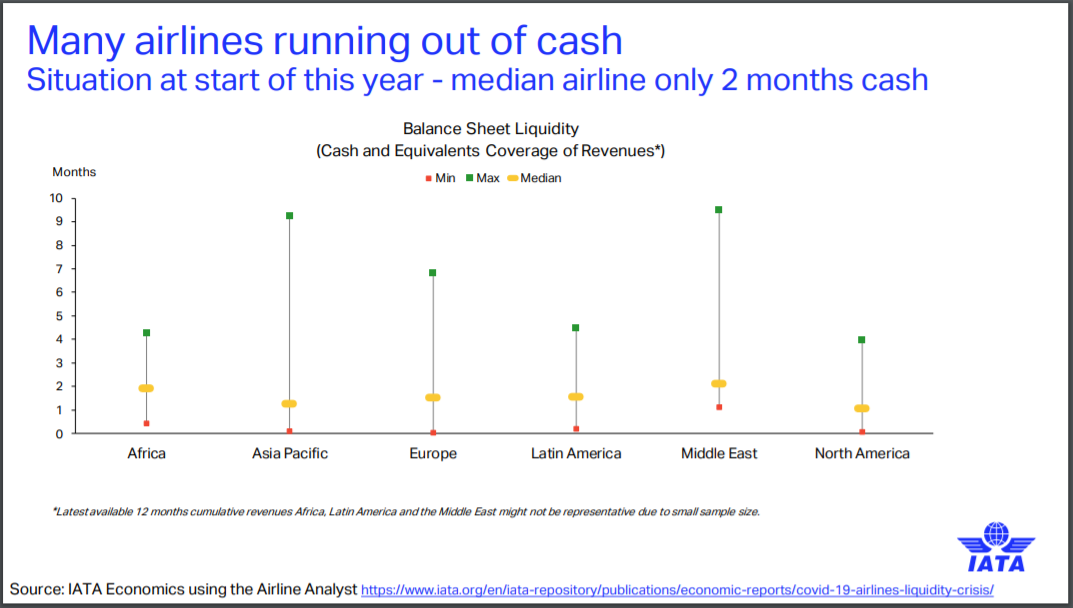 Assistance needed
To limit the negative consequences resulting from the paralysis of their operations, airlines -because sources of income are extremely scarce- must reduce to the bare minimum their costs and defer payments wherever and whenever possible.
In addition to staff furloughs to save on salaries, there are many other expenses that airlines incur. Some cannot be avoided, but there are a few where airlines are seeking help from their industry partners to reduce or defer charges. Examples include aircraft parking charges, where some airports have been helpful. Another is air navigation services charges. The member states of Eurocontrol and their Air Navigation Service Providers have taken an important step to delaying more than EUR 1.1 billion of charges due for February-May to November and into 2021. And 13 Eurocontrol members also deferred terminal charges. European airlines are grateful for these actions.
In parallel, government support is necessary to keep the industry afloat. On the financial level, this could include direct financial support, loans and loan guarantees, and tax relief.
Another important area where governments can help is through regulatory flexibility. The European Union moved relatively quickly to give airlines some certainty on the issue of airport slots, suspending the 80-20 rule for the summer season, which was very helpful. But another area of great concern is the issue of passenger refunds. As Rafael Schvartzman, IATA's Regional Vice President for Europe has stated: "Airlines in Europe are facing a $10 billion bill for refunds for flights that have been cancelled through no fault of their own…the biggest single thing we need right now is some flexibility on the rules to repay passengers for cancelled flights. We don't want to deny any passenger their basic right to a refund, but we are asking that the timeframe be extended to months, rather than the current seven days. That will give airlines the breathing space they need."
Saving jobs
The provision of financial and regulatory support is not just about keeping airlines alive as functioning businesses. The role air connectivity plays in supporting employment and prosperity throughout the economy is vital.
Alexandre de Juniac, IATA's CEO and Director General, points out, "If aviation is not functioning, the economic damage goes well beyond the sector itself. Some 65.5 million jobs are linked to aviation. If the planes don't fly, the viability of many of these jobs disappears." Our estimation is that some 6.7 million people's jobs are at risk in Europe until the aviation sector is fully functioning again.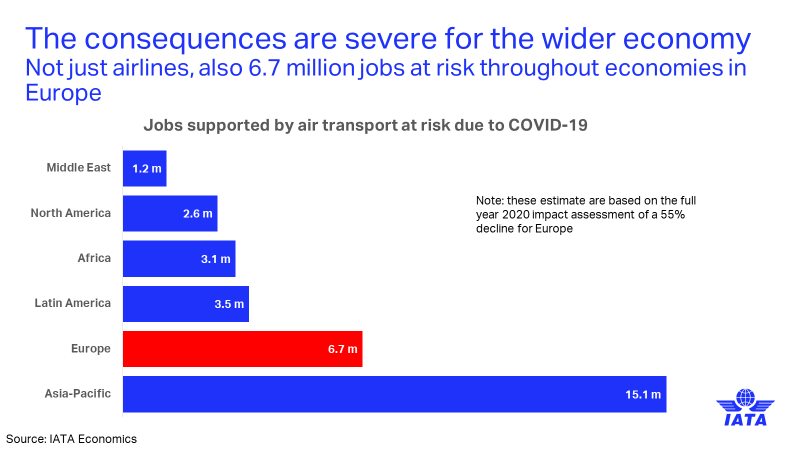 Aviation is a key economic enabler and it is crucial Governments support airlines to ensure connectivity, as well as prevent the loss of direct and indirect jobs. In the last month, some have shown their backing, but not in sufficient number. Speed is of the essence.
Our time is running out.