Translation: Paris Air Forum 2019 = Révolution des Datas + Développement Durable + Taxation (VF) (pdf)
Organized by the French economic news outlet La Tribune with the backing of the Aéroports de Paris group and in partnership with some of the major French industry stakeholders such as Airbus, the Air France – KLM group and Thales to name only a few, the Paris Air Forum is the largest yearly civil and military aviation event held in France.
Around 1000 visitors and high-level speakers were present at the June 14th event which also featured an Innovation Village to better address the Data Revolution focus given to this edition. Mrs. Elisabeth Borne, France's Transport Minister, officially kicked-off the conference delivering a keynote speech in which she highlighted France's commitment to maintaining a competitive air transport industry, including the connectivity with the French "départements" and territories (such as Corsica or the West Indies), and extensively covering one of European aviation's hottest topics: sustainability. She stressed the importance of a European alignment to tackle this issue effectively: "If France seeks to be at the forefront of environmental excellence, it cannot act alone, something which would have no effect on the climate and certainly weaken our competitiveness."
This sustainability stance is very much aligned to the industry's, with the Carbon Offsetting Reduction Scheme for International Aviation (CORSIA), Sustainable Aviation Fuels (SAF), and electric aircraft making up the preferred options to ensure air transport grows sustainably. Commercial aviation is responsible for around 2% of annual global carbon emissions, and it has set itself 3 ambitious targets:
• Cut emissions per passenger by 1.5% per year to 2020
• Carbon-Neutral Growth from 2020
• Halving emissions by 2050 compared to 2005

For IATA's DG & CEO Alexandre de Juniac (who also spoke at the Paris Air Forum): "Aviation takes the climate change challenge very seriously. For more than a decade we have set and exceeded tough targets for carbon emissions, and we plan to achieve much more. Public opinion has a clear message to governments: work with aviation to encourage investment in clean fuels, and new hybrid and electric technology". This is the key takeaway of research commissioned by IATA, along with the public's skepticism about environmental taxes, which have not shown their effectiveness. These taxes gained only 22% support of the people surveyed versus 64 % for the development of sustainable aviation fuels, and 62% for the development of new technologies and better operations.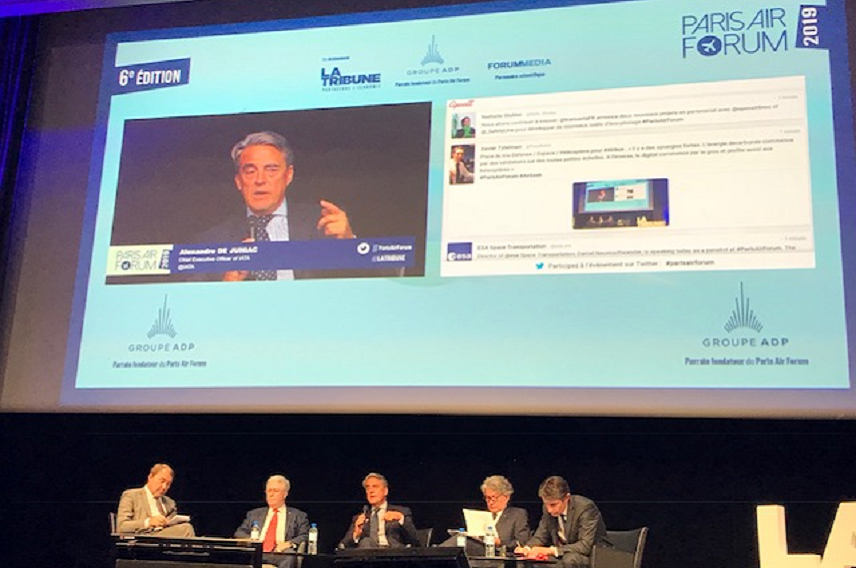 Alexandre de Juniac, IATA's DG & CEO, speaking at the Paris Air Forum 2019
We truly welcome Minister Borne's backing for SAF as a primary solution to more environmentally-friendly aviation, however we firmly believe both their development and more widespread use can only be achieved through governments setting the right framework and incentives to encourage production.
Taxation (not just for environment purposes), airport and passenger charges, burdensome regulations, and high levels of social charges are key aviation challenges in France, the 4th largest aviation market in Europe. This was reflected in the French Air Transport Competitiveness Indicators 2019 report that was published in May, with recommendations that include implementing a French Air Traffic Management Strategy, Smarter Regulations, and reform airport economic regulation.

Needless to say, these topics and particularly sustainability, are not just specific to France, affecting countries all across our region. Sustainable Growth will actually be the main theme to Wings of Change Europe 2019 that IATA and the Lufthansa Group will organize and host in Germany, November 19-20, 2019 at the Grand Hyatt Berlin hotel.