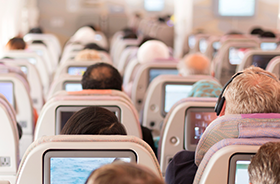 ​Translations: French​ (pdf)​​​ Spanish​ (pdf) Arabic​ (pdf)
Geneva - The International Air Transport Association (IATA) announced global passenger traffic results for July showing an acceleration in demand growth over the previous five months. Total revenue passenger kilometers (RPKs) rose 5.9%, compared to the same month last year, with all regions reporting growth. Monthly capacity (available seat kilometers or ASKs) increased by 6.0%, and load factor was 83.7%--just 0.1 percentage point below the record July high achieved in 2015.
"July saw demand strengthen, after a softening in June. Demand was stimulated by lower fares which, in turn, were supported by lower oil prices. And near record high load factors demonstrate that people want to travel. But, there are some important sub-plots to the narrative of strong demand. Long-haul travel to Europe, for example, suffered in the aftermath of a spate of terrorist attacks. And the mature domestic markets are seeing demand growth stall while Brazil and Russia contract," said Alexandre de Juniac, IATA's Director General and CEO.
Details of passenger market - July 2016
| July 2016 (% year-on-year) | World share1 | RPK | ASK | PLF (%-pt)​2 | PLF (level)​3 |
| --- | --- | --- | --- | --- | --- |
| Total Market | 100.0% | 5.2% | 5.6% | -0.3​% | 80.7% |
| Africa | 2.2% | 3.2% | 5.9% | ​-1.7% | 65.0% |
| Asia Pacific | 31.5% | 9.0% | 7.2% | ​1.3% | ​79.1% |
| Europe | 26.7​% | 2.0% | 2.7% | ​-0.6% | ​82.9% |
| Latin America | 5.4% | ​4.6% | 1.9% | ​2.1% | ​80.8% |
| Middle East | ​​9.4% | 7.3% | 14.4% | ​-4.6% | ​70.3% |
| North America | 24.7% | 4.3% | 4.3​% | ​0.0% | 86.3​% |
(1)% of industry RPKs in 2015 (2)Year-on-year change in load factor (3)Load factor level
International Passenger Markets
July international passenger demand rose 7.1% compared to July 2015, which was an increase over the 5.0% yearly increase in June. Airlines in all regions recorded growth. Total capacity climbed 7.3%, causing load factor to slip 0.2 percentage points to 83.5%.
Middle East carriers posted the strongest growth in July, with a 13.1% year-over-year increase; demand had dipped in June owing to the timing of Ramadan. Capacity rose 15.5%, causing load factor to drop 1.7 percentage points to 78.6%
Asia-Pacific airlines' July traffic rose 9.8% compared to the year-ago period. Capacity increased 8.6% and load factor climbed 0.9 percentage points to 81.7%. Reports suggest that Asian passengers are putting off traveling to Europe in favor of regional trips owing to terrorism fears: while traffic on Asia-Europe routes fell by 0.9% in June, international traffic within Asia rose 8.1%, which was a four-month high
European carriers saw July demand increased by 4.1% compared to a year ago, which was the slowest among the regions. Demand has been affected by the recent terrorist attacks as well as political instability in parts of the region: traffic has grown at an annualized rate of just 1.4% since March. Capacity climbed 4.7% and load factor dipped 0.5 percentage points to 86.7%, which was still the highest among regions
North American airlines' traffic climbed 4.8%, while capacity rose 5.1% with the result that load factor fell 0.3 percentage points to 86.1%. Seasonally adjusted volumes have risen at an annualized rate of more than 8% since March helped by transpacific and leisure traffic to Central America and the Caribbean
Latin American airlines' demand rose 7.5% compared to July 2015 as the upward trend in traffic resumed following a soft patch in the first quarter of 2016. Capacity increased by 4.2%, boosting load factor 2.6 percentage points to 85.3%
African airlines experienced a 7.4% increase in traffic compared to a year ago but this relates mainly to the strong upward trend in seasonally-adjusted traffic during the second half of 2015. Capacity rose 5.9%, and load factor climbed 1.0 percentage point to 72.4%, lowest among regions.
Domestic Passenger Markets
Domestic travel demand climbed 3.8% in July compared to July 2015, its slowest pace in 19 months. China and India are booming while more mature markets are stuck in neutral, and Brazil and Russia are sliding backwards. Domestic capacity climbed 3.7%, and load factor rose 0.1 percentage point to 84.0%.
July 2016 (% year-on-year)
World share1
RPK

​

​

ASK
PLF (%-pt)​2
PLF (level)​3
Domestic
36.4%
3.8%
3.7%
0.1%
84.0%
Australia
1.1%
0.2%
-1.6%
​1.5%
81.1%
Brazil
1.4%
-6.8%
-7.8%
​1.0%
​84.4%
China P.R.
8.4​%
10.2%
9.7%
​0.4%
82.1%
India
1.2%
26.2%
20.5%
​3.9%
84.5%
Japan
​​1.2%
0.9%
-0.8%
1.1%
66.7%
Russian Federation
1.3%
-3.2%
-7.5%
3.8%
​87.3%
​US
​15.4%
1.6%
3.1%​
​-1.3%
87.2​%
(1)% of industry RPKs in 2015 (2)Year-on-year change in load factor (3)Load factor level
Brazil's traffic decline reflects not only the country's economic turmoil, but also the fact that, as airlines reduce services, options for travelers are being curtailed by fewer and less frequent air connections. August demand could see an uptick owing to the Olympics
Japan domestic traffic has trended sideways for the past 18 months in line with underlying weak momentum in consumer spending. However, service reductions and shifts to smaller aircraft helped push up load factor 1.1 percentage points to 66.7%, an all-time July high.
The Bottom line
"Passenger demand has broadly grown in line with the average of the past 10 years but the industry faces some potential headwinds, including lingering impacts from the series of terrorist attacks and the fragile economic backdrop. The environment in which aviation operates is dynamic—even volatile. Speed is of the essence. As an industry we must be prepared for rapid innovation in order to manage shocks and take advantage of opportunities as they arise," said de Juniac.
See full July passenger traffic analysis (pdf)
For more information, please contact:
Corporate Communications
Tel: +41 22 770 2967
Email: corpcomms@iata.org
Notes for Editors:
IATA (International Air Transport Association) represents some 265 airlines comprising 83% of global air traffic
You can follow us at http://twitter.com/iata2press for news specially catered for the media
All figures are provisional and represent total reporting at time of publication plus estimates for missing data. Historic figures July be revised
Domestic RPKs accounted for about 36% of the total market. It is most important for North American airlines as it is about 66% of their operations. In Latin America, domestic travel accounts for 46% of operations, primarily owing to the large Brazilian market. For Asia-Pacific carriers, the large markets in India, China and Japan mean that domestic travel accounts for 45% of the region's operations. It is less important for Europe and most of Africa where domestic travel represents just 11% and 14% of operations, respectively. And it is negligible for Middle Eastern carriers for whom domestic travel represents just 4% of operations
Explanation of measurement terms:

RPK: Revenue Passenger Kilometers measures actual passenger traffic
ASK: Available Seat Kilometers measures available passenger capacity
PLF: Passenger Load Factor is % of ASKs used

IATA statistics cover international and domestic scheduled air traffic for IATA member and non-member airlines
Total passenger traffic market shares by region of carriers in terms of RPK are: Asia-Pacific 31.5%, Europe 26.7%, North America 24.7%, Middle East 9.4%, Latin America 5.4%, and Africa 2.2%.