Need Help?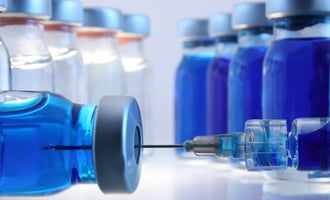 Air cargo plays a key role in the distribution of vaccines through well-established temperature-sensitive distribution systems, using cutting-edge technology and procedures.
This capability will prove crucial to the quick and efficient transport of COVID-19 vaccines once available. This will naturally require careful planning by every segment in the entire cargo supply chain to ensure full preparedness when vaccines for COVID-19 are approved and ready for distribution.
To guarantee the quality of the product, vaccine handlig and transportation must comply with international regulatory and manufacturers' requirements, at controlled temperatures, and without delay.
Guidance for Vaccine and Pharmaceutical Logistics & Distribution (5th ed.)
IATA collaborates with leading authorities and organizations to facilitate full preparedness for COVID-19 vaccines transportation. This document summarizes the considerations to be taken into account for large-scale handling, air transport and distribution of vaccines.
Priorities for developing capacity and resources for vaccine distribution include:
The availability of temperature-controlled facilities and appropriate equipment—maximizing the use or re-purposing of existing infrastructure and minimizing temporary builds;
The availability of staff trained to handle time and temperature-sensitive vaccines; and
The development of robust monitoring capabilities to ensure the integrity of the vaccines is maintained


Webinars
Three webinars will explore the aviation industry's challenges with regards to the transportation of an eventual vaccine and explain the role that IATA standards in pharmaceuticals and other tools are playing in moving medical supplies in this extraordinary time.
Supporting the industry
IATA offers solutions and services to support cold chain capacity and resources for the anticipated scale of transporting and distributing COVID-19 vaccines.
Need Help?
CEIV Pharma
CEIV Pharma certification recognizes Excellence in Pharmaceutical Logistics. It enables organizations across the supply chain to improve the level of competency and develop operational capacity in handling and transporting healthcare and life science products, such as vaccines and medication.
The certification in Excellence in Pharmaceutical Logistics demonstrates that the organization is benchmarked against and meets CEIV Pharma standards. It is only achieved after a comprehensive assessment and validation of the organization's operations and quality management systems by an independent validator.
Temperature Control Regulations
The Temperature Control Regulations (TCR) contains all relevant information and standards necessary for correctly transporting healthcare and life science products, such as vaccines and medication.
The TCR contains up-to-date carrier variations and government regulations as well as the latest packaging and documentation requirements, assuring shippers of compliant temperature-sensitive products.
Training related to vaccine transportation
Vaccine storage and handling practices are only as effective as the staff in charge. Staff that are trained in general storage and handling principles and organization-specific standard operating procedures (SOPs) are critical to a vaccine's efficacy and end-users health safety. Join more than 3,500 professionals who have upskilled on the handling and transportation of pharmaceutical and healthcare products.
The training programs can be customized for an organization's business objectives and needs.
Instructor-led courses for operational and managerial functions require intermediate and advanced levels of proficiency in temperature-controlled cargo operations.
eLearning for operational functions requires introductory and basic level of proficiency in temperature-control cargo distribution.
Coming soon – Time and Temperature Sensitive Handling Products (eLearning)
Webinars
A series of webinars that examine the industry's readiness and preparedness for the transportation of vaccines, and explain the role that IATA standards in pharmaceuticals and other tools are playing in moving medical supplies in this extraordinary time.
IATA and the International Union of Aerospace Insurers have organized an IATA/Insurance Round Table Discussion on the safe and timely global distribution of the COVID-19 Vaccine. Find out more in the recording of the session.
Webinar 3: Key learnings from the ongoing vaccine distribution effort & paving the way for the future
21 April 2021
From manufacturing to distribution, the COVID-19 vaccine has offered-up a variety of logistical challenges for the supply chain to tackle along its air transportation journey. The industry's preparedness and response have proven their efficiencies, with communication and collaboration being the pillars of ongoing efforts. Join us for some insights into how the continuous handling and transport of vaccines is being secured throughout the supply chain, aviation's role in supporting equitable access to vaccines worldwide and experiences drawn from the past year, which will help shape the future.
Webinar 2: Global distribution and the flow of vaccines throughout the supply chain
24 November 2020
Hear firsthand from transport and handling supply chain experts as they showcase actionable steps developed to achieve the upcoming vaccine distribution effort. Shipper, airline, ground handler, freight forwarder and regulatory agency will speak to specific initiatives being implemented, addressing foreseeable challenges along the temperature-control supply chain and expectations companies hold of their respective partners while collaborating in this endeavor.
Webinar 1: Readiness for vaccine and life science products transportation
21 October 2020
Get up to speed on recent events and regional circumstances impacted by COVID-19. In this webinar, we will examine the consequences of the pandemic on pharmaceutical shipments and air cargo industry challenges. The session will feature regional input on any anticipated regional constraints and the COVID-19 effect on logistics, capacity issues and industry processes. Is your company ready today to take on the upcoming challenge?
ONE Source
ONE Source is a new online industry platform from IATA that validates aviation capability and infrastructure information. It enables organizations to find business partners that meet specific requirements, such as temperature-controlled rooms or IATA certifications.
Access to ONE Source is publicly available and aviation service providers can now create their station profiles for free.
Our experts are here to help
Resources
For more information on the topic of vaccine transportation and other useful links, please consult the below.