The aviation industry's net-zero carbon emissions target is focused on delivering maximum reduction in emissions at source, through the use of sustainable aviation fuels (SAF), innovative new propulsion technologies, and other efficiency improvements (such as improvements to air traffic navigation). We estimate that SAF could contribute around 65% of the reduction in emissions needed by aviation to reach net-zero in 2050. This will require a massive increase in production in order to meet demand. The largest acceleration is expected in the 2030s as policy support becomes global, SAF becomes competitive with fossil kerosene, and credible offsets become scarcer.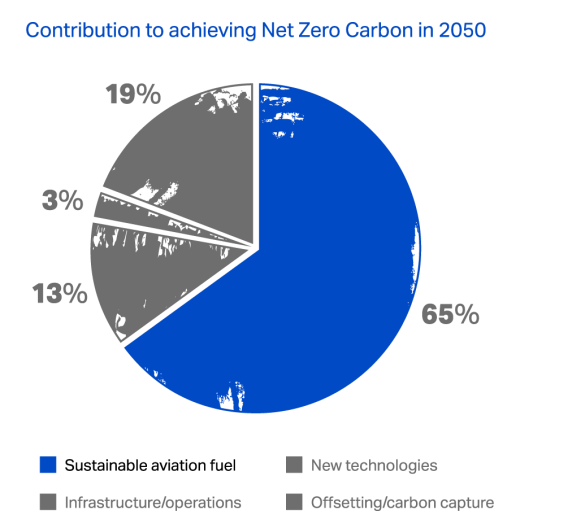 What is SAF?
SAF is an umbrella term referring to fuels derived from non-fossil sources or 'feedstock', where through its process of cultivation and production, works to close the carbon cycle and resultantly achieve a significant reduction in life-cycle emissions relative to traditional jet fuel. Beyond reducing significant CO2 emission levels across its life cycle, SAF by design seeks to ensure a high level of integrity in broader sustainability criteria. This includes feedstock that do not cannibalize food production, utilize excess water, promote incremental land clearing or negative impact on the likes of soil fertility, deforestation and biodiversity. Whereas fossil fuels add to the overall level of CO2 by emitting carbon that had been previously locked away, SAF recycles the CO2 which has been absorbed by the biomass used in the feedstock during the course of its life.
As it stands, there are seven biofuel production pathways that are certified to produce SAF, which perform at operationally equivalent levels to Jet A1 fuel. By design, these SAFs are drop-in solutions, which can be directly blended into existing fuel infrastructure at airports and are fully compatible with modern aircraft.
For more information, read the SAF Factsheet
Over 450,000 flights have taken to the skies using SAF
7 technical pathways exist
Over 300 million litres of SAF were produced in 2022
SAF can reduce emissions by up to 80% during its full lifecycle
Around 17 billion US dollars of SAF are in forward purchase agreements in 2022
More than 50 airlines now have experience with SAF