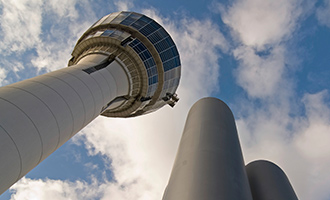 ​
​​As air traffic grows, so does the need for efficient, globally harmonized and interoperable Air Traffic Management (ATM). We are seeking a structured and globally harmonized ATM framework, supported by a cost-effective and sustainable Communications, Navigation and Surveillance (CNS) infrastructure.
Safely Navigating the Industry Recovery during COVID-19
To better understand the operational impacts of COVID-19 and the challenges that can be faced by airlines and air navigation service providers (ANSPs), the Civil Air Navigation Services Organisation (CANSO), International Federation of Air Traffic Controllers' Associations (IFATCA), International Federation of Air Line Pilots' Associations (IFALPA) and International Air Transport Association (IATA) conducted collaborative safety risk assessments (SRAs) in the context of the COVID-19 environment. The SRAs were used to shape educational webinars that were organized with experts representing the different organizations. The Considerations for Navigating the Restart and Recovery of Air Traffic (pdf) guidance material captures the outcomes of the SRAs and webinars and provides general considerations for airlines, ANSPs and airports during restart and recovery to normal traffic levels.
User Requirements for Air Traffic Services (URATS)
Complementary to the ICAO Global Air Navigation Plan (GANP), the IATA User Requirements for Air Traffic Services (URATs) (pdf) is meant as a reference for airlines and ANSPs when determining airline infrastructure requirements/capabilities for air navigation services. It also includes IATA's positions on the various communications, navigation and surveillance technologies.​​​​​