Need Help?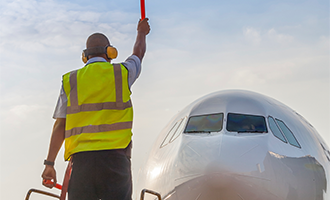 The IATA Safety Audit for Ground Operations (ISAGO) is an industry program for the global oversight of ground handling service providers (GHSPs).
ISAGO drives the standardization of operational procedures and management by GHSPs. It also increases the harmonization of best practices among the ground handling stakeholders. The ISAGO audits are performed by qualified auditors, members of the Charter of Professional Auditors (CoPA).
Need Help?
Benefits
Improved safety performance of GHSPs and reduction of safety risks in ground operations
Standardization of ground operations
Cost and audit/auditor-days reduction
Global recognition and acceptance (by airlines, airport, regulators)
Independent GHSP's management system validation in accordance with industry standards
About the Program
The ISAGO program started in 2008 in response to an industry request to address the safety risks and incident costs of ground operations. Therefore the primary objective of ISAGO is to improve the safety of ground operations through the oversight of the implementation of management system within a GHSP and driving adoption of standardized operational procedures. ISAGO is also a cost-effective alternative to the audits conducted by airlines, airports, and regulators of ground operations, reducing duplication and cost of oversight.
Compliance with highest ground handling standards
ISAGO is an accreditation scheme, validating that GHSPs comply with industry ground operations standards such as IGOM and AHM. ISAGO also provides independent assessment of compliance with ICAO Annex 19 Safety Management System.
How it works
An ISAGO registration is based on the audit of the GHSP as an organization, at its corporate headquarters. It covers the management systems that control the ground operations. A least one Station Accreditation is required, achieved by the audit of the ground operations implemented at the station.


An ISAGO Registration or a Station Accreditation is granted when all findings are closed. It is valid for a period of 24 months. Full details are in the ISAGO Program manual - GOPM Ed3 (pdf) and Temporary Revision - TR 3 to GOPM Ed3 (pdf)
The ISAGO audits are performed against standards and recommended practices (GOSARPs) published in the ISAGO Standards Manual.
Interested in gaining ISAGO registration/Station accreditation?
If you are a Ground Handling Service Provider, please submit an application for an initial Headquarters Audit and initial Station Audit for Station Accreditation.
If you are already an ISAGO-registered GHSP or accredited Station, you do not need to apply for a renewal audit. You will be automatically included in the annual audit allocation.
For further details contact isago@iata.org
ISAGO Registry
The ISAGO Registry lists companies which have undergone an ISAGO audit and complied with the ISAGO program and standards requirements.
There are 220+ ISAGO registered GHSPs globally
There are 330+ ISAGO-accredited stations at 200+ airports worldwide
Access to the ISAGO Registry (500+ audit reports) is restricted to ISAGO member airlines. For more information contact isago@iata.org
If you are ISAGO GHSP and your customer airline is on the list of ISAGO member airlines, please contact them directly to find out how to reduce the cost/time of the oversight activities.
ISAGO for Airports/Regulators
Are you an Airport or Regulator interested in the benefits from ISAGO?
Airport ramp is a challenging work place. Any incident impacts not only operations, causing delays and costs, but ramp incidents can also impact the safety of people, airplanes, airport's equipment and facilities.
What can ISAGO offer you?
Complementary data about GHSP performance/compliance and benchmark opportunities
Compliance with ICAO Doc 10121 Manual on Ground Handling and ICAO Annex 19
Reduction of scope/frequency/ cost of your own oversight activities
AMC (An Acceptable Means of Compliance) to your regulatory/airport requirements
Harmonization everyone operates according to the same standard (some variations may apply)
Strengthening the licensing scheme for GHSPs at the airports
Contact us at isago@iata.org to sign Memorandum of Cooperation (MoC).