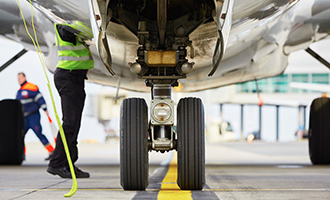 Ground handling is an integral part of airline operations. Ramps are busy places, confined areas in which aircraft, Ground Service Equipments (GSE), and people are in constant motion in all weathers.
Current challenges include safe and on time performance as well as labor shortages. IATA strives to lead the industry towards improved safety and operational efficiency in ground handling by setting standards, driving sustainability, and driving the implementation of global solutions.
Ground Operations priorities
Safety and Standardization
Global standards and their consistent application are the foundation for safe, secure and efficient ground operations. IATA calls for the ground handling industry to accelerate the global adoption of the IATA Ground Operations Manual to ensure worldwide operational consistency and safety.

IATA also urges governments to recognize the IATA Safety Audit for Ground Operations (ISAGO) in their regulatory frameworks for oversight. This will deliver significant benefits, including harmonization of best practices, the implementation of Safety Management System (SMS) by ground handlers, and a reduction of duplicate audits.
Sustainability
The development of long-term strategies and investments is key to sustainable ground operations. The ground operations industry is committed to positively impacting people and the planet while contributing to aviation prosperity through partnerships.
Areas of Activity