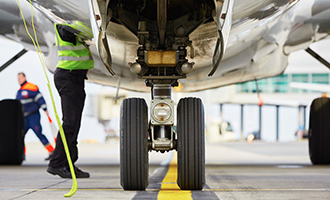 ​​Ground handling is an integral part of airline operations. IATA strives to lead the industry towards improved safety and operational efficiency in ground handling by setting standards, initiating and encouraging the implementation of global solutions.
IATA also offers ground handlers membership of the IATA Ground Handling Partnership program
Utilization of Common Industry Standards
The ground operations stakeholders agreed that our industry needs to implement training requirements and operational procedures as documented in AHM Ch. 11 and IGOM.
Use of common industry standardization will lead to:
(a) Effective utilization of similar skill sets amongst different carriers
(b) Ease the return to service
(c) Minimizing of safety & security events
(d) Effective and cheaper oversight of safe operations
Synchronize your ground operations with the IGOM Portal - for free
With stations across the world, and contracts with multiple different companies, a consistent ground handling operation can be a challenge. The IGOM Portal allows you to communicate every variation in your Ground Operations Manual, to everyone who needs to know, at the touch of a button.
Ground Ops. Training Implementation
IATA has developed a Ground Operations Training Program (AHM Ch.11) video to assist the industry in Ch. 11 implementation.
IGOM Adoption
IATA has uploaded the IGOM 10th Edition Gap Analysis Checklist (.xlsm) with the aim to increase the number of airlines and GHSPs performing the gap analysis between their GOM and IGOM as a basis of conformance and implementation of the IGOM.
To support this goal, IATA has produced two IGOM Adoption awareness videos to assist the industry with IGOM implementation.
​​​​IATA is in favor of the establishment of standardized performance-based procedures for ground handling operations supporting the industry, based on ensuring ground handling activities are safely, efficiently and consistently accomplished.
Ground Operations Governance
To support mutual cooperation between all stakeholders, IATA works with all airline and their partners, including ground handlers, airports, aircraft manufacturers, as well as standardization bodies and regulators on the ground operations standards development.
Ground Operations Group (GOG)
Ground Operations Standards Task Force (GOS)
Ground Operations Automations and Digitalization Group (GAD)
For more details, contact groundops@iata.org