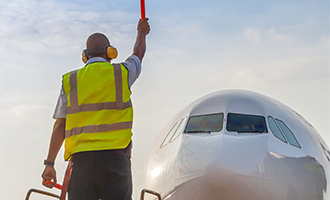 IATA's Safety Audit for Ground Operations (ISAGO) has been built upon a "backbone" of audit standards applicable to all ground handling companies worldwide, coupled with a uniform set of standards relevant for the specific activities of any ground handler.

As a result, the ISAGO audit can be applied consistently to multinational ground handlers, as well as to smaller companies providing services at a single station.

What's new?
COVID-19 - Please find GOPM Edition 2 - Temporary Revision 1. Please find it in "Documents" tab.
A total of 245 audits were conducted by the end of 2018, the first year of audits under the new ISAGO program. The audits under the new program assess the management and oversight systems in place at the Ground Service Provider's corporate Headquarters and the implementation of ground operations processes and procedures at selected stations. All ISAGO audits are performed by IATA selected, trained and qualified auditors, inducted into the IATA Charter of Professional Auditors (CoPA).
Analysis of the 245 audits confirms that the new audit approach and methodology, including utilization CoPA members, brings desired benefits in terms of better audit report quality, increased focus on management systems, and driving alignment of the ground operations processes between a GSP's headquarters and their standards network of ground operations. These facts are demonstrated by a significant increase in the number of findings raised in 2018, totalling nearly 5000 and increasing the average from 3 to 20 per audit.
An ISAGO Audit is based on the standards and recommended practices published in the ISAGO Standards Manual (GOSM). The GOSM is available as a Windows download free of charge to a Ground Service Provider that signs an ISAGO Audit Agreement or an Airline that signs an ISAGO Airline Membership Agreement. It is also available and in other formats to purchase from IATA publications.
All ISAGO status information and access to ISAGO Audit Reports is through the ISAGO Registry on the ISAGO Extranet. The Registry includes many new features that are highlighted in the Registry guide (pdf).
Access to the ISAGO Registry is restricted to ISAGO-registered Ground Service Providers and Airlines that have signed an ISAGO Airline Membership Agreement.
An Airline interested in gaining access to information on ISAGO-registered Ground Service Providers resident at destination airports and all ISAGO Audit Reports should contact the ISAGO team at isago@iata.org.
Ground Service Providers interested in gaining an ISAGO Registration can submit an application for an initial Headquarters Audit and initial Station Audit for Station Accreditation. An ISAGO-registered Ground Service Provider does not need to apply for a renewal audit as they are automatically included in the annual audit allocation; however, a request for an additional Station Accreditation must be made to IATA.
The ISAGO new operational audit model has been developed in consultation with stakeholders. The program continues to be managed and administered by IATA but the revitalized ISAGO includes the following new features:
Greater oversight and due diligence of the auditor recruitment and training process - this is achieved by establishment of the IATA 'Charter of Professional Auditors' (CoPA) and its members (Auditors and Lead Auditors) who are responsible for the audit conduct
Audit Allocation to ISAGO Agent(s) (GOA) that are contracted to administer the audits on IATA's behalf. GOA(s) are formal entities responsible for all audit arrangements including the establishment of the audit team (selected from the CoPA), liaising with the provider, the audit itself, and ensuring the delivery of the annual audit plan as per program's requirements
Development and maintenance of a scheme of charges to cover all costs associated with ISAGO - audit costs would be based on daily rates/man-days as determined by the type and scope of the audit. Funding will come from provider & airlines and will, in part, be redistributed by IATA to Auditors and GOA(s) to cover their costs.
Independent oversight of auditor and GOA performance
The ability to expand the scope of the ISAGO audits to cover additional ground handling operations and safety related activities
Benefits
Improved safety and cut in costs by reducing ground accidents, injuries and delays
An accepted alternative to the multiple audits providers are subject to today
Highest quality audits conducted in a standardized and consistent manner, using internationally recognized auditing principles
Equivalence in scope of audits conducted by airlines
Standardization in ground operations
Global recognition and acceptance
The ISAGO Charter of Professional Auditors (CoPA) is a membership scheme for industry professionals who have demonstrated competence in auditing and have ground operations knowledge and experience.
Anyone interested in performing ISAGO audits can apply to be a member of CoPA. ISAGO auditors are the key element for the success of the ISAGO program; therefore, we choose the best. Auditors not only have the technical knowledge but also know how to deal with cultural differences, are able to assess against the standards, and understand that there are various ways to conform to a particular requirement. CoPA membership is renewed annually subject to maintaining qualification through re-current training, auditing experience and performance assessment.
See the list of current CoPA-qualified auditors
CoPA qualification process
Interested in applying for CoPa?
​​​​​​​​​​​​
​​​​
​​​​​​​​​​​​​
Use the form below to submit an application for an ISAGO audit for either:
An initial headquarters and station audit(s) of your organization for ISAGO Registration and station accreditation(s); or
An initial station audit for a new station accreditation to your existing ISAGO Registration
You do not need to use this form for a routine renewal headquarters or station audit. These audits will be included automatically in the audit schedule for the appropriate year unless you advise IATA that you no longer wish to continue the registration or the accreditation of a station, in which case you should notify IATA by email at isago@iata.org.
Upon submission of an audit application IATA will send you an audit agreement and a GSP Organization Exposition for you to complete. Further details are outlined in the ISAGO Program Manual (GOPM).
Audit Application Form
Access the Audit Application Form.
ISAGO Documents
An ISAGO Audit is based on the standards and recommended practices published in the ISAGO Standards Manual (GOSM). The GOSM is available as a Windows download free of charge to a Ground Service Provider that signs an ISAGO Audit Agreement or an Airline that signs an ISAGO Airline Membership Agreement. It is also available and in other formats to purchase from IATA publications.
ISAGO underwent a complete transformation last year. Many improvements were made and the results so far are very encouraging. We continue to promote the program by holding ISAGO workshops that explain how you can enjoy the benefits. The workshops are free of charge and are targeted at all our stakeholders (Airlines, Airports, Regulators and the Ground Service Providers).

The workshop will cover various topics related to ISAGO. Below is a brief overview of what you can expect:
ISAGO program management – ISAGO New Model
ISAG

O Benefits – Data access, SMS, audit reductions

ISAGO Standard Manual (GOSM) – Structure, Relation with IGOM, ICHM, AHM
Charter of Professional Auditors – Qualification, membership and management
Safety Management System for ISAGO
I

SAGO for Airports

ISAGO for CAA
ISAGO for A

irlines – ISAGO audit reports, Link with IOSA, Adoption of ISAGO, Benefits

ISAGO for G

SP – Audit Scope, Planning, Different between MHQ and STN audits

Q

& A
Workshops scheduled this year will take place at various locations around the globe, including Madrid, London, Baku, Bangkok, Beijing, Bogota, Atlanta, Tbilisi and Mumbai.

Register now for an ISAGO workshop.