In the effort to provide a seamless and personalized passenger journey to air travelers, the aviation industry must continuously adapt to market changes and new technology. The Passenger Experience manuals provide industry guidance, recommended practices as well as technical standards to improve customer experience in air travel.
Download the "Global Passenger Survey Highlights"
Discover the key findings on preferences and expectations of travelers, from attitudes towards the use of biometrics, carbon offsetting behaviors, through travel disruptions, transfer and queuing processes at the airport or finding alternative ways for the baggage journey.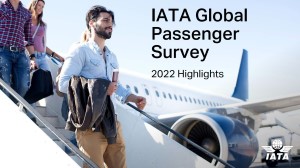 Manuals & Guidelines
Click on your manual of interest to learn more.
IATA manuals are the sole trusted source of information for the aviation industry - Compagnie Africaine d'Aviation