Aircraft turnaround time is essential to keeping flights on time and passenger flow smooth. There are many factors, such as type of aircraft, local procedures, maintenance needed, flight capacity, and more, that come into play, and each situation should be viewed individually. However, there are standardized procedures that make aircraft turnaround very efficient and safe.
Common Issues Faced During Aircraft Turnaround
There are three common problems that lead to delays in aircraft turnaround . These can cause slight delays or much longer delays depending upon the severity of the situation. No matter the cause, delays cost time and money, so following standardized procedures to ensure a smooth and safe flow of the processes is always a priority. Here are three major causes of delays:
Missing passengers
Untimely ground handling services
Aircraft ground damage
Missing Passengers


It may not seem as though missing passengers is such a time-consuming effort, but it is. Searching for passengers that should be on the flight initially or via a flight transfer takes time and effort, but it is not known if the passenger is missing until it is time for the doors of the aircraft to be closed.
Untimely Ground Handling Services


Ground handling services include a wide array of services such as passenger handling, baggage handling, ramp handling, and cargo handling. If one of these services is delayed at any time, it becomes a glitch in a well-oiled machine. If one department is late, it can cause a snowball effect, causing the next to be delayed, which delays another due to crews having to move to other flights to keep other aircraft on schedule.
Aircraft Ground Damage


According to IATA, aircraft ground damage costs will grow and exceed $8 billion by 2030. Aircraft ground damage covers damage caused by ground support equipment (GSE), other aircraft, passenger boarding bridges, poorly connected hoses, ducts and cables and more. The more significant the damage, the longer the delay. With aircraft ground damage, so much of it is due to human error, so promoting a safety culture is essential. Proper training and adherence to safety guidelines will always lower the number of instances. Non-adherence never saves time in the long run.
There are so many factors in play that it is crucial to follow the standardized procedures, rules, and regulations to eliminate mistakes and a breakdown of the system that has been put in place to keep the airlines running smoothly and safely.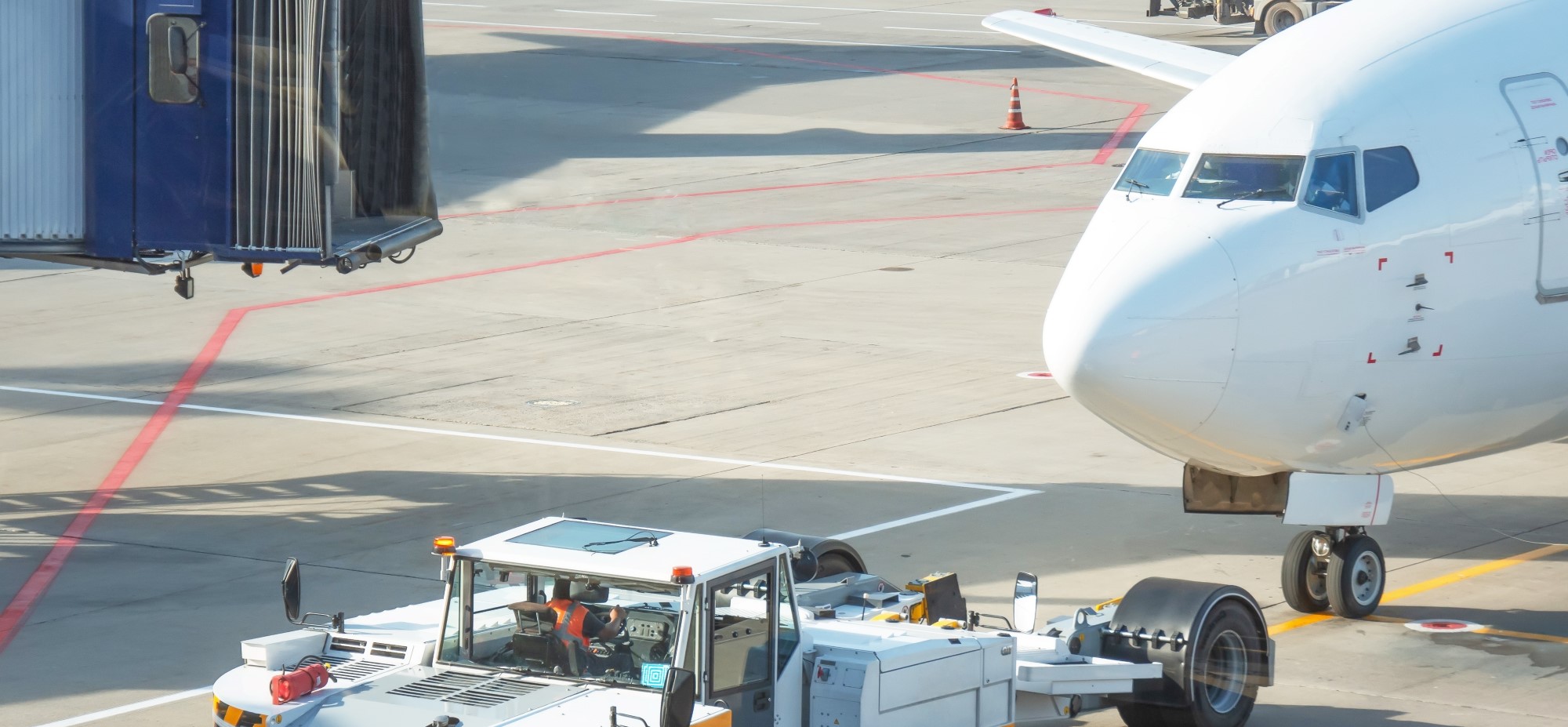 What Reduces Aircraft Turnaround Time?
Now, to address what reduces aircraft turnaround time. Failure to properly communicate between teams can increase aircraft turnaround time. Non-adherences can lead to costly mistakes, which only cause further delays. So how do you manage to ensure all procedures are being strictly followed while remaining time-efficient? Standardization and common procedures are essential for improving aircraft turnaround time.Innovation and digitalization are also key components, while investing in the most up-to-date ground support equipment is another way to stay on time.
Standardization


Standardization is another way to improve aircraft turnaround punctuality. Standardized procedures help establish safety protocols that need to be followed and create a system where it is easy to do so. If the procedures for cleaning, cargo handling, and boarding passengers are always the same, the process becomes quicker through repetition. You know how to do it by memory, just as you do your multiplication tables. It is the standardized safety guidelines that must be followed simultaneously that allow you to perform your tasks efficiently yet safely meet all the requirements without incidents that keep flights on time, making airlines and passengers happy.
Innovation


Innovation is always at the forefront of time and money-saving efforts. Delta Airlines shaved minutes off their aircraft turnaround time by changing the angle from where they push their aircraft away from 90 degrees to 45 degrees. Innovation doesn't always entail the creation of high-tech products; it is often just ingenious ideas or a different way of doing things.
Ground Support Equipment (GSEs)


Properly functioning ground support equipment (GSEs) will always ensure aircraft turnaround punctuality. You can ensure proper functioning ground support equipment (GSEs) by:
Having the most reliable equipment
Making certain GSE operators are properly trained and working within safety guidelines and the machine's operational parameters
Having a properly planned and executed GSE maintenance program supported by appropriately trained GSE maintenance staff in appropriate facilities



Top Ways to Safely Improve the Efficiency of Ground Time
Improving ground time is beneficial but not at the cost of safety. It is vital always to follow safety protocols first and improve turnaround time second. However, there are many ways to manage both effectively. In order to do this, you can:
Analyze operations
Prepare for the flight ahead of time
Cooridinate with airport and ground service providers
Analyze Operations


To find ways to improve ground time, you must first perform audits of the operations. Having a firm understanding of how things work, what is working, what is not, and how things can improve is what leads to innovation. Referencing Delta Airlines again and how they shaved minutes off their aircraft turnaround time by changing the angle at which they pushed their aircraft away, this innovation comes from an audit of operations looking at where time is spent that could be saved.
Prepare for the Flight Ahead of Time


Preparing for the flight ahead of time allows for a swift aircraft turnaround while still meeting safety measures. This can be handled in many different areas, from refueling, catering, cleaning, baggage handling, and cargo handling. Having ground handling services prepared for the landing of the aircraft and ready to perform their duties means less time waiting for personnel to show up to get the job done.
Coordinate with Airport and Ground Service Provider


Creating a time-efficient aircraft turnaround takes a lot of coordination between the airline, airport and ground service providers. Knowing when the aircraft is landing and making the ground handling services readily available (while not taking them away from other jobs) takes a fair amount of coordination. It takes a good deal of understanding and training to choreograph such a complex process quickly and safely. The important steps include:
Arrival
Loading
Unloading
Securing & Spreading the Load
Unit Load Devices (ULD)
Departure
Arrival


Planning the activities of the ground handling services prior to the arrival of the aircraft is necessary to initiate a flawless aircraft turnaround. Much of this comes down to the aircraft loading and unloading processes.
Loading


Loading aircraft must be performed cautiously but expediently. The person responsible for aircraft load supervision oversees verifying the aircraft registration, performing a hold inspection once unloading is complete. Before loading commences, they will perform a damage check, crosscheck ULD gross weight and load information codes, destination airports, and more. During the loading, it is crucial that all weights and balances are kept in check, safety protocols are followed, and proper restraints are utilized. After the loading, a final hold check is in order, and the LIR (Loading Instruction Report) is signed.
Unloading


Upon landing, it is necessary to make certain that none of the load has shifted during the flight and that all ULDs have been correctly loaded, and none of them have been damaged during the flight. A cargo hold inspection must take place and any damage notated. Occasionally, spills can happen, and these should be cleaned up according to the spill response plan before unloading.
Securing & Spreading the Load


During the transport of baggage and cargo on an aircraft, it is crucial to properly secure the load to avoid causing damage to the aircraft or injury those who load and unload the cargo. Securing the load means keeping it secure enough to avoid movement during flight where it could affect the weight distribution and balance of the aircraft. Using the proper tie-downs and restraining the ULDs to the cargo floor is imperative. Spreading the load to distribute the weight evenly and adequately keep it in balance must be done to maintain a level of safety for the duration of the flight and all who are on board.
Unit Load Devices (ULD)


ULDs should be inspected for damage prior to being loaded or after unloading. All ULDs should be properly secured to the cargo floor according to proper ULD configuration and aircraft type.
Departure


Responsible ground staff members assist in preparing the aircraft for departure. They are in charge of the pushback of each aircraft before flight. They ensure the safety procedures are followed, allowing for a swift transition between each pre-departure activity, such as connecting the tractor to the nose gear and the removal of wheel chocks.

Ramp Safety and Preventing Injuries and Aircraft Damages
Applying the rules and regulations in the Airport Handling Manual (AHM) and IATA Ground Operation Manual (IGOM) promotes safety and helps eliminate costly mistakes, injuries and damages. Ramp safety is important because even a slight scratch or dent can result in a serious accident.
Being particularly mindful of the engine danger areas, which include the engine intake area, engine blast area, and propeller rotation area, is crucial.
It is imperative that only trained operators of ground support equipment (GSE) drive the equipment they are specifically trained for. This is especially true around or on the ramp as practicing ramp safety is vital. GSE should never be moved across the path of a taxing aircraft or embarking or disembarking passengers on the ramp. Each staff member should be trained in the specific area that they are working as each job description has its own set of safety guidelines that must be followed, such as
Passenger Boarding Bridge
Passenger Stairs
Belt Loader
Unit Load Device Loader
Elevating Equipment
Tractor/Electric Baggage Tug
ULD Transporter


How Staff Training Can Help?


Ground support service positions are all very particular and require specific training not only for the job description but for the safety guidelines that must be met in order to perform the job accurately. IATA offers the Ground Operations Training Program. In Chapter 11 of the Airport Handling Manual (AHM), the different trainings are discussed to help with the training gap analysis. These guidelines will train employees on the current regulations and prepare them for the restart of operations after sweeping furloughs due to COVID-19. It also helps prepare those interested in ground support service careers in the aviation industry.
In addition, IATA makes obtaining this ground operations training easy and accessible to everyone who needs it by offering courses which are updated yearly based on the current rules and best practices. IATA's desire to keep aviation safe is the driving force behind ensuring that staff is adequately trained. Whether you are part of the management team or part of the ground handling operations you can find up-to-date information on ground ops training on IATA's website.
To download the latest Marshalling Hand Signals for Aircraft, please complete this form:
The Role of GSE Maintenance


Due to the ever-increasing technological advancements in ground support equipment (GSE), the need for proper maintenance and upkeep is more important than ever. While the ultimate responsibility is on the operator, advancements have been made with the safety functions to assist operators in doing their job as safely and quickly as possible, facilitating faster aircraft turnarounds by reducing the chances of errors and damage to aircraft. These include GSE proximity sensors and warning systems or anti-collisions systems that promote ramp safety while preventing injury and aircraft damages. This equipment helps when dealing with bridge canopies, tow-bar and tow-barless interface points, baggage and cargo tugs and de-icing trucks, and more. All ground support equipment must be properly maintained according to properly a planned and executed maintenance regime, performed by properly trained staff in appropriate facilities equipped with the necessary tools to assure the safety of the equipment, personnel, aircraft, passenger, and crew.
What is the Role of IATA's Ground Operations Group (GOG)?
IATA's Ground Operations Group (GOG) was established by the Safety, Flight and Ground Operations Advisory Council (SFGOAC) to advise on all matters on ground operation safety. The Ground Operations Group works to develop the Ground Ops standards, technologies, and equipment used in ground operations and to promote, support, and implement IATA's ground operations programs in the hopes of reducing injury and damage at the ground level.
What is the Difference Between the AHM and the IGOM?


Both the Airport Handling Manual (AHM) and IATA Ground Operation Manual (IGOM) relate to ground handling operations. However, the IATA Ground Operation Manual is the driving force between the guidelines and how to perform the duties, and the Airport Handling Manual is more policy-driven and focuses on the "what-to-do".
Where to Find More Information
Faster aircraft turnaround goes much deeper than performing a job faster. It is about safety. A breakdown in safety protocols slows the entire process. It puts people at risk and causes costly damage to aircraft and equipment. It is also about innovation, standardization aspect, applying the latest technology, and even proper maintenance for the ground support equipment to ensure everything is in good working order. This is why being properly trained with manuals like the Airport Handling Manual (AHM), and IATA Ground Operation Manual (IGOM) is essential.