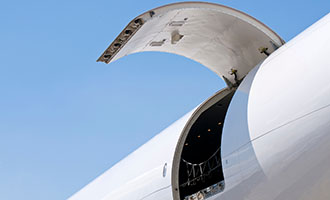 Forecast and recommend with confidence

Planning your cargo network, capacity, staffing requirements or marketing and sales efforts requires precise, reliable data to inform your market analyses, seasonality studies and competitive benchmarking. But with disparate sources, limited datasets, inaccurate tonnage, and apples-to-pears comparisons, your risk is higher than you'd like. You need data you can trust.
The strategic decisions you make are only as good as the data that goes into the analyses, benchmarks and reports you base them on. In today's world of uncertainty, your management information needs to be constantly updated to adjust your freight shipping offering or ensure you can handle current and future inbound cargo, while keeping costs down. Your traditional sources of input may not be providing you the right picture, may not be precise enough, or may already be out of date. Cargo Country Statistics is the most reliable source for updated freight tonnage by air.

Input up-to-date, exact air freight data
With Cargo Country Statistics, you can:

Save time cleaning data
Get a complete picture
Pinpoint the exact information you need
Constantly evolve your freight forecasts
Plan, and continually adjust your planning
Analyze trends

Bring certainty to your decisions
Analyze in depth – Gain insight into existing markets and potential new ones with actual tonnage carried, reported by airlines.
Plan with accuracy – Be sure your intentions are realistic by using the latest freight data.
Take into account variations in demand in air cargo resources – Adjust your planning with constantly updated information.
Reduce risk for the future – Make recommendations with confidence based on detailed, reliable historical and current figures.

What is Cargo Country Statistics?
Cargo Country Statistics provides you with country pair segment data for cargo:

Actual freight tonnes carried by air – for precise forecasting
Between 1000 country pairs and 192 countries – to drill down to the detail you need
Updated monthly – to ensure even greater accuracy and enable fine-tuning
Historical data from 2013, broken down by month – to build trends and scenarios
Delivered as a simple Excel file – to give you the flexibility you need to create your own charts, graphs and analyses

Download Terms and Conditions for the use of this product.

Buy online