Make air cargo the transport of choice for pharmaceuticals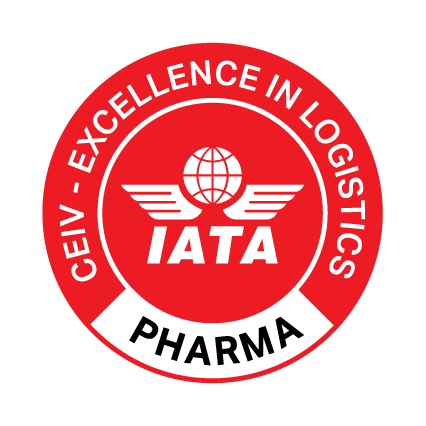 Transporting and handling pharmaceuticals presents both challenges and opportunities for all participants in the cold chain. The pharmaceutical industry relies on air transport for its speed, consistency and efficiency in ensuring high-value, time-sensitive, temperature-controlled products reach their destination safe and sound. However, aviation stakeholders sometimes struggle to provide the high-quality services pharmaceutical shippers expect, including expertise, adequate infrastructure, well-equipped facilities, and the ability to stay on top of regulations.
Working alongside aviation industry stakeholders and regulators, IATA created the Center of Excellence for Independent Validators in Pharmaceutical Logistics (CEIV Pharma), to help organizations and the entire air cargo supply chain to achieve pharmaceutical handling excellence. CEIV Pharma addresses the industry's need for more safety, security, compliance and efficiency, through a globally consistent and recognized pharmaceutical-product handling certification.
Ready to get started?
Focus on opportunities with CEIV Pharma
Capture additional pharmaceutical business by overcoming the challenges of cold-chain transport - The CEIV Pharma certification ensures that facilities, equipment, operations and staff comply meet pharmaceutical manufacturers' needs and expectations.
Ensure compliance with all national and international regulations and standards - CEIV Pharma encompasses, or even supersedes, many of the existing pharmaceutical standards and guidelines, safeguarding product integrity while addressing specific air cargo needs.
Increase efficiency and reduce costs - The certification process includes training of your employees to handle pharmaceutical products safely and efficiently. By applying clearly defined and globally harmonized industry-developed criteria, it simplifies your audits and reduces damage and loss due to temperature deviations and excursions.
Brussels Airport joined with IATA to co-create CEIV Pharma to better serve its community.
Ensure safety, security, compliance and efficiency
The CEIV Pharma certification assesses your organization based on the checklist in Appendix D of the Guidelines for CEIV Pharma Audit of the IATA Temperature Control Regulations (TCR), and covers the following critical areas of pharmaceutical handling operations:
Quality Management - Including organization and management, your Quality Management System, management reviews, key performance indicators, and risk management.
Personnel - Including who is responsible, and how staff are trained.
Documentation - And more specifically, documentation relating to infrastructure and equipment, and to processes.
Infrastructure and equipment - Including your premises, how empty Unit Load Devices (ULDs) are handled, temperature mapping and monitoring, as well as the calibration and validation of temperature monitoring sensors, and your cargo handling system.
Quarantines and compliants - Including how you manage and track cases.
Supplier management - Including how you ensure your suppliers meet the same standards.
Self-inspections and internal audits - Including the references and tools you use.
Tranportation - Including route planning and set-up, by road as well as by air.
Operations as a whole - Including general, ground transportation, acceptance of shipments, temporary storage, warehousing, tarmac transportation, aircraft loading and unloading.
Be supported every step of your CEIV Pharma journey
The IATA Certification process is designed to guide and support you to success. We give you the understanding, tools and expert advice you need to achieve your organization's certification. The process is as follows:
Training - At least two (2) staff must pass these courses: Temperature Controlled Cargo Operations and Audit, Quality and Risk Management for Temperature Controlled Cargo.
On-site assessment - During a period of three (3) to four (4) days, the assessor will visit the facilities to observe that the current operations, processes and procedures of the organization are conducted along the same lines as described in the various documents provided by the organization, and that they conform to the CEIV Pharma audit checklist requirements. The assessor uses a standardized assessment checklist and criteria to ensure uniformity and objectivity. The assessor will then provide comprehensive feedback, including a gap analysis report and a detailed list of the specific findings and areas of improvement, to enable your organization to make the necessary adjustments.
Validation - The assessor works in close cooperation with your organizaion to ensure that all feedback is actioned. Your organization will need to provide a corrective action plan (CAP) specifying the actions you have taken and that are planned, together with an implementation date. The CAP is validated by the assessor as meeting CEIV Pharma certification criteria. As your organization executes its plan, you must submit clear evidence of its full implementation to the IATA assessor for validation. Once the CAP has been satisfactorily implemented, the assessor will issue the IATA Assessment Report, and your organization will be granted the IATA Certification.
Re-certification - To maintain your CEIV Pharma certification, your key personnel will need to complete refresher training, and a new assessment will be carried out to check compliance with the certification requirements and continuous improvement.
---
Talk to a certification expert today to find out how we can help you ensure you're up to standard.