Amelia is a regional French airline born in 2019 as part of the Regourd Aviation Group. The latter was created in 1976 by Alain Regourd, starting with an aircraft purchase-sale activity, before entering air operations and creating multiple dedicated subsidiaries.
The airline operates charter flights, ACMI (Aircraft, Crew, Maintenance and Insurance), cargo, and sanitary flights.
In November 2022, Amelia joined IATA.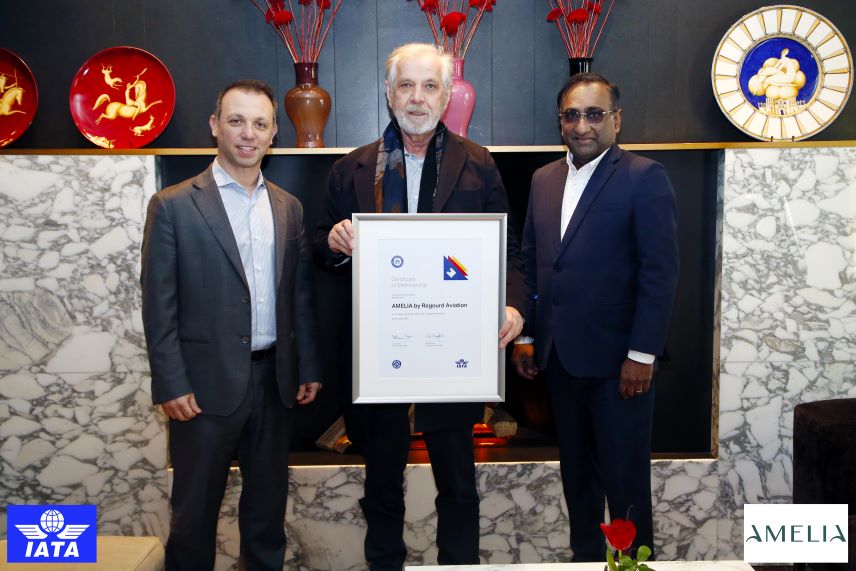 From left to right: Robert Chad (Area Manager France, Belgium, Netherlands and Southern Europe, IATA), Alain Regourd (President, Regourd Aviation), Patrick Xavier (Manager Industry Relationships, IATA)
We interviewed Malika Lentini, Amelia's Secretary General in charge of Communications.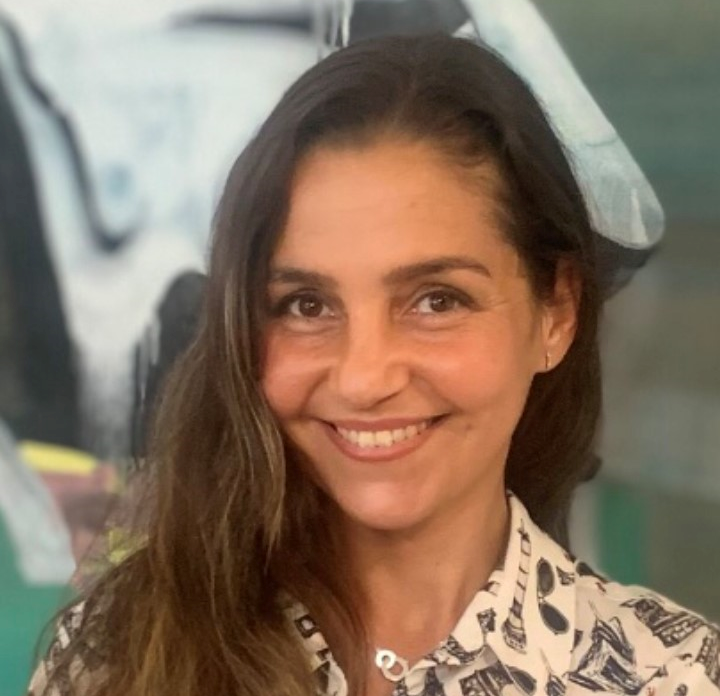 Thank you very much Malika for agreeing to answer our questions. Amelia has a very distinct business model. Can you tell us what makes your airline so unique in the aviation landscape?
Amelia is a fully integrated French aeronautical group offering its experience and expertise in passenger transportation both in France and abroad. We offer a diversified range of activities including scheduled routes, ACMI, corporate aviation, cargo flights, medical evacuation. Last but not least, we also manage base maintenance, which consists in the major maintenance visits of our fleet and allows us to be more reactive and agile.
Actually, agility is the best word to describe our DNA and the way we handle business. We need to be ready to respond to any demand in a very smart way. For instance, during the pandemic, Amelia adapted to the new situation by repurposing its fleet to respond to new demands. Agility, responsiveness, entrepreneurial spirit... here is where our strength lies! As in chess, we are always trying to think many moves ahead.
What also makes us unique is the fact that Amelia has a strong regional territorial footprint, already operating daily flights from Paris, Rodez, Brive, Amsterdam and Strasbourg. We also service Aurillac and Castres from Paris, on behalf of Air France.
These air bridges represent a major opportunity for the regions: in the absence of a high-speed rail link or even motorways, we make it possible to connect territories, which is essential for the development of the regional economy, and this contribution constitutes a real priority for us.
You joined IATA late 2022. What do you expect from membership to a global association?
Being part of the IATA family is a great recognition for us, and a logical step following our commitment to the highest quality standards such as IOSA (IATA Operational Safety Audit program), which we obtained in 2021. Through our business aviation DNA, Amelia has placed strong emphasis on the values ​​of reliability and punctuality, all the while making safety its number one priority and developing premium services at group level.
Moreover, from an aspirational and continuous improvement point of view, becoming a member provides us with access to valuable insights, as well as opportunities to engage in industry discussions and to network with peers.
Finally, and most importantly, Amelia intends to fully address the sustainability challenge our industry is facing, and are perfectly in line with the Fly Net Zero by 2050 initiative launched by IATA. Sustainable development is no longer a choice, it is now an absolute necessity, and we are convinced that we must join forces with our peers to go further.
In 2022, you signed a letter of intent with Universal Hydrogen. What does this partnership represent for your airline and how do you see it contributing to the decarbonization of France's and Europe's skies?
We are fully committed to actively participating in the transformation of our industry. This commitment translates into concrete actions aimed to reduce and eventually curb our greenhouse gas emissions. This starts with optimizing our operations. In fact, we worked on a flight optimization product in partnership with Thales, and have focused on our fleet renewal and the transition to new fuels such as Sustainable Aviation Fuels.
Our innovative spirit also led us to enter into a pioneering partnership established in 2022 with Universal hydrogen, and indeed, we signed and agreement which includes the purchase of three hydrogen conversion kits for its ATR 72-600s, the conversion of our aircraft, and the supply of green hydrogen at our operating airports in France.
In order to accelerate the deployment of hydrogen solutions in France and Europe, we are working in close collaboration with airports, handling companies, hydrogen producers, other airlines, as well as national and international associations. We also want to position ourselves as a leader in the maintenance of new generation aircraft by training mechanics, providing maintenance in the workshop and at stopovers.
This partnership positions us as a leader in the decarbonization of French and European regional skies. We are very confident in the future! The first experimental flight took place last February and was a success for Universal Hydrogen and the industry as a whole.
In 2026, Amelia will become the first airline in Europe to fly with a hydrogen-powered ATR72-UH2.
Additional Information: