KLM Royal Dutch Airlines will host the fourth edition of IATA's Wings of Change Europe, the region's flagship aero political event November 14 and 15, 2023 in Amsterdam, The Netherlands. The 1.5-day conference will once more bring together aviation leaders from across Europe and the globe to discuss, debate, and agree on the way forward on some of European aviation's major issues including sustainability, capacity, diversity & inclusion, and the aviation of tomorrow.
Marjan Rintel, KLM CEO commented "We are extremely pleased to host the 4th Wings of Change Europe conference in Amsterdam. As Dutch flag carrier, KLM operates from its home base at Amsterdam Airport Schiphol, and as CEO it is my pleasure to invite you to join me in this major aviation event that brings together the key European and global aviation players. It is a great moment for us to come together to discuss the current state of our industry and debate and agree on our joint path forward!"
Rafael Schvartzman, IATA Regional Vice President for Europe, said "We look forward to working hand in hand with KLM to ensure another successful Wings of Change Europe edition. Amsterdam offers a perfect window to European aviation's present and future challenges, including the environment, capacity, and staffing, to name but a few."
Highlights from the 2022 Wings of Change Europe held in Istanbul, Türkiye:
Key figures
422 delegates attended among which 56 Government/Regulator
35 individual countries represented
40 individual airlines present
92% satisfaction rate
Key launches
To assist policymakers in having the full picture on the contribution different airline business models bring to air connectivity, IATA Economics analyzed the extent of the connectivity provided by Low-Cost Carriers (LCCs) and network carriers in Europe through the study of how Airline Business Models meet Demand in Europe, which was launched at the start of the conference in Istanbul. The report shows that they offer different and complimentary types of connectivity, while also competing on many popular routes.
Key agreements and signings of important commitments
25by2025 pledge: 19 entities committed to this a global initiative to change the gender balance within the aviation industry
Memorandum of Understanding with the Kazakhstan CAA on collaboration in aviation safety, security and passenger service.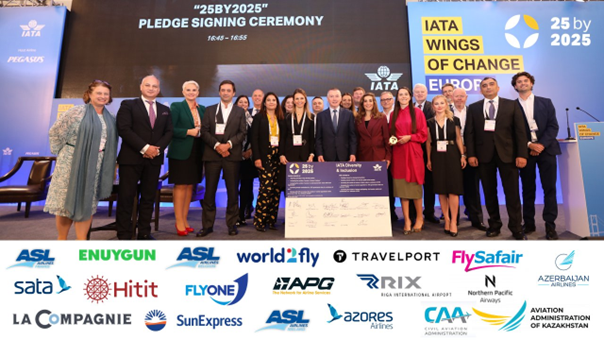 IATA Membership ceremonies
FlyOne
ASL Belgium and ASL Ireland
Additional Information: