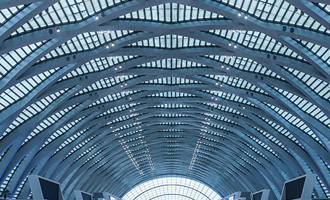 Inefficiencies leading to excessive aircraft holding between gate and runway are a major issue for airlines. Building additional infrastructure at high cost is not always the most appropriate solution.
Collaborative decision-making (CDM) is defined as an explicit supporting process focused on deciding on a course of action in pursuit of articulated objectives between two or more community members." ICAO, DOC 9971, Foreword
With Airport Collaborative Decision Making (A-CDM) parties operating at an airport can improve information sharing and implement procedures that increase efficiency and avoid pushing back from the gate too early to then only be held while taxiing. A-CDM can significantly reduce aircraft holding times, reducing fuel burn, emissions, and flight delays.
Total Airport Management (TAM) is a developing concept which builds on the A-CDM information sharing logic but optimizes infrastructure use by extending inside the airport terminal building into passenger processing and baggage-related procedures.
To avoid operational complexities for airlines flying to multiple jurisdictions A-CDM and TAM must be implemented in an harmonized fashion and should only be implemented when a solid industry business case has evaluated the benefits of implementation. A-CDM, however, is not a concept suitable for all airports and ANSPs as it can be a complex undertaking and require significant investment over time.
IATA's role
IATA's Safety, Flight and Ground Operations Advisory Council set up the Total Airport Management Working Group in 2021 to coordinate global harmonization and work towards standardization of airport-oriented CDM projects. The group also participates in global work on TAM concept development.
IATA's position on A-CDM and TAM
IATA supports the adoption of A-CDM and TAM initiatives when implemented in full collaboration with airlines, in a harmonized fashion and based on a solid industry business case.
In coordination with the Total Airport Management Working Group, IATA is preparing an initial vision on Total Airport Management to be shared later in 2022.
IATA is also participating in on the ICAO ADOP Task force regarding Collaborative Decision Making frameworks, in close cooperation with Airports Council International.
For more information
See IATA training courses, in particular:
For further information about IATA's efforts to make airports and airspace more efficient, please visit: