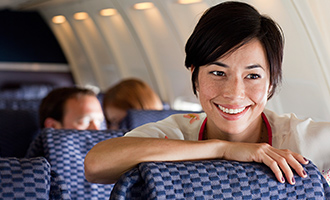 ​Global passenger traffic is expected to double by 2037. Accommodating this fascinating growth is a major challenge for the air transport industry and governments. It will require new standards, harmonized regulations and adequate infrastructure. IATA works with airlines, governments, industry associations and Strategic Partners towards an end-to-end passenger experience that is secure, seamless and efficient while lowering industry costs.
Current areas of activity in Passenger Experience & Facilitation
Current initiatives in Passenger Experience & Facilitation

The One ID project seeks to introduce a friction-free and passenger-centric process that allows an individual to streamline his/her journey with a document-free process based on identity management and biometric recognition. Passengers will be able to identify themselves at each airport touchpoint through a simple biometric recognition. The objective is to achieve a truly interoperable system coordination between airports, airlines and governments.
The concept of Travel Communication introduces the possibility to personalize the passengers' travel experience by enabling multiple industry stakeholders to communicate with them across all touch points of their journey with up-to-date and accurate information that is provided through a trusted source.

The IATA baggage projects are grouped under the End to End Baggage Program. This program has 3 key projects - RFID implementation, XML implementation and the 753 platform.
RFID uses radio-frequency electromagnetic fields to transfer data and automatically identify and track baggage tags. RFID technology enables many bags to be identified and tracked without the need for human intervention.
XML is a messaging standard with an intelligently designed information model. XML is standardized, easily read by devices and people and allows greater integration of information between airline operations. Baggage XML Messaging
753 Platform is a tracking and recording opportunity to measure the direct tracking of bags by receiving and interpreting the XML baggage tracking messages. Reporting will be done by IATA to share information on capabilities for recording bags at specific locations at airports, and these reports will be provided back to airlines to support their implementation and baggage operations. Baggage Tracking