When it comes to shipping air cargo, there is often more to know than shipping and handling regulations alone. IATA's TACT (The Air Cargo Tariffs and Rules) helps streamline the rules on tariffs to understand the rules and costs more easily.
What Are Air Cargo Tariffs and Rules?
When shipping air cargo, it is essential to understand the air cargo tariffs and rules and how they affect the air cargo cost as they apply to each consignment being shipped by air.
Compliance with government restrictions is critical for an air cargo shipment to be exported, imported or transshipped
What Is Freight?


Freight is a term used to describe goods shipped in bulk by sea, truck, train, or by air; however, freight only applies to commercial goods and not mail. Freight can also refer not only to the product or merchandise but also to the amount due or the money charged for the shipment, also known as "freight costs", or "freight charges". Freight has numerous meanings within the shipping industry.


What Is Cargo?


Cargo is goods typically shipped by ship or aircraft. In this case, mail can be called cargo. The term cargo does not have as many uses as the term freight. There are no payment terms associated with cargo. It is a fairly straightforward term that is easily identifiable.


What Is the Difference Between Freight and Cargo?


When you talk about air freight and air cargo, the term can mean a difference in the merchandise being shipped versus money charged for the shipment. But when referring to the goods being shipped; air freight and air cargo are generally the same.
What Is an Air Cargo Tariff?


Air cargo tariffs are determined by each air carrier, or at the industry level. They are openly accessible, and are also referred to as "General Cargo Rates (GCR), "TACT Tariffs", or "TACT Rates". Airlines have to, for most countries, file tariffs with the relevant air transportation agency. Tariffs will also be used for Airwaybill rating; serve as a base for the calculation of special commodities (live animals; human remains; valuables; vulnerables…); and be used for airline interlining activities, under the MITA convention.
The actual rate paid a freight forwarder to an airline may differ from the tariff, and are bilaterally agreed & remain confidential. They are commonly known as "rates" and accessible via IATA Net Rates
What Is an Air Cargo Rule?
An air cargo rule is a specific criterion that must be met in the shipping and handling of air cargo. It may be the city, country, or carrier rules, IATA's "ready for carriage" rules, airline, city and airport codes, or more.
Knowing the rules and regulations is crucial to following them and having your shipments accepted.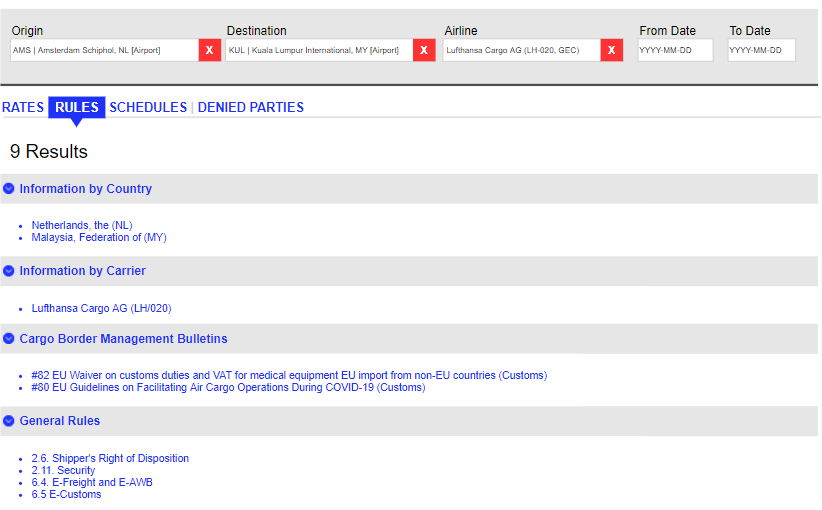 When Should I Ship by Air?


When merchandisers are looking to ship their products quickly, shipping by air is the preferred option. When it comes to overseas shipping, it is the only option for fast and easy shipments. This is especially important for temperature-controlled goods, perishable cargo or live animals where time is of the essence.


The Benefits of Air Freight


The benefits for air freight are:
Fastest available option
Reliable transportation
Worldwide access
Reduced risk of theft or damage
Lower insurance costs, more savings

What Goods Are Shipped via Air Freight?


A wide variety of goods are shipped by air, but some of the most frequently shipped air cargo are:
Plants
Drugs, vaccines, and pharmaceuticals
Perishable foods
Spare parts for land vehicle and aerospace industry
Live animals
Intercontinental mail
Luxury goods
High-end consumer goods
Artwork
eCommerce

How Much Does Air Freight Cost?

Asking how much does air freight cost is like asking how long is a piece of string? Many determining factors go into the pricing of air freight costs. There is no such thing as flat rate shipping when it comes to air freight costs. International air freight can cost between $0.50-$5.00 per kilogram, or more, depending on the type of air cargo being shipped.
How Is Air Freight Cost Calculated?


When it comes to how is air freight cost calculated, the weight and volume are determining factors.
Air carriers can charge by volumetric weight, which is dimensional weight, or by actual weight.
To determine the volumetric rate, the general rule is to divide the volume of the shipment in cubic centimeters by 6000. Whichever is higher, the volumetric weight or actual weight, that is the amount that will be used for pricing the air freight cost. This is most important when shipping lightweight items that take up significant space. For example, a metric ton of feathers would be more costly than a metric ton of steel, as its volumetric weight would be very high.
What Are Common Air Freight Accessorial Fees?


Air freight accessorial fees are fees incurred in addition to the standard shipping costs due to the consignment needing special needs during the shipment. Knowing these fees will give you a better understanding of the actual air freight costs. Some of the common air freight accessorial fees are:
Airport Handling Fee
Airport Screening Fee
Airport Transfer Fee
Dangerous Goods Fee
Fuel Surcharges
Handling fee
Letter of Credit Fee
Security Surcharge
Terminal Handling Fee


What Are International Air Freight Weight Rates?


Air Rates, or "air cargo rates", are rates agreed between the airline and the freight forwarder. They can be "General" rates, also known as "Street" rates or "Market" rates; Promotional Rates; Contract Rates (bilaterally agreed, confidential and committing or not the freight forwarder to a certain volume of activity), Surcharges, Add-ons or Spot/Ad Hoc Rates, which would be negotiated for a single air cargo shipment, based on available capacity. Spot/Ad Hoc rates can also be referred to as "dynamic pricing", as they allow the airline to provide the best applicable rate based on different criteria such as capacity, relationship, and priorities. This approach is similar to the long-standing approach of plane ticket pricing nowadays.
Why Are International Air Freight Quotes and Air Freight Prices Changing?


International air freight prices are changing due to capacity and market conditions. Some of the market conditions are fluctuating oil prices, restrictive measures from G20 governments, and rising geopolitical concerns. All these factors play a role in the pricing of air freight. Air Freight prices have risen significantly since the COVID-19 pandemic started, due to the lack of capacity.


What Is an Industry Tariff?


An Industry Tariff, also known as "TACT Rate", "TACT Tariff", or "IATA Rate", are tariffs governed by the Cargo Tariff Conference (CTC) and apply on many international routes. They apply as well for countries where currency control is vital due to instabilities or sanctions. An Industry Tariff is by default neutral and can be used by many carriers.



What Is a Carrier/Airline Tariff?


Carrier or airline tariffs are the fees charged by the airlines for the shipping of goods on their aircraft from one airport to another. They do not include the charges for services such as transshipment, customs clearance, pick-up, delivery, terminal, storage, etc., unless indicated. These tariffs are shown in the local currency where the fees were incurred. Tariffs will also be used for Airwaybill rating; serve as a base for the calculation of special commodities (live animals; human remains; valuables; vulnerables…); and be used for airline interlining activities, under the MITA convention.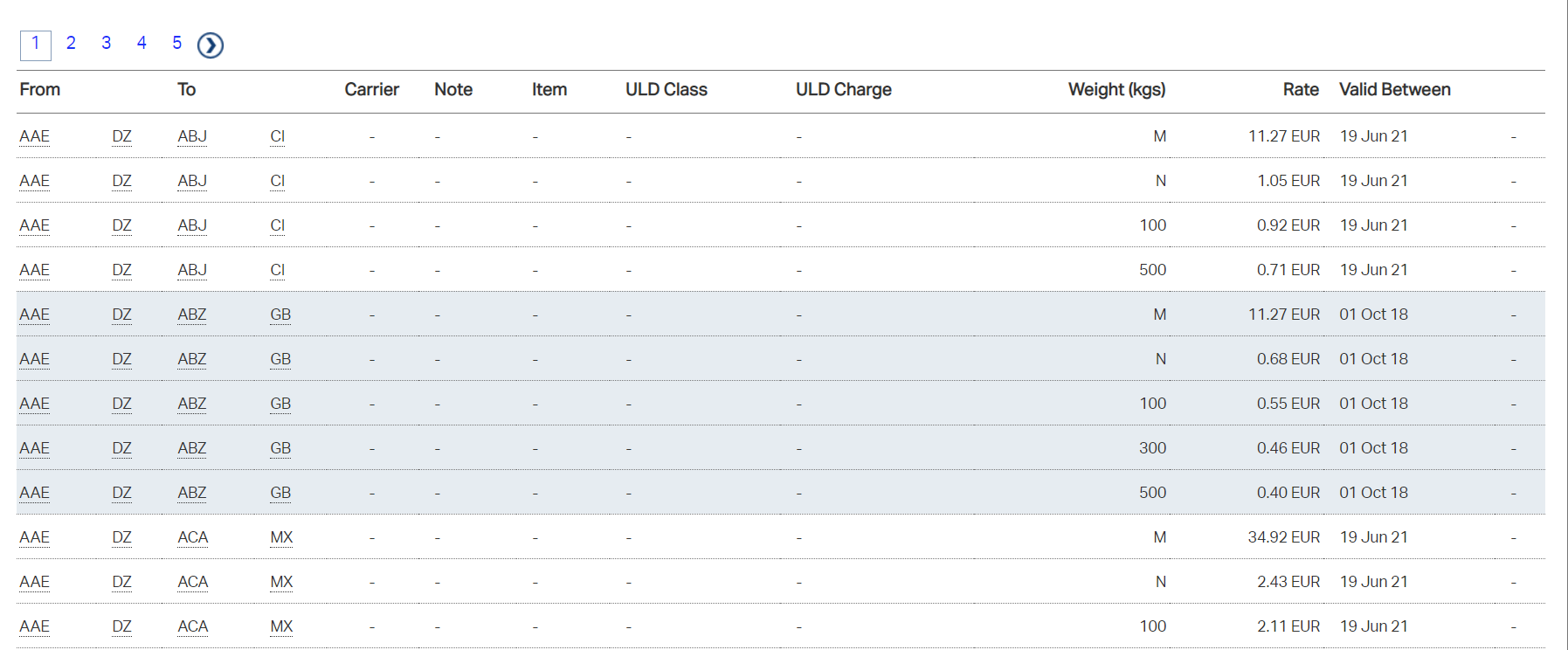 The actual rate paid a freight forwarder to an airline may differ from the tariff, and are bilaterally agreed & remain confidential. They are commonly known as "rates", and are accessible via IATA Net Rates.
What Do I Need to Know to Prepare a Shipment via Air?


When shipping air cargo, the first step is properly identifying what is being shipped. Once correctly identified, the item can be safely classified, packaged, and handled. From there, you can assess the appropriate tariffs and fees to get a clear picture of the air cargo rates and charges as well as rules. Every day, thousands of cargo professionals consult the rules, tariffs & rates in TACT (The Air Cargo Tariffs and Rules). Using this information ensures the proper information is assigned to each shipment to be processed through every stage of handling and safely arrive at its destination.
IATA Area and City/Airport Codes


Air cargo is transported from one airport and city to another. To track which destination is which identifying codes have been assigned to each airport. This allows stakeholders to quickly find which airport they are searching for by country and city code. This standardized method reduces errors and saves time.
TACT holds the IATA airport & city codes, which are identified by three-letters.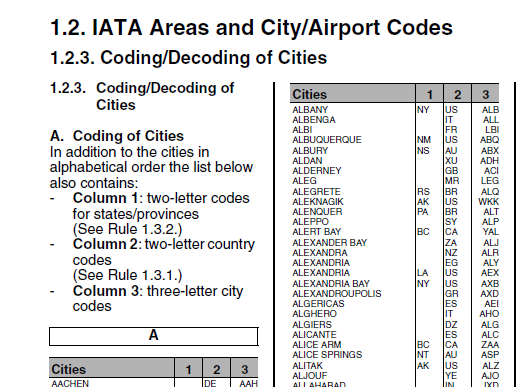 Acceptance of Carriage


The acceptance of carriage begins with the shipper. It is the shipper who is responsible for providing clear and concise shipping instructions.
This document is called the SLI (Shipper's Letter of Instruction). Additional documents may be necessary depending on what is being shipped, such as Shipper's Declaration of Dangerous Goods or Shipper's Certification for Live Animals; Export or Import Licenses
From there, proper packaging and labeling must be approved, and the necessary charges for the air cargo will need to be prepaid or collected from the consignee. These items must be checked off in order for a consignment to be accepted for shipment.
Transportation Charges


Air cargo rates and charges cover the transport of air cargo between airports. The rate is the amount charged by the carrier for the transportation of the shipment by a specific unit of weight (kg or lb). A charge is an amount paid for the carriage of a consignment for additional costs connected to the transport. This charge depends on the declared value and the weight or volume of the shipment.
Service and Related Charges


Transportation charges include the cost of carriage of a consignment from one airport to another. However, there can be a number of additional service charges incurred when shipping air cargo, such as:
Pick up and delivery to and from the airport
Storage and warehouse services
Insurance charges
C.O.D.
Customs charges
Duties & taxes
Repairing damaged packaging
Forwarded or Returned consignments



Payment of Rates and Charges & Currency Conversion


When it comes to accepting payments of air cargo rates and charges, they are payable by the shipper (charges are prepaid) or the consignee (charges are collected)
Other charges must be paid in full, whether prepaid or upon collection of goods. The payment should be made in the currency matching that of the Air Waybill, which is the currency of the shipment's origin. IATA runs the Cargo Account Settlement System (CASS) which facilitates the settlement of charges between freight forwarders and airlines.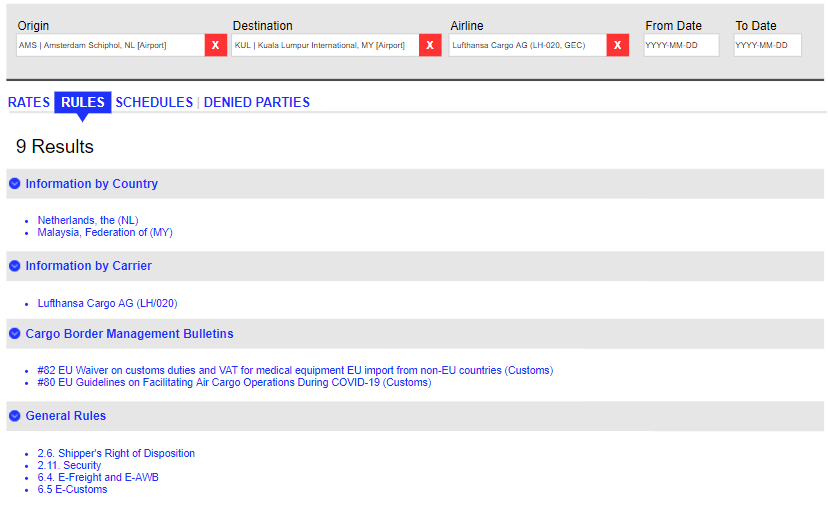 The Air Waybill


The Air Waybill is the document created by or on behalf of the shipper which begins the contract between the shipper and the carrier to transport their goods. Often, the shipper will be the freight forwarder, who will act on behalf of the exporter or importer.
It is a non-negotiable document that is required for each air cargo shipment with a minimum of 8 copies. The Air Waybill must be filled out correctly and legibly to avoid any errors. The shipper is responsible for the validity of all information on the Air Waybill and is liable for any damages incurred due to incorrect information.
TACT provides all instructions to correctly complete the Air Waybill.


Information by Carrier's Special Regulations


You can find specific information by airline within TACT (The Air Cargo Tariffs and Rules). Information regarding the Shipper's Documentation, Acceptance of Goods. Transportation Charges, Class Rates, and more can be found within this section.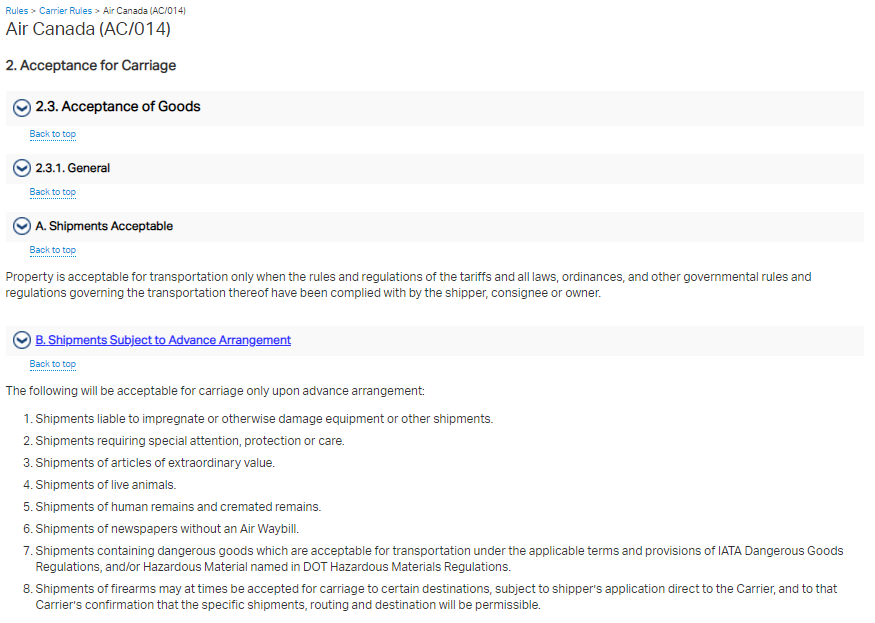 How IATA TACT Air Cargo Solutions Help in the Preparation Process of a Shipment via Air
IATA TACT Air Cargo Solutions are the industry reference providing a comprehensive and current outlook into the transportation of air cargo shipments globally.
What Are TACT Air Cargo Solutions?


IATA's Tact Air Cargo Solutions allows you to search for current rates, rules and regulations, air cargo schedules, and other air cargo compliance content. This removes the need to connect with individual airlines, handling agents, or airport operators. TACT air cargo solutions help streamline your procedures, saving you time and reducing errors.
Who Uses TACT?


TACT is used by over 70,000 air cargo professionals every day. These include airlines, freight forwarders, airports, ground handling agents, and customs authorities. TACT helps shippers and freight forwarders with vital up-to-date operational and compliance information for air cargo shipments.
How Can I Use it?


IATA's TACT Air Cargo Solutions help you learn the rules and restrictions that help air cargo professionals with shipment clearance. It also helps you calculate the air cargo cost before you ship. This allows for smoother handling and goods transport, whether for continental or international air cargo shipping. It contains over 5 million industry and carrier tariffs and is easy to use.
How can TACT air cargo solutions help me?
To familiarize yourself with our solutions and how they can help your business, we have developed a series of introductory online sessions that will provide you with an in-depth overview of our solutions. To get access to these training modules, please complete the form below: