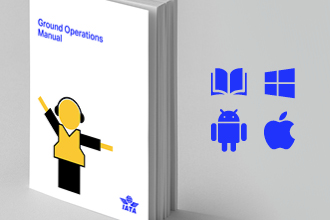 The IATA Ground Operations Manual (IGOM) is your definitive source for the latest industry-wide standards harmonizing ground handling processes and procedures. It is ideal for frontline personnel!

The IGOM and the Airport Handling Manual (AHM) are now stand-alone, interdependent products which are also available as combos. The IGOM is procedure driven, focusing on "how to do". The AHM is policy driven and focuses on "what to do".

The IGOM concept was initiated by the industry with the objective of having one globally recognized standard for ground handling processes.
IGOM's objectives are to:


Outline the generic procedures for most of the ground handling processes
Standardize processes at participating companies
Be the reference tool for ISAGO audits as an acceptable means of compliance

By applying these standards, IGOM strives to:


Drive costs down by reducing complexity linked to multiple airline GOMs
Simplify training requirements
Reduce risk of aircraft damages by applying common procedures
Allow cross utilization of resources

Who should use the IGOM?
Airlines
Airports
Ground handlers
In the 9th edition of the IGOM, the significant changes include:
Inclusion of the IGOM Adoption Policy
Enhanced Baggage Handling procedures, in line with IATA Baggage resolutions
Safety Instruction for continuous improvement of GSE operations and the use of Electric Baggage Tags and ULD Transporter procedures
Revised Aircraft Turnaround section to include sequencing of tasks for the reduction of loading errors
Updated Gap Analysis spreadsheet
Please see a temporary revision that is applicable to those who have received the IGOM book before 20th February, 2020. This reivision is not applicable for any IGOM book received after this date or to any users of electronic format of IGOM.
Temporary Revision FEB 2020 (pdf)
(applicable to users who have purchased IGOM book until 20th February 2020)
Tailor your order for your needs
The IGOM and AHM are available separately or as combos. You can select any number of combinations that meet your organization's requirements. Order using the links below (see Combos table).
VOLUME DISCONTS
You can benefit from Volume discounts on IGOM when purchasing the AHM & IGOM Combos: 10% discount for 5-9 units, 20% for 10-24 units, 30% for 25-99 units and 40% for 100 units or more. Contact our sales team for volume orders.
DIGITAL FORMATS
Save money by going green and benefit from quicker delivery as well as no postage fees.
The Windows format of the includes checklists and forms in Word or Excel formats.
The Mobile format is ideal for non-Windows PC devices (such as iOS and Android). However, unlike the "Windows" format, it does not include checklists and forms in Word or Excel formats.
Ground Operations Manual (IGOM)
9th edition ***effective as of April 2020***
English Formats

Chinese Formats

French Formats

Russian Formats

Spanish Formats
AHM and IGOM Combo
** effective as of April 2020 **
English Formats
***IGOM effective as of April 2020***
Ground Operations Manual (IGOM)
8th edition ***effective until March 2020***
To view the options for the 8th edition, visit our online store.
Find out which format is best for you: