Reduce global baggage mishandling and improve passenger experience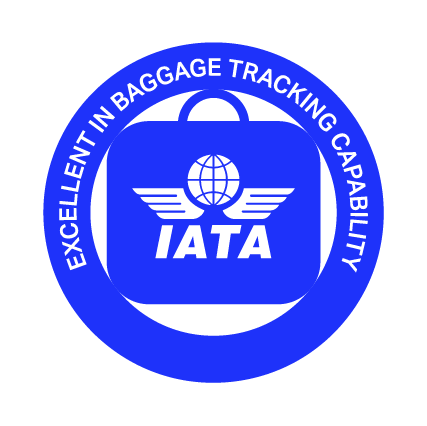 Meeting customer expectations is the key to any business' success, and one of the first expectation of air passengers is that their baggage arrives with them at their destination. IATA Resolution 753 on baggage tracking made it mandatory for all airline members to track baggage at four mandatory points throughout the journey, yet the mishandled baggage rate has continued to increase, adversely affecting the brand reputation of the airlines and airports in question.
The Baggage Tracking certification shows customers that your organization has an excellent baggage tracking system, following best practices and meeting the standard in operations and processes at check-in, loading onto the aircraft, transfer, and delivery to the passenger at arrival. Additionally, it allows organizations to prepare the way for air transport industry growth.
Ready to get started?
Upgrade your baggage handling
Build brand equity - The Baggage Tracking certification shows your organization is committed to reducing mishandling and ensuring an improved passenger experience, and has world-class tracking capability.
Improve customer experience and overall efficiency - By improving baggage tracking, you will not only reduce mishandled baggage, you will also speed up flight readiness and reduce flight delays, satisfying passengers and your performance objectives.
Reduce costs - The Baggage Tracking certification will enable your organization to reduce the costs associated with mishandling, baggage fraud, and process inefficiency.
Master the baggage journey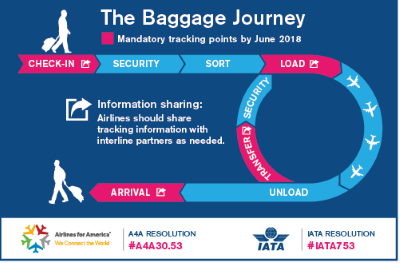 The Baggage Tracking certification is based on IATA Resolution 753 and the IATA Baggage Tracking Implementation Guide, and covers the following areas:
Baggage acceptance
Loading onto aircraft
Transfer between flights
Delivery to passenger at destination
Be supported every step of your Baggage Tracking certification journey
The IATA Certification process is designed to guide and support you to success. We give you the understanding, tools and expert advice you need to achieve your organization's certification. The process is as follows:
Preparation and pre-assessment - Your current baggage tracking capabilities are captured through a questionnaire, enabling the auditor to prepare their onsite audit checklist and request additional data and documents.
Assessment - The assessor selects a number of flights at random and observes the baggage journey and tracking at four touchpoints: baggage acceptance, loading, transfer, and arrivals. The also observe the organization's ability to exchange baggage-handling data within its own network, and with sub-contractor handling companies and interlining carriers. The assessor will then provide comprehensive feedback, including a gap analysis report and a detailed list of the specific findings and areas of improvement, to enable your organization to make the necessary adjustments.
Validation - The assessor works in close cooperation with your organization to ensure that all feedback is actioned. Your organization will need to provide a corrective action plan (CAP) specifying the actions you have taken and that are planned, together with an implementation date. The CAP is validated by the assessor as meeting Baggage Tracking certification criteria and requirements, in accordance with IATA Resolution 753. As your organization executes its plan, you must submit clear evidence of its full implementation to the IATA assessor for validation. Once the CAP has been satisfactorily implemented, the assessor will issue the IATA Assessment Report, and your organization will be granted the IATA Certification.
Re-certification - To maintain your Baggage Tracking certification, a new assessment will be carried out to check compliance with the certification requirements and continuous improvement.
---
Talk to a certification expert today to find out how we can help you ensure you're up to standard.