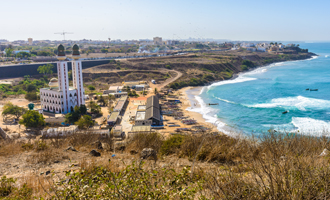 Dakar Training Center
You can reach the Training Center from the airport by taxi or train.

IATA Central and West Africa
3rd Floor, 15 Rue de Thann
Angle Boulevard Djily Mbaye
Immeuble Xeewel
BP 50726 CP 18524
Dakar, Senegal

Please contact our team in Geneva for more information about Dakar or our courses:
Geneva Training Center
Route de l'Aéroport 33
P.O. Box 416
1215 Geneva 15 Airport
Switzerland
Tel.: +1 (514) 390 6777
Contact us online
An Internet connection and printers are available for your use.
​Hotels
Special hotel rates are available at hotels near our training center. You will receive all reservation details once registered for a course.
Leisure
​We are happy assist you with planning leisure activities during your stay. Visit the official website to make the most of your visit to Dakar.
Dakar course schedule