The International Air Transport Association (IATA) reported that air travelers are increasingly frustrated with the COVID-19 travel restrictions. A survey commissioned by IATA of 4,700 respondents in 11 markets in September demonstrated confidence that the risks of COVID-19 can be effectively managed and that the freedom to travel should be restored. With more markets starting to open to travel, an area that needs to be addressed is the COVID-related travel rules and requirements.
73% of those who have traveled since June 2020 found it challenging to understand what rules applied for a trip (up from 70% in June)
73% felt the COVID-19 paperwork was challenging to arrange (also up from 70% in June)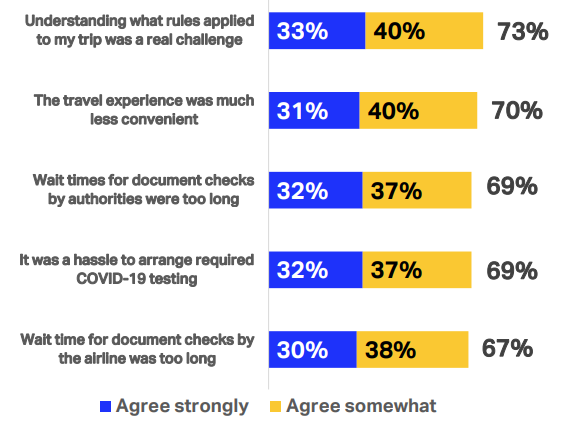 At this point, it's becoming evident that COVID-19 is not going to disappear and that it will keep posing challenges for international air travel. As a result, everyone in the air transport industry and from other industries that require international travel have been learning to operate with the new travel restrictions.
However, it has been difficult for these companies or passengers to keep up with the constant changes in government travel document requirements. Non standardized documents, different COVID-19 test requirements, various timeframes for testing, vaccinations, etc. have created much confusion and incredible pressure on airlines, travel agents, airport staff, corporate travel departments and leisure travelers to ensure that they have the correct documentation for their upcoming trip.
Where to find the accurate passenger travel document requirements?
A key solution to ensure compliance with COVID-19 travel rule changes is IATA Timatic. IATA Timatic is a one-stop shop for the air travel's industry most reliable and up-to-date travel and health document rules information for anywhere in the world. It lets travelers and businesses know if a passenger's documentation meets the requirements of their itinerary with certainty.

Where can individual travelers find travel and health document requirements?


Individuals and families planning a trip can use the IATA Travel Centre to get personalised passport, visa and health requirements advice based on their personal details and itinerary. IATA has also made available a COVID-19 travel regulations map designed to guide individual travelers through the process of identifying requirements. The data is made available to the general public for information purposes only.

Where can companies find travel and health document requirements for their business needs?


For over 50 years, the air travel industry has trusted IATA Timatic to provide accurate and reliable travel document information. USA Today named Timatic the most reliable non-government source of travel documents information. In 2019 alone, Timatic helped airlines to ensure that the travel documentation of 700 million travelers met government entry requirements. Today, it powers the entry requirements functions of IATA's Travel Pass, a key to re-opening borders and restarting aviation. No matter your business size, you can also have access to this trusted source of information to advise passengers accurately and avoid fines.
Why do airlines check passengers' travel documents?
Have you ever wondered why airlines check your passport? After all, it is not as if they really mind what nationality you have. In short, it is the airline's responsibility to ensure that every passenger has the required travel documents for their destination and any transit points. Where airlines do not perform this task, or mistakenly carry a passenger with insufficient travel documents, they will normally be fined by the Immigration Department, with such fines reaching into the thousands of dollars, not to mention the customer inconvenience. And as you can imagine, the new COVID-19 related restrictions have made this a very challenging task.


Why should travel agents and booking websites check passenger travel documents?

It's also important for travel agencies and online booking sites to incorporate such checks when clients plan their trips. As a travel agent, the last thing you want is to provide wrong travel regulation information to one of your clients and then have them get refused to board their flight. This could have severe consequences on your reputation and you could potentially lose repeat business.

What are the main reasons for a passenger to be rejected from boarding their flight?


The vast majority of rejections are for three reasons:
Passport validity
Each country demands that travelers' travel documents must be valid for a certain length of time, and, in many cases, it will vary by the nationality of the passenger
One-way tickets
Most countries have regulations that non-nationals must have a return or onward ticket showing that they do not intend to stay in the destination country; however, few actually enforce this
Visa
Passengers do not have a visa or it is invalid. This is becoming an increasingly complex area as many countries are starting to accept visas issued by other countries, e.g. Mexico will accept US visas
In recent months, you could add a fourth item to this list and it's the COVID-19 related restrictions. Given the number of rule changes and confusing information available online, many passengers arrive at the airport with insufficient or incorrect health document which forces airlines to refuse passengers.
Lastly, airlines are also protecting their travelers from taking a flight where they will not be admitted to the destination country. Can you imagine a couple going on a long-awaited vacation and being refused entry to their holiday destination as their passports expire in five months, whereas the destination country requires them to be valid for six months? Or traveling with a rapid antigen test when a PCR test is needed?
Where and how does IATA collect the travel regulations in Timatic?
Before the COVID-19 pandemic, on average 72 immigration regulations updates were made to the Timatic database every day. At the peak of the COVID-19 pandemic, more than 200 updates were made per day. The reason why Timatic is the trusted solution in the air travel industry is the quality and reliability of its data. Should the immigration regulations contained within Timatic be incorrect, this would lead to passengers not being informed of the correct travel documents necessary, as well as airlines carrying improperly documented passengers and paying the resulting fines.
A good example of how Timatic is updated was the US Presidential Executive Order in 2017, which banned certain nationalities from entering the US. As the order was implemented, the regulations were updated in the Timatic database and were instantly applied to passenger check-ins around the world. Similarly, as the situation developed and the courts ruled the ban illegal, the regulations changes were reversed in Timatic. The same applies to all the COVID-19 rule changes, as soon as an update is made, within seconds the database is updated and can be accessed by Timatic users around the globe. During the COVID crises, we have seen a country change their regulations in a day as much as seven times. All of this is captured, reviewed, validated and updated by the Timatic team.
Another key feature of the data is that it represents the actual immigration regulations as they are enforced. In many cases there may be a difference between the regulations published by the immigration authorities and their interpretation or enforcement. While the Timatic team works very closely with the immigration and border control authorities in nearly all countries in the world, their role is to represent the airline members and not just to be a publishing vehicle for immigration authorities. A good example of the divergence between regulations and actual enforcement is the rules surrounding one-way tickets. The majority of countries regulate that foreign passengers must hold a return or onward ticket; however, in practice few countries actively enforce this regulation. Such regulations are typically only enforced where there are suspicions as to the passenger's intentions. Should such regulations be enforced, airlines would in practice not be able to carry passengers on one-way tickets. A differentiation is made in the Timatic rules engine so that the check-in is only stopped where the passenger has a one-way ticket and the regulation is being actively enforced.


Who provides the travel and health document requirements?


In order to collect and publish the immigration regulations and actual enforcement policies, IATA relies on over 2,000 information sources around the world. These sources can be divided between government sources and airline sources. Government sources can be categorized into several different types including border control, immigration, consular departments of foreign affairs, and ministries of health. There is no more reliable source of worldwide, up-to-date immigration rules in force than Timatic, which contributes to the reliability and transparency of the Quality of Nationality Index which is based, in large part, on the Timatic data processed by IATA Timatic team members.


How are the travel and health document requirements collected?

The IATA Sourcing Network is responsible for developing and maintaining relations with airlines as well as immigration authorities, ministries of foreign affairs and other government departments to ensure the advice provided by Timatic to its users is accurate.
Keeping Timatic updated during the constantly changing crisis has not been easy, however. The IATA Timatic team is in constant communication with governments and airlines around the world to ensure all travel documentation as well as health restriction checks requirements and rules are kept up to date on a real-time basis. At a recent set of webinars organized by the Timatic team, many government authorities participated and openly shared their challenges and opportunities.
Martin Banz, Head of Border Policy Unit in Switzerland, says his government has been collaborating with IATA Timatic for over ten years. "The more complex the regulations, the higher the risk that passengers will be refused entry on arrival," he says. "Rules can only be complied with if they are known. We need a dedicated communication channel to process our rules and make them available centrally available. And this is exactly what IATA Timatic does. We make sure every rule change is forwarded to IATA Timatic by default, if possible before it comes into force."
Help improve Timatic
If you are a government official or an airline station manager, please consider joining the IATA Sourcing Network. Better information means a better travel experience.

Why are travel and health document requirements validated by the Timatic team?


Updates to Timatic are done in real-time and can be shared around the globe within seconds, however all changes are validated by the Timatic Sourcing team and confirmed by local government officials before being updated in the system. As a result, when you use Timatic, you get information sourced from over 2,000 government and airline officials from all over the world. And our team of experts verify conflicting reports and make updates only when we're 100% sure they're accurate.
"If IATA Timatic is not up to date it can have negative consequences," Lionel Mathias, Global Airports Network and Cargo Operations Department, Etihad Airways says. "I would request all government regulators and border authorities reach out to IATA Timatic and provide carriers notice [of regulation changes] well in time so we can prepare and inform our customers."
American Airlines has used Timatic since 2013. The tool is integrated into their in-house systems at airports, online and their reservation call center. And it has been crucial to the carrier maintaining its cost containment regime. "Our fines were approximately $1.3 million per year," says Alison Anderson, Senior Analyst International Operations, American Airlines. "We had them down approximately to $250,000." She also adds "We're 100% confident in the data provided by Timatic".
What type of documents and information is included in Timatic?


Since 1963, Timatic has been providing the latest travel document and regulation rules for over 220 countries collected from over 2,000 sources and updated in real-time up to 200 times a day. The database covers the following areas:
passport requirements and recommendations
visa requirements and recommendations:
health requirements and recommendations
airport tax information
customs regulations concerning the import and export of goods and small pets
currency regulations
news on regulation changes
How can businesses integrate Timatic as part of their operations?


No matter which way you choose to access Timatic -online, API or integrated with your DCS - you get the most accurate data on the market.


Every year, airline staff and ground handlers use Timatic to check over 700 million passengers. Travel agents of all sizes use the tool to make sure their customers arrive at the airport with a valid passport, the correct visa and the necessary health documents.
Many Timatic customers use the solutions as part of their check-in operations such as self-check-in kiosks or on their websites. Timatic can easily be added in your operations as it's already integrated with Amadeus, Sabre and Navitaire as well as all other major Departure Control Systems (DCSs).
Timatic is also available as an API or widget, on the web and even in paper form via the Tim Manual. If you need help with integration, let us know and we'll make sure you get dedicated support.
Learn more about Timatic solution .