Every year the vaccines that are shipped by air save 2.5 million lives. It is crucial that those vaccines, along with other pharmaceuticals, utilize temperature-controlled shipping and cold storage facilities.
IATA just released the 2023 Special Cargo Trend Report. This report features all of the latest trends affecting sustainability, digital transformation, perishable product waste and much more.
Download your copy of the 2023 Trends - Special Cargo Transported by Air
Why is Temperature-Controlled Shipping so Important?
Manufacturers of vaccines and other pharmaceuticals rely on quality cold chain logistics to get their products safely from door to door. Vaccines that require temperature-controlled shipping must be kept between (2℃–8℃) or -20°C in order to maintain the effectiveness of their active ingredients. Losing their efficacy means wasting expensive products or passing ineffective vaccines to the people needing them the most.
What to Look for When Shipping Temperature Controlled Goods
A few key elements should always be considered for cold chain shipping: cold storage facilities, compliance with government regulations, and cold chain management. These three areas ensure that your product is moving through the cold chain process with ease. Proper cold chain logistics means a cohesive flow from one stakeholder to the next throughout the entire process.


1. Cold Storage Facilities
Successful temperature-controlled shipping relies heavily on adequate cold storage facilities. Some pharmaceuticals require temperatures of -20 C, according to the Temperature Control Regulations (TCR) storage conditions from product stability testing, which is why manufacturers need to be well assured that suitable cold storage facilities are always available throughout the shipping process.


2. Compliance of Government Regulations
In addition to IATA's regulations there are also specific requirements that must be met at a carrier and governmental level. It is the responsibility of shipping companies to ensure that all government regulations are adhered to. In section 2 of the manual you can find helpful information regarding government regulations for various states shipments may pass through or arrive at as their final destination.
Sample below taken from the IATA Temperature Control Regulations (TCR)

3. Cold Chain Management
Pharmaceutical companies are relying on air transport more and more due to their quality cold chain management. While every precaution can be taken upon packing temperature-controlled goods, proper cold chain management will oversee the rest of the journey. Cold chain management ensures delivery arrives without a loss of quality due to inadequate protection or a failure within cold chain logistics.
How to Keep the Cold-Chain Functioning Properly


In order to keep the cold-chain functioning properly, you must first understand the guidelines and know the regulations. This is why IATA's Temperature Control Regulations is essential. Being competent in the shipping, handling, and storage of temperature-controlled goods is a requirement for success. Having a solid knowledge-base alleviates mistakes, damage and mishandling. Strong cold chain management ensures that each step throughout the entire process flows smoothly.


3 Ways the TCR Will Help Your Business


IATA's Special Cargo Subject Matter Expert, Maria Jitomirski, shares three reasons why the TCR is greatly beneficial in the safe transport of cold chain goods.


1. Improved Partnership
Utilizing the Temperature Control Regulations (TCR) creates a firm understanding of the necessary precautions that must be taken in regard to cold chain transport. Users are given the step-by-step instructions to meet current regulations. Knowing that a shipper or freight forwarding company is knowledgeable and competent in the safe handling of costly pharmaceuticals builds a trust factor that may not otherwise be present. Being well-educated in the best practices and regulations improves strong cold chain logistics and allows all stakeholders involved to better work alongside each other.

2. Minimal Loss
The TCR provides explicit details regarding the proper shipping, handling, and storage of temperature-controlled goods, which ensures that a higher percentage of shipments arrive at their final destination without damage. This is especially important in regard to life-saving pharmaceuticals, where the integrity of their efficacy relies on cold storage stability.


3. Improved Expertise
Stakeholders who follow the best practices and adhere to the regulations presented within the TCR are seen as more knowledgeable than those who do not. Manufacturers know precisely where they stand when hiring a business who is aligned with IATA's standards and regulations. Even more so when companies are CEIV Pharma certified.
3 Key Factors the TCR Will Help With


IATA's Temperature Controlled Regulations (TCR) is an invaluable tool guiding through the process of safely handling and shipping temperature-controlled goods by air. While the guidelines and regulations included in the TCR are intended to get temperature-controlled goods from door to door, there are 3 key factors that stand out in assisting shippers with the process: shipping compliance, labelling and marking, and traceability and tracking.
1. Shipping Compliance
Shipping compliance relies on understanding and meeting the requirements as outlined in the Temperature Control Regulations (TCR). The TCR walks the reader through the process step-by-step. Before you can meet IATA's requirements, it is essential to know what the shipping regulations are at the carrier and government levels. From there, understanding each aspect of the shipping guidelines is necessary not only for safety but to ensure the temperature-controlled shipment arrives in the highest quality possible. This requires knowing the facts regarding the types of goods being shipped so that proper packaging can be chosen, then ensuring the correct labelling, marking and documentation is in order. Without being compliant at the shipper's level, the consignment could be refused for shipment.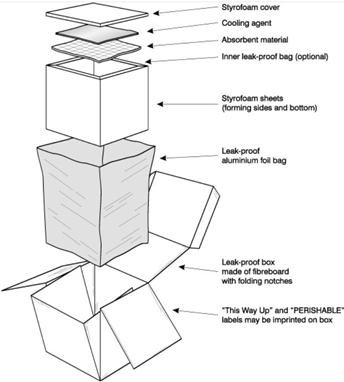 2. Labelling & Marking
Cold chain shipping requires that all consignments have the proper labelling and marking adhered to the outer packaging. This allows for the safe handling of the shipment throughout the process of cold chain logistics.
Labels should meet IATA's standard color and size requirements. Proper labelling is particularly important with perishables as they are to be handled as "wet cargo". If containers are shipped with dry ice, shippers should consult IATA's Dangerous Goods Regulations (DGR) for proper labelling and marking requirements.
In regards to marking, each package should be clearly marked with the consignee's information and special instructions on the nature of the contents per section 7.7 of the TCR.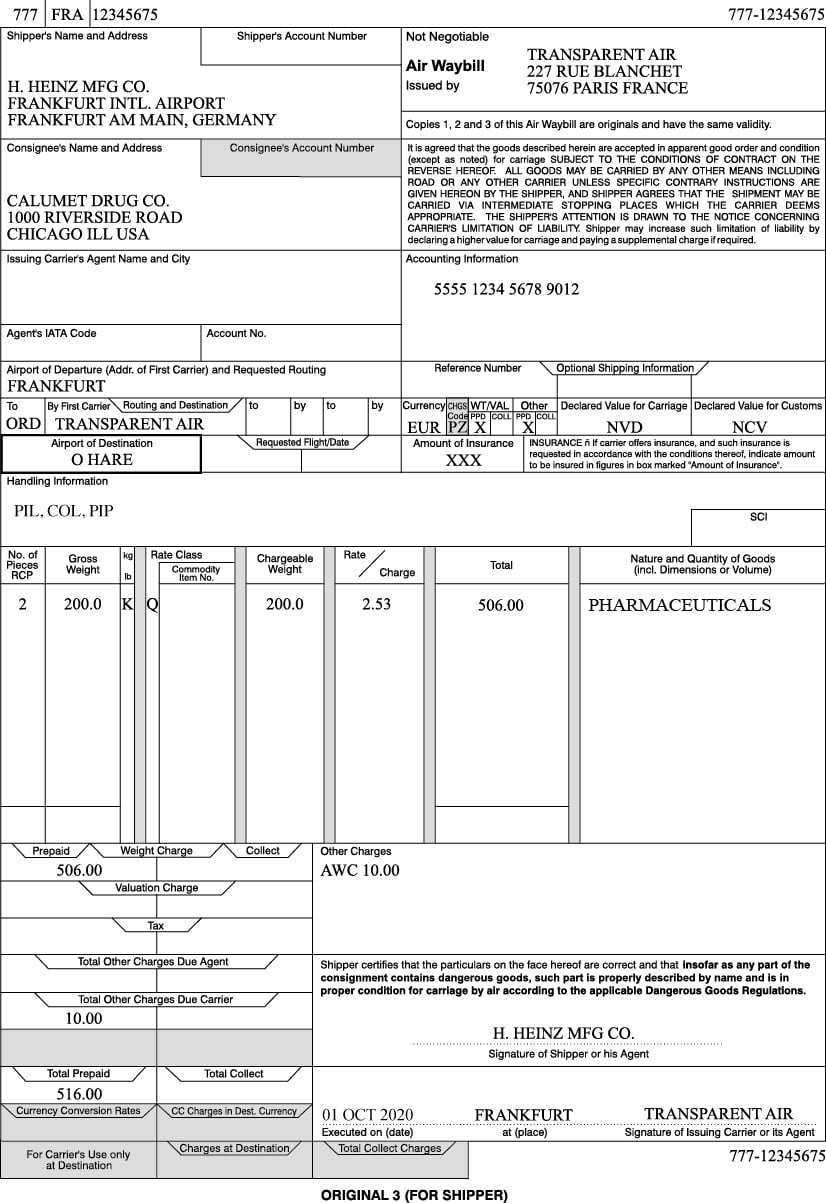 Shipments containing pharmaceuticals should contain more detailed instructions about adequate handling procedures.
The Temperature Control Regulations should be documented and placed where all handlers can clearly read its instructions.
3. Traceability & Tracking
Traceability and tracking has become a necessity in the temperature-controlled shipping industry. Tracing and tracking is crucial when it comes to such shipments as pharmaceuticals where the integrity for controlled substances might be an issue.
In the past, code bars and microwaves were used but these days the latest technology is RFID (Radio Frequency Identification) and it presents many advantages.
While the RFID system is more expensive, the investment is worthwhile when shipping expensive pharmaceuticals across the globe. As the use of RFID becomes more widespread the cost will inevitably be reduced as well.
Using RFID helps speed up the handling process of the cold chain logistics. Whether it be effectively moving pallets, boxes and containers to cold storage or through customs, RFID decreases the manual handling which saves time.
Why Do Standards and Regulations Matter?


Rules and regulations lay the groundwork for successful cold chain transport. The Temperature Control Regulations (TCR) is the industry-recognized standard for best practices regarding how to safely transport goods requiring strict cold chain management. Standards and regulations are based on scientific data and information compiled from various airlines to ensure that temperature-controlled goods are shipped in the quickest, safest, and most efficient manner without damage to the product.

The manual is published to support shippers, freight forwarders, ground operations, airlines, and all other stakeholders assisting in cold chain shipping so that life-saving pharmaceuticals arrive at their destination in the highest quality possible.


Who Determines the Standards and Regulations for Shipping Temperature-Controlled Goods by Air?


The Temperature Control Regulations is published annually under the authority of the IATA Cargo Services Conference. It is updated by the Live Animals and Perishables Board (LAPB), while the Time and Temperature Working Group (TTWG) weighs in, lending their expertise and guidance.


Shipping pharmaceuticals is a life-saving endeavor; however, it is a costly one. This is why it is crucial that every stakeholder closely abide by the standards and regulations specific to their role in cold chain logistics. The rules and regulations are proven to mitigate damage and loss of product while ensuring the safety of stakeholders involved in the cold chain shipping of expensive pharmaceuticals.
Is Training Necessary When Shipping Temperature-Controlled Goods?


Temperature-controlled goods do not require specialized training. However, you may become certified through courses such as Temperature Controlled Cargo Operations. This course provides competence-based training in the packaging requirements and the air cargo industry's best practices for storing, accepting, and handling time-and temperature-sensitive healthcare shipments.


There is also the Center of Excellence for Independent Validators in Pharmaceutical Logistics (CEIV Pharma) which was developed to ensure that facilities, equipment, operations, and staff comply with all applicable standards, regulations, and guidelines expected from pharmaceutical manufacturers.
Additionally, when using dry ice as a cooling agent for consignments, stakeholders are required to receive specialized dangerous goods training.
Where to Get More Information


Cold chain transport is essential to the well-being of millions of people worldwide. Having a solid knowledge of how to properly play your role in the process of shipping temperature-controlled goods is good business sense. How do you get that knowledge?


Start by getting the Temperature Control Regulations (TCR) today.
IATA has worked diligently for almost 80 years to create safer environments for all stakeholders within the airline industry. Their extensive knowledge helps produce a wide array of understandable and easy-to-use safety manuals that you can find here. IATA manuals are a sound investment, and you will not find the expertise IATA offers anywhere else.