Air cargo transports over US $6 trillion worth of goods annually, accounting for approximately 35% of world trade by value; during the COVID-19 pandemic, air cargo represented one-third of airlines' revenue.
Recently, the International Air Transport Association (IATA) released July 2022 data for global air cargo markets showing that air cargo is tracking at near 2019 levels although it has taken a step back compared to the extra-ordinary performance of 2020-2021. Volatility resulting from supply chain constraints and evolving economic conditions has seen cargo markets essentially move sideways since April. July data shows us that air cargo continues to hold its own, but as is the case for almost all industries, we'll need to carefully watch both economic and political developments over the coming monthst.
Two main factors define the choice of air transport for certain products: the value of the commodities and the speed with which they must be transported. Urgent materials such as radiopharmaceuticals for medical diagnosis or treatment or high-value goods such as technological products and high value commodities are typically shipped by air cargo. Air transport is also ideal for certain food products such as fresh fish, exotic fruits and cut flowers. The growth in demand for the transport of pharmaceutical and healthcare products has also resulted in the introduction of new regulations for the proper handling of time and temperature sensitive shipments.
Although passengers and cargo are very often carried in the same aircraft together, for an airline these are two distinctly different businesses each with its own requirements and unique challenges. Let's take a closer look at the cargo business.
What types of cargo are transported by air?
When looking at the various types of cargo transported by air, they fall into two main groups: General Cargo and Special Cargo. Special Cargo is then divided up into smaller specialized sub-groups. It is these specialized sub-groups we will take a much closer look at further on.
What is general cargo?


General cargo are items that do not fall into the Special Cargo categories and that do not require any extra precautions or special handling during air transport. These types of items are retail and most consumer goods (with the exception of mobile phones, tablets and laptops) , dry goods, hardware, textiles, and more. Think of your average, everyday objects; most of those would fall into the general cargo area.


What is special cargo?


Special cargo is where things get a little more complicated. Special cargo are goods that, due to their nature, weight, dimensions and/or value, may have specific requirements including packaging, labelling, documentation and handling through the transport chain. The transport of these goods are addressed through specific regulations that must be followed when preparing, offering, accepting and handling this cargo. Items include dangerous goods, live animals, perishable cargo, wet cargo, time and temperature sensitive products among others. To ensure that there are globally harmonized standards that ensures the safe and facilitates of these products, IATA has three Boards: the Dangerous Goods Board (DGB), Time and Temperature Working Group (TTWG), and the Live Animals and Perishables Board (LAPB), which manage the standards and guidance related to the transport of these products.To learn more about this special cargo, let's break it down.
What to know about shipping dangerous goods?


The IATA Dangerous Goods Regulations (DGR) manual is the global reference for shipping dangerous goods by air and the only standard recognized by airlines. It provides everything needed to classify, prepare, accept and handle dangerous goods shipments in compliance with international air transport regulations. IATA has been publishing the DGR for over 60 years. The DGR is published annually to ensure that the industry has the most up-to-date information regarding the shipping of dangerous goods. IATA works closely with governments, other industry associations and the International Civil Aviation Organization (ICAO) in the development of these regulations. This way, IATA ensures that the regulations for the transport of dangerous goods by air are effective, efficient and internationally accepted to facilitate their transport while putting the safety of all those on board first.
Limitations for shipping dangerous goods


While some dangerous goods are too dangerous for transport by air except under very detailed allowance by the civil aviation authority, many can only be transported on cargo-only aircraft, and others can be transported on both cargo and passenger aircraft. No matter which type of aircraft the dangerous goods are shipped on, there are always specific requirements that must be followed.
When considering limitations for shipping dangerous goods it is never acceptable to ship any substance that is likely to "explode, dangerously react, produce a flame or dangerous evolution of heat or dangerous emission of toxic, corrosive or flammable gases or vapours under conditions normally encountered in transport must not be carried on aircraft under any circumstance," per the IATA DGR.
There are still many other materials that may only be carried under very particular circumstances. These are considered "Dangerous Goods Forbidden Unless Exempted."
Other everyday items may not seem outwardly dangerous but need to be checked for hazardous components, such as battery-powered devices, breathing apparatus, and dental apparatus. This is why it is important that passenger check-in, cargo reservation, sales, and passenger reservation staff all be provided with appropriate information so that they are well-informed and well-trained on what are dangerous goods.
Classification of dangerous goods


Dangerous goods are grouped into nine classes:
Class 1-Explosives
Class 2-Gasses
Class 3-Flammable Liquids
Class 4-Flammable Solids; Substance Liable to Spontaneous Combustion; Substances which, in Contact with Water, Emit Flammable Gases
Class 5-Oxidizing Substances and Organic Peroxides
Class 6-Toxic and Infectious Substances
Class 7-Radioactive Material
Class 8-Corrosives
Class 9-Miscellaneous Dangerous Substances and Articles, Including Environmentally Hazardous Substances
Several classes are separated into sub-divisions due to the wide scope of the hazards within the class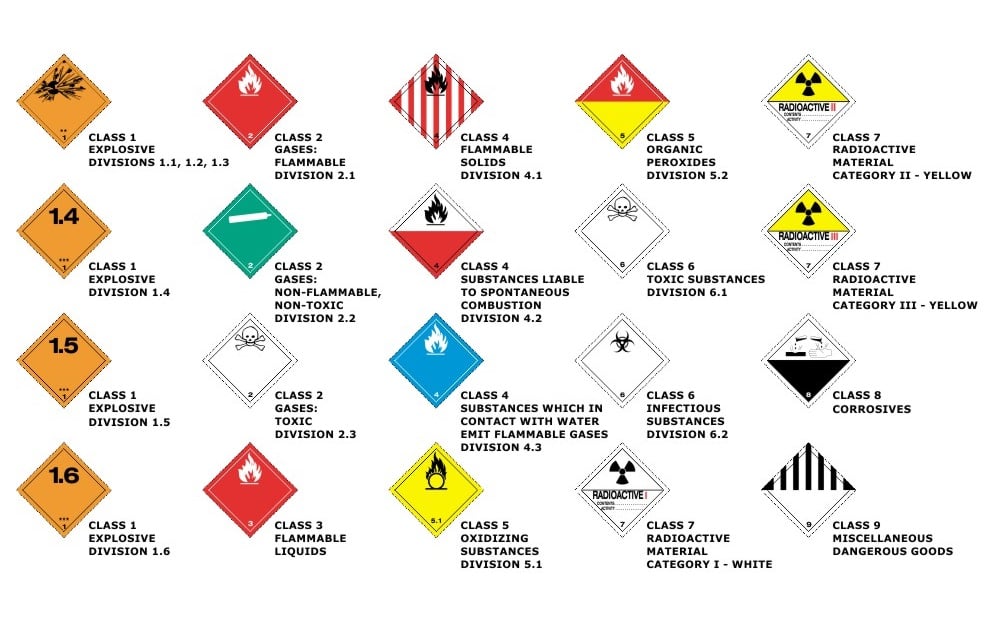 Identification of dangerous goods


Dangerous goods are assigned to UN numbers and proper shipping names according to their hazard classification and their composition. The identification of dangerous goods is essential for the proper packing and packaging, documentation, acceptance and handling. The IATA DGR lists approximately 3,000 substances and articles commonly shipped by air.
Other dangerous goods publications


Recognizing that there is a degree of segmentation in the shipper community, where there are large numbers of shippers that only ship lithium batteries or devices powered by lithium batteries and the biomedical industry that only ship infectious substances, IATA developed separate manuals to address these commodities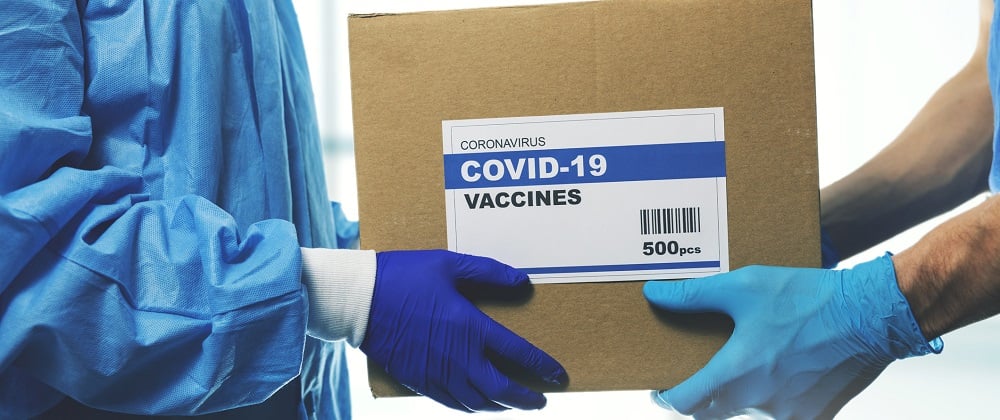 What to know about shipping temperature controlled goods?


Some commodities, such as pharmaceuticals, blood supplies, organs, or other life sciences products require specific controls on the temperature to which they are exposed during transport. Meeting the provisions of the IATA Temperature Control Regulations Manual (TCR) ensure that no matter what temperature-controlled goods you ship, they will be delivered safely and securely.
Documentation and labeling for temperature controlled goods


When shipping temperature-controlled goods it is crucial that all documentation is filled out completely and legibly. Using the shipper's and consignee's full information and phone numbers is suggested. Using IATA's 3 letter handling codes is always a recommended practice.
If the shipment is accompanied by any certificates or health documentation, then those should be documented in the "Handling Information" box of the Air Waybill. You should fill out the "Nature and Quantity of Goods" portion of the Air Waybill and make note if dry ice is being used as a refrigerant as it is considered a dangerous good.
Acceptance and control of temperature controlled goods


Before a carrier can accept time and temperature controlled goods from a shipper there are many details regarding the shipment that must be laid out in advance. Some of these details include:
Contents of the time and temperature goods
Type of packaging
Flight schedule and routing
Aircraft type
Environmental conditions
Availability of temperature control during all phases
The anticipated span of the journey
24hr emergency contact number
Country specific regulations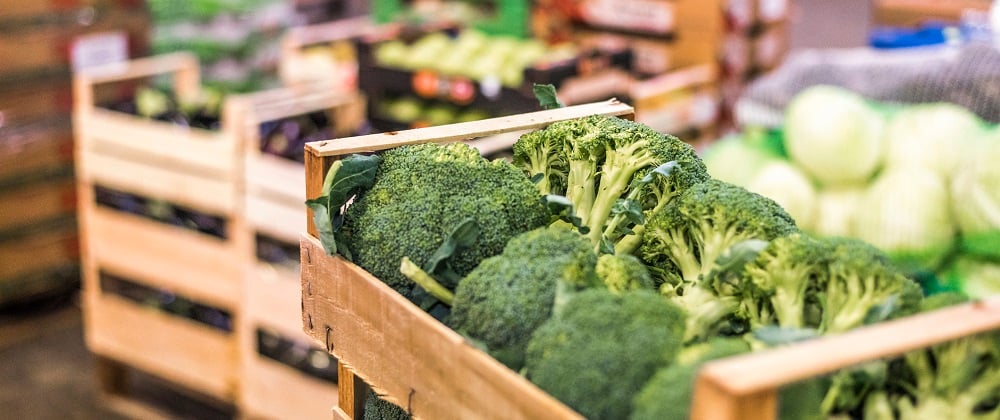 What to know about shipping perishable goods?


With fresh fruits and vegetables becoming more and more popular year-round, transportation of perishable goods is in high demand. Shorter travel time and controlled temperature make transporting perishable goods by air the preferred means of shipping.
Application and regulations for shipping perishable goods

When shipping perishable goods by air, specific steps and regulations apply to the process of shipping by air. Is the cargo acceptable? Is it marked and labeled? Does it meet the prescribed conditions, etc.? There are also shipper and carrier responsibilities that must be met. Regulations for each step of the process must be in compliance. You can learn more about these responsibilities in sections 1.2 and 1.3 of the IATA Perishable Cargo Regulations Manual (PCR).

Marking and labeling for shipping perishable goods

There are numerous documents needed for shipping perishable goods. The process begins with ensuring that the Air Waybill is filled out completely and accurately and without unreasonable requests for handling the perishables.
The cargo manifest should be labeled with the proper IATA handling codes. These codes are for internal use but ensure your perishable goods are handled properly. Cargo handling codes can be found in Appendix D of the IATA PCR.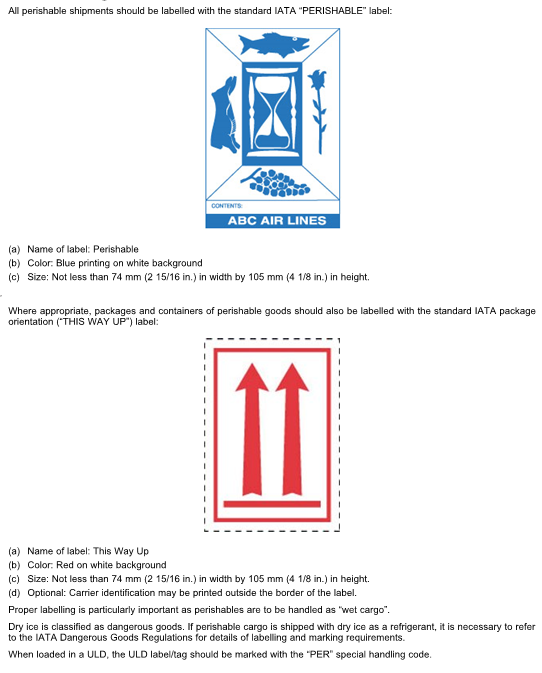 Other documentation may be required, such as some countries may need the permit numbers included on the cargo manifest.
Shippers should always mark what is contained in the packaging and whether dry ice is used because it is classified as a dangerous goods. Then the packaging should be correctly labeled with the standard IATA label as such: "perishable," "this way up," or "wet cargo."
Packaging for shipping perishable goods


There are a wide array of perishable goods, and they are each subject to deterioration, some faster than others. Appropriate packaging and handling are crucial to the perishable goods being delivered in good condition.
The packaging must facilitate both the integrity of the goods as well as the handling and storage of the goods.
The packaging must meet food safety regulations and meet food-grade standards while still being durable enough to withstand temperature changes and stacking. A lot goes into creating proper packaging for perishable goods. You can find more information about the specific structures in Chapter 5 of the IATA PCR.
What to know about shipping live animals?


The worldwide standard for transporting live animals by air is set by the IATA Live Animals Regulations (LAR). These regulations are put in place to ensure the safety of the animals and of transport workers and passengers.
Application and regulations of shipping live animals


Forty-five countries or regions have formally adopted IATA's LAR into their national regulations. Each year the list is updated within the current IATA LAR to include the most current information about which countries apply and enforce the regulations.
Within these shipping live animals regulations it states that, with the exception of service dogs, all live animals must be placed in a container specified in the regulations. The IATA LAR meets the strictest regulations so when you follow the regulations you will be in full compliance.
Marking and labeling for shipping live animals


When dealing with the shipping of live animals, proper marking and labeling is crucial and is always required. Labels should be printed and adhered to the outside of the animal container. English must always be used in addition to the original language used by the shipper.
Each container should be marked clearly and legibly with the full name, address, current contact number of the shipper, consignee, and a 24-hour contact if they are not one of the previously mentioned people. It should also list the animal's common and scientific names and list the number of animals within the container. For some common animals, the scientific name is unnecessary, and you should see Chapter 6 of the IATA LAR for more information.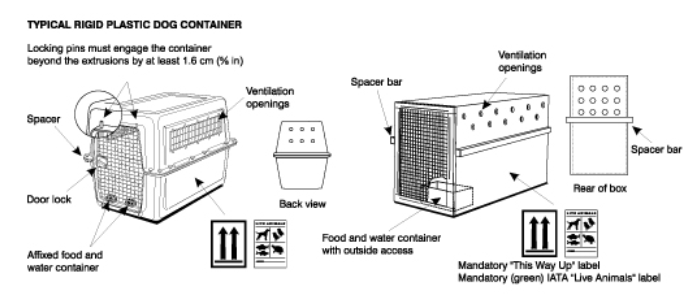 Other information that should be included is whether an animal is poisonous or if it bites. Any feeding or care instructions should be visibly posted as well.
IATA compliant labels must be adhered to each container depending on what is being shipped, such as: "live animals," "this way up," and "laboratory animals". Each label has precise measurements and coloring that the IATA regulations specify; however, the labels can be imprinted on the containers themselves.
Animal behavior and shipping live animals


It is very important to understand a particular animal's basic behavior under stress because it will affect how they react during shipping. Their reactions can cause problems or even harm to the animal or handler. There are guidelines for handling animals in heat, nursing, and young traveling with other young. It is crucial for the animals and the handlers that these guidelines be followed for the safety and well-being of all.
The animals should be disturbed as little as possible, with few people handling them and then only when properly trained.
Handling procedures for shipping live animals


When shipping live animals, the shippers are responsible for ensuring all animals are healthy and in good condition. The carriers have a responsibility to make sure that the shippers have complied with all of the regulations.
When ensuring the guidelines are met, they must check:
The details of the documentation.
The design of the container.
Marking and labeling.
Routing and reservation information.
A step-by-step acceptance checklist must be filled out to comply with the IATA LAR. The staff members going through these processes must be thoroughly trained and comply with IATA rules and regulations, so it is crucial to stay informed of the changes enacted from year to year.
Animals should only be loaded into approved carrier compartments and never into an aircraft unit load device (ULD). Animal containers should always be loaded in an upright position and with as little disturbance as possible. They should be loaded as close to departure as possible.
Personnel should take precautions to ensure no other cargo could fall onto the live animal containers while being transported. Live animals should not be stored next to certain dangerous goods or food items unless hermetically sealed. When it comes to being uncertain what items can be loaded with a live animal, carriers should have handlers and loading personnel refer to the Incompatibility Chart in Chapter 10 of the IATA LAR.
Upon unloading live animals, the cargo area must be adequately cleaned and disinfected by personnel wearing appropriate gloves and boots. There are precise guidelines given regarding the disinfectant, which after being used, is followed with an approved deodorant, making sure to clean all removable equipment, penning and containers, and loading ramps. These guidelines must be met within each import and export country.
What rules and regulations apply to air cargo?


If you are wondering what rules and regulations apply to air cargo, there is a lot that has gone into the creation of them. Each type of cargo has its own set of rules and regulations. These have been created from a variety of entities from ICAO, to different government agencies to various airlines themselves, which is why IATA has created the manuals to break them down in an easy-to-understand, simplified manner.
What are the IATA regulations?


IATA regulations are based on the recommendations put in place by governing entities such as ICAO and standards built through industry working groups populated by member airline delegates and relevant industry associations who collaborate with IATA. IATA regulations go above and beyond ICAO rules to instill further assurances of safety and well-being for all parties involved in air cargo transport. While IATA regulations are more strict and updated each and every year so that the most current and correct information is always available, IATA makes sure that the data is easy to read and comprehend and readily available in multiple languages.
Where to find more information?


Each year more than 52 billion tonnes of cargo are shipped by air, which means industry jobs are always in demand. If you are interested in getting started in the air cargo industry, a great way to start is by taking this introductory course HERE.
And if you want to improve your organization's procedures, safety, and efficiency and are ready for a step-by-step guide that provides instructions on how to follow the IATA rules and regulations needed to transport air cargo, get your IATA manual now.
Each manual gives you the tools and information you need to ensure you are in complete compliance. Being in compliance while shipping your goods and meeting competency requirements while working for the carriers is essential to following IATA rules and regulations, so be sure to get your copy today. It comes in either a physical copy or in a digital format. The choice is yours.