In an increasingly complex and competitive air transport cargo and ground handling market environment, standardization could unlock your business' full potential. Industry standards simplify common processes and reduce cost and complexity. They allow airlines to work seamlessly with each other and with other stakeholders such as airports, ground service providers, cargo agents, freight forwarders and governments amongst others.
Standards also encourage innovation and provide a better experience for everyone involved in the air transport supply chain. However, we still see opportunities for standardization in different areas of air transport operations such as ground handling procedures. For decades, ground operations companies have been using a multitude of operational procedures. individual airlines each have their own unique procedures, which adds substantial complexity for the ground service providers. This also makes it challenging for airlines to fly to new markets as it often means onboarding ground service providers to ensure that they respect the airline's procedures.
As a result, the standards available in the IATA Manuals provide the air transport industry with processes, procedures as well as training programs that can be used as a template and which provide a minimum set of safety requirements, regardless of where your operation is located in the world. Therefore, companies would have a baseline of operations which would meet the needs of the vast majority of the players in the air transport supply chain and which often meet if not surpass regulatory requirements. Ultimately, standardization improves safety of everyone involved and there can be no higher calling.
What organizations ensure and support the standardization of air transport processes and procedures?


ICAO is the world's leader in international civil aviation which creates regulations for aviation safety, security, efficiency and regularity, and environmental protection. State authorities and industry organizations from around the world collaborate with ICAO.
IATA is a trade association for the world's airlines which plays a major role to support aviation standards for airlines in terms of safety, security, efficiency, and sustainability.
A4A advocates on behalf of its members to shape crucial policies and measures that promote safety, security and a healthy U.S. airline industry.
EASA is an agency of the European Union, responsible for civil aviation safety and standardization. It makes regulations and performs investigation and monitoring.
ASA is the globally recognized trade association for the independent ground and air cargo handling industry.
NAA is an aviation regulator for any country that works to implement and maintain the standards for their national civil aviation industry.
Other trade associations and government organizations play an important role as well as they can influence aspects of the supply chain that they oversee.
What are IATA regulations and standards?


IATA regulations are based on the recommendations put in place by governing entities such as ICAO and standards built through industry working groups populated by member airline delegates and relevant industry associations who collaborate with IATA. Included in these industry working groups are the IATA workgroups that help to establish standards and procedures necessary for the safe and efficient functioning of the air transport industry, and promote the worldwide recognition, adoption of and adherence to those standards and procedures via the IATA Manuals. Their common purpose is to steer the industry, while promoting the collaboration between airlines and other parties involved in the air transport supply chain.


How are IATA industry standards maintained and updated?


IATA standards are developed by various IATA workgroups and boards composed of key aviation stakeholders and experts work closely with member airlines, representatives from the whole air transport supply chain as well as local governments and ICAO among others in the development of the regulations. Their objective is to ensure that the rules and guidelines provided by the IATA Manuals are practical, effective and efficient.


Each year, over 350 changes are done to the IATA regulations manuals. These changes are as a result of an extensive exercise that IATA goes through to update its manuals to ensure compliance with the newest regulations as well as the latest industry trends and best practices. These updates are done in collaboration with several industry experts and via dedicated IATA workgroups such as the Dangerous Goods Board (DGB).
Standardization and compliance are paramount to ensure a safe, sustainable and efficient cargo industry. This is where the IATA Manuals play a key role in ensuring global consistency and harmonization across the air cargo supply chain. The latest changes to the IATA Manuals are listed here.
What are the benefits of standardization?


Aviation grows safer when global standards are consistently applied worldwide. This fosters harmonization across the industry, reduces redundant audits, improves safety, and enhances operational efficiency, By following proper procedures and a common set of requirements that can be implemented worldwide in a standardized manner, it would allow all industry players to:


Simplify the complexity of shipping, handling and transportation operations
Reduce training costs and
Decrease overall incidents.


In addition, when you follow the IATA Manuals, you:
Comply with international cargo rules and regulations
Follow the latest cargo handling and shipment best practices
Improve passenger, baggage and ramp handling
Reduce the safety risk to your staff and customers
Get expert tips and guidelines for better operations


Learn more about why you should use IATA Regulations Manuals?
Standards provide a benchmark for your operations


Global standards and best practices are vital to sustaining safety improvements. This is demonstrated by the performance of airlines on the IATA Operational Safety Audit (IOSA) registry. Now in its eighteenth year, IOSA is the recognized global standard for operational safety and in average the accident rate for airlines on the IOSA registry has been nearly three times better than for non-IOSA airlines. In addition, the IATA Safety Audit for Ground Operations (ISAGO), has been built upon a "backbone" of audit standards applicable to all ground handling companies worldwide, coupled with a uniform set of standards relevant for the specific activities of any ground handler.


As a result, industry players can use the IATA Manuals to do a gap analysis or audit and find out where their practices are not meeting the standards laid down by industry experts and governing bodies. If there is a shortfall, IATA Manual users will find best practices in the manuals or could seek help by contacting IATA Consulting or the IOSA and ISAGO teams.
What are some of the barriers to adopting industry standards?


Despite the value of the standardization initiatives—accepted by all industry players—they have yet to be implemented on a scale that achieves its full potential. The main problem is gaining enough traction across such a diverse sector. Airlines often want to follow their own safety procedures. And, aside from the few global companies, ground service providers tend to be small, operating at a single airport or within a single country. They can confine activity to a particular operational niche and do not necessarily see the need to comply with a global approach. Nevertheless, with 94% of IATA Manuals users stating that these standards helped their business, the IATA Manuals have demonstrated that the benefits of using them go beyond complying with international air cargo and ground operations standards.
Year after year, users of the latest edition of the IATA Manuals are consistently avoiding common air transport related issues. Here's what our 2021 customer satisfaction study revealed:
94% of IATA Manuals users said they helped their business
88% of IATA DGR users said it helped them during the COVID-19 pandemic
87% experienced a reduction in errors
81% avoided fines related to air cargo shipments
79% avoided custom delays due to incorrect labelling or documentation


As you can see, being up-to-date with the latest regulations on shipping and handling air cargo is good for business! No matter your company size, it will help you stay ahead of the competition to ensure timely compliance and smooth operations. It can also help avoid fines and delays by being ready for when regulation changes. You can learn more about the benefits that users of IATA Manuals are experiencing here.
Who should use the standards found in the IATA Manuals?


While the IATA Manuals are necessary for compliance with international legislation, user feedback from small to large companies has shown that they are also useful in improving operational performance and reducing risks. As a reliable source for international standards, the IATA Manuals have become the primary source of information for air cargo and ground operations standards.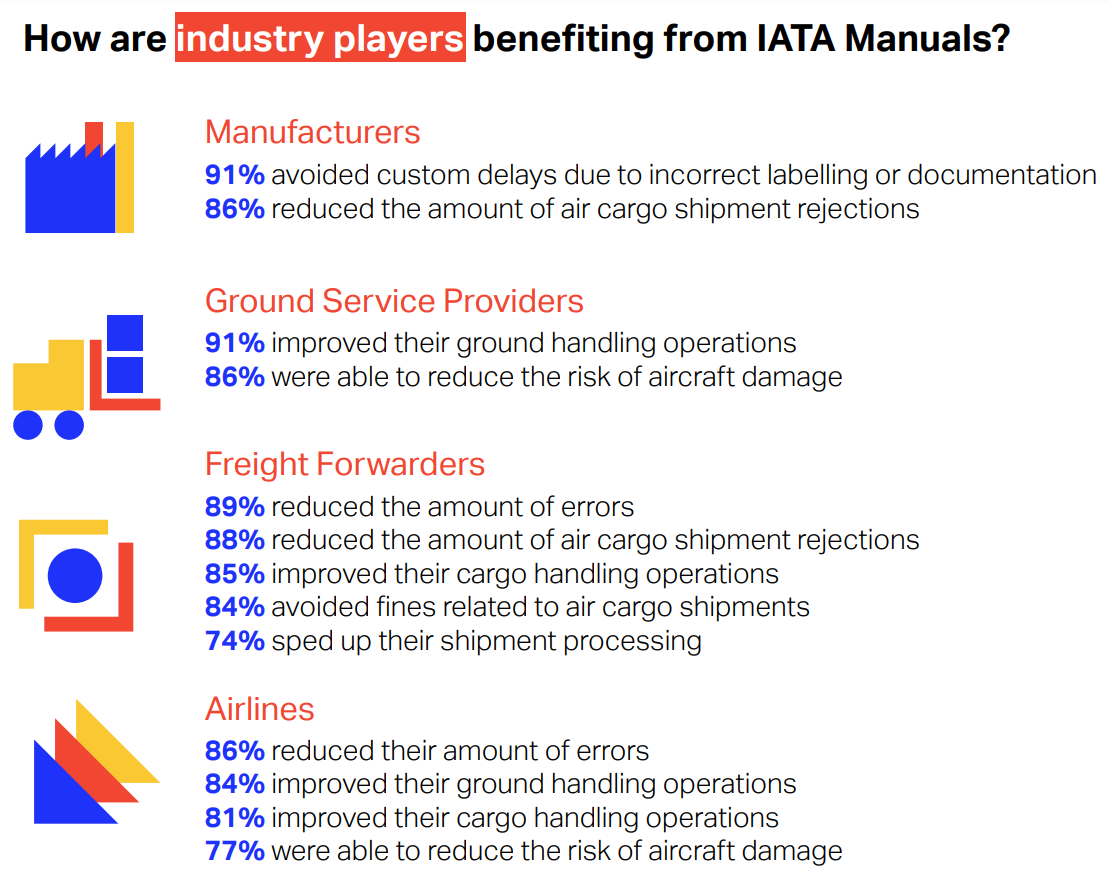 From relying on the IATA Manuals to ensure that local and international procedures follow the regulations to using them as a definitive reference for when shipments have been incorrectly rejected, the IATA Manuals have become essential tools for all types of use. Users of the IATA Manuals include:
Airlines
Airports
Cargo agents
Freight forwarders
Ground service providers
Logistics business
Manufacturers
Trucking companies
Warehouse operators
Where can I find the latest IATA cargo and ground operations standards?


All IATA standards and best practices are integrated in the IATA Manuals. These standards focus on the shipping, handling and transportation of general cargo, dangerous goods and special cargo. You should make sure that your organization always has access to the latest version of all the IATA Manuals.


Process standardization vs. collaboration


Business process optimization often focuses on process standardization. However, as market dynamics evolve and the demand for increased speed in delivery, companies must work together more than ever before in order to maintain customer satisfaction and to stay ahead of the competition. As a result, collaboration within organizational departments and between the different players of the air transport supply chain are crucial to run a successful business.

Therefore, collaboration combined with process standardization will help ensure a much more efficient operation throughout the supply chain. This can also be supplemented by standardized training which provides common methodologies and processes which can easily be adopted from one company to another making for much smoother overall operations. Consequently, collaboration should be as important to a business' strategy as any processes or procedures put in place as part of a standardization effort .
Improving ground operations training cost-efficiency and effectiveness with standardization


As of today, ground handling companies need to provide continuous training to 135,000 employees worldwide annually. In addition, employee retention is one of the biggest challenges that handling companies are facing with over 20,000 new employees annually who need to be trained. On average, it takes up to 6 months of training of a new employee to reach full productivity.
To ensure that your ground handling staff is safe and motivated, and that your operations are efficient, it requires a significant investment in employee training and competency development. To cope with increasing training needs while keeping costs in check, it is essential to make operations training more efficient and standardized across the industry. Having common training requirements would:
Enhance the level of training while providing the minimum safety requirements
Reduce airlines specific training by focusing standardized training
Reduce training time and costs

To assist you, IATA has developed a Ground Operations Training Program which is covered in Chapter 11 of the IATA Airport Handling Manual. The chapter is essentially a guide to help you implement a standardized training program within your organization.
Improving safety with standardized training


Because safety is IATA's number one concern, dangerous goods training is required for all persons across the entire supply chain who prepare, offer, accept and handle dangerous goods.

Proper training for all persons in the dangerous goods supply chain is vital to ensure that the hazards posed by dangerous goods are understood and everyone involved is competent to perform the functions for which they are responsible. While some functions require basic knowledge of the dangerous goods regulations, other functions need detailed information regarding the hazardous material regulations to carry out their duties. In any case, regulations and adequate training are required for each job function. This is true for shippers and packers, freight forwarders, operators and ground handling agents as well as security screeners. Having everyone who may come in contact with dangerous goods adequately trained is imperative. This includes cabin crew members and passenger check-in agents, because some items that passengers carry are classified as dangerous goods, such as mobile phones, tablets and laptops, which have a lithium ion battery.
Where can I find the latest IATA training courses?


IATA makes obtaining training easy and accessible to everyone who needs it by offering courses so that stakeholders can be up-to-date on the most current rules, regulations and best practices. IATA's desire to keep aviation safe and efficient is the driving force behind these training courses which help ensure regulations are met and that standardized processes are shared and implemented throughout the industry. Whether you are a ground service provider, airline, shipper, freight forwarder, a cargo acceptance agent, or anything in between you can find up-to-date information on air transport training on IATA's website.