Welcome to the IATA Training Center in Stockholm!​
Stockholm is a city of contrasts. Trends in music, design, fashion, and technology are born here, and innovations that spread worldwide are invented here. Stockholm also has a rich history comprising exciting architecture and museums.
The IATA Stockholm Training Center is located in the heart of the city near hotels, shops and restaurants. The Training Center is in walking distance of the Stockholm Central train station.
Stockholm Training Center
​The IATA Training Center in Stockholm is located at the IATA Nordic and Baltic office. Take a train or taxi from the airport to the training center. The Arlanda Express fast train will take approximately 20 minutes. If you choose to travel by taxi, it will take about 45 minutes.
IATA Nordic and Baltic
Kungsgatan 35
111 56 Stockholm
Sweden
The Stockholm Training Center offers free Wi-Fi, electrical outlets for laptops, and a large display screen.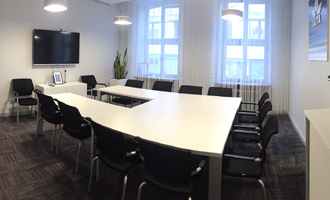 Please note that the IATA Training Center in Stockholm is not wheelchair accessible.
Please contact our team in Geneva for more information about Stockholm or our courses:

Geneva Training Center
Route de l'Aéroport 33
P.O. Box 416
1215 Geneva 15 Airport
Switzerland
Tel.: +1 (514) 390 6777
Fax. +41.22.770.2681

​Hotels
There are several hotels located near the training center. More information will be provided at the time of your registration.
Leisure
Plan what to do during your stay on the Stockholm tourism website.
Mitigation measures
Please check your national quarantine rules and any travel restrictions before traveling internationally to our Training Center.

You may be required to complete a health questionnaire on arrival at the Reception of the Training Center.
Please note that we have enhanced safety measures in our Training Centers.
You may be required to wear a mask while you are in the Training Center.
Please note that IATA is not able to influence local authorities/immigration to grant visas or border entry.
Stockholm course schedule