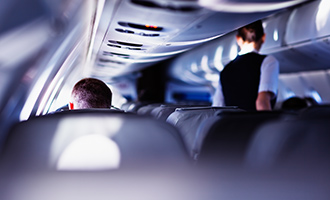 The concerns of Cabin Safety go beyond the safety demonstration before a flight. It encompasses a range of different disciplines, topics and processes which are not always evident to airline customers.
Indeed, the role of cabin crew is varied - but all tasks are carried out with a focus on safety. Cabin safety is about preventing injury, and preventing the escalation of an abnormality into an emergency.
Cabin Safety is a vital part of any safety management system (SMS). It ensures that the cabin product and service is designed and delivered to the customer as safely as possible. Because of this, the role of a Cabin Safety professional involves risk management, training, reporting, investigation, auditing, fatigue risk management, formulating safety and emergency procedures and more.
Reducing cabin safety related events
IATA seeks to offer operational solutions for airlines in order to promote the reduction of incidents or accidents in the cabin, thus resulting in enhanced operational safety and/or significant cost savings for airlines.
IATA is committed to providing airlines with the necessary and up to date information to address emerging risks and share best practices; however, these guidelines are not intended to replace or to contradict any applicable State regulations.
We thank those experts who provide their time and expertise through inputs and contributions to the creation of these comprehensive documents, particularly the industry specialists from the IATA Cabin Operations Safety Task Force (COSTF), airline experts and government bodies.​​
Lithium batteries and portable electronic devices
The safe carriage of lithium batteries and portable electronic devices remains a safety issue for airlines. Please see our passenger information page to ensure that you carry these safely when you travel.
For more information on checked and carry-on baggage, see our travelers and IATA pages.
Items containing lithium batteries, explosives, gases, flammable liquids or solids, peroxides, poisons, corrosives and magnets may be dangerous when carried by air. If you intend to travel with anything in these categories, such as camping equipment, medical devices, mobility devices etc, please our Passenger Dangerous Goods corner for advice.
Cabin operations safety best practices guide
The seventh edition of the IATA Cabin Operations Safety Best Practices Guide, published in December 2021 is the central reference for industry-agreed best practices, procedures and regulations for safe and efficient cabin operations. The guide also offers valuable benchmarks for airline management to set up their own corporate procedures and training programs for cabin crew. Obtain the cabin operations safety guide now.
Best practices guide for cabin retrofit and entry into service program
This guidance has been created by collaboration with Engineering and Maintenance specialists and aims to ensure that Cabin Safety operational risk is included within a cabin layout design or change program. It includes program management guidance as well as raises awareness of many of the risks involved in the introduction of a new cabin.
Best practices guide - Cabin interior retrofits and EIS (pdf)
Cabin Operations Safety Conference
Our annual Cabin Operations Safety Conference is recognized as the global event which brings together experts in all aspects of Cabin Operations and Safety.
If you are interested in speaking or facilitating workshops or panel discussions at this prestigious event, please contact us.
Find out more about the conference or exhibition opportunities on our event page.
Safety Management System (SMS) for Cabin Operations (Classroom, 3 days)
Following the Industry regulatory requirements and best practices, airlines need to have a program that ensures its cabin operations personnel are trained and competent to perform SMS duties. This course provides the required SMS training for cabin crew and enables an effective contribution to SMS at the corporate level. Learn how to improve your safety reporting processes and how to create functional and valuable Safety Performance Indicators for Cabin Operations during a series of practical exercises.
Find out more about this course on the course page.
Cabin Operations Safety Task Force
The IATA Cabin Operations Safety Task Force (COSTF) reviews all aspects of cabin operations to improve safety and operational efficiency. Members of the COSTF are representatives from IATA Member airlines who are experts in:
Cabin Safety
Cabin Crew Training
Accident and/or Incident Investigation
Human Factors
Quality Assurance
For further information or to comment on any of the guidance material, please contact Cabin Safety.
IATA Safety Connect
Airline Cabin Safety professionals can join the IATA Safety Connect site. This valuable resource allows airlines to participate in group discussions and share knowledge or concerns relating to policies, procedures, equipment incidents and investigations.
Please note that membership is restricted to airlines only and company email accounts must be used for registration. Register now to join the site