Need Help?
Welcome to the IATA Training Center in Buenos Aires!
Need Help?
Buenos Aires is a pulsating, passionate, cosmopolitan city. The combination of rich architectural and cultural heritage, modern creative energy, electric nightlife, unique traditions, a vibrant arts scene, extensive parks, and warm, friendly hosts makes it one of the world's most exciting capitals.
The Buenos Aires Training Center is located on a main avenue in the downtown area, which gives excellent accessibility by taxi, bus, metro or foot.
​Buenos Aires Training Center
The IATA Training Center in Buenos Aires is located in the IATA Buenos Aires office in Carlos Pellegrini.
IATA Buenos Aires
Carlos Pellegrini 1141, Piso 2, CABA
Buenos Aires - 1009
Argentina
​The training center has capacity for 24 students and is equipped with air conditioning and a quiet place for trainees to work. Printers and Wi-Fi internet connections are free for you to use during your time at the training center.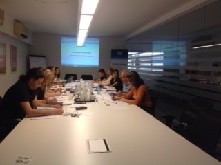 Please contact our team in Miami for more information about Buenos Aires or our courses:
Miami Training Center
703 Waterford Way (NW 62nd Avenue)
Suite #600
Miami, Florida 33126
USA
Tel.: +1 (514) 390 6777
​Hotels
There are many hotels to choose from near the training center, and Buenos Aires has a wide range of accommodation. More information will be provided at the time of your registration.
Explore Buenos Aries
The city of Buenos Aires has been building its credentials as a favorite destination for travel. It is well known for its architecture, beef, wine, tango, and plenty of places to visit. Visit the official site for tourism information.
Buenos Aires course schedule